Do you have a plan in place to help your small business survive a recession? The question is becoming urgent as the immediate, financial impact of the COVID-19 pandemic and other indications of a slowdown make it more likely we're headed in that direction.
Even if your business is currently stable or you are preparing to re-open your doors soon, this will undoubtedly be unchartered territory for a time to come. Knowing how to prepare your business for a recession can help you stay afloat as the economic tides continue to change.
Here are seven things you can do to brace your business for a financial downturn.
1. Maintain an Emergency Fund
It may be a struggle to save, especially if measures to slow the spread of COVID-19 are already putting a dent in your earnings, but whatever you can set aside will be better than nothing. Having a robust emergency fund in place will put you in a better position to recover from a recession. While having three to six months of funding is good general guideline, Forbes notes that factors like the size and revenue of your individual business should dictate your savings goals.
2. Reduce Expenses
Look at every area of your company's spending, from inventory to investments, to see if there are opportunities to spend less, or spend smarter. For example, you may be able to cut back on rental expenses by subletting part of your space or moving to a facility that costs less. Consider negotiating with vendors for better deals that lower your monthly expenses.
An inventory review is also vital to creating a recession-ready budget. You don't want to tie up your cash in excess merchandise on your shelves that will be even more difficult to liquidate during a recession.
3. Bolster Existing Client Relationships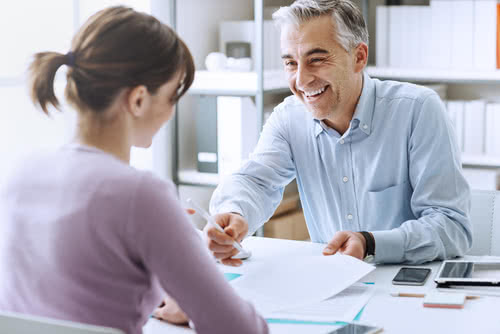 Do you know which customers account for your company's biggest profits? Taking time to identify your top customers, and analyzing your relationship with them will help you ride out the recession, notes All Business. What are you doing successfully to keep your top customers so loyal, and how can you make those relationships even stronger? Allocating some of your budget to retain your best customers makes more sense than cutting all expenses across the board.
4. Manage Debt
Paying off any current debt your business owes will make it easier to access more cash you may need once a recession comes. Inc. recommends tackling personal debt, too, as you're considering how to prepare your business for a recession; stress over personal debt can lead to poor business decisions in times of economic crisis.
5. Protect Cash Flow
When you anticipate a drop in your business income, it's important to collect any receivables as quickly as possible. You might consider offering discounts to customers who pay promptly, requesting deposits for some products and services, and negotiating more favorable terms for paying your suppliers as possible ways to improve liquidity.
6. Keep Marketing
Ramping up your marketing strategy may also help your small business survive a recession. Business owners shouldn't abandon all marketing efforts when cutting expenses during a slump. Continue using your website, free social media messaging, and relatively low-cost tools like Facebook ads and emails. You need your customers to know that you're open for business and available to fill their needs.
7. Explore Financing Now
The time to apply for a business loan, line of credit or other financial assistance to help you get through the recession is now, before your financials take a dive, according to the U.S. Chamber of Commerce. It's much easier to borrow money while your cash flow and earnings are still in good shape than if you wait until you're in financial trouble, which some lenders may view as too high risk.
Follow these tips on how to prepare your business for a recession so you can have confidence that you'll not only weather the economic storm but come out stronger when it's over.