What is equipment lease financing, and how can it help your business grow? Often, small business owners are focused on the day-to-day operations of running their companies. It may seem financially out of reach to upgrade aging equipment or to invest in equipment that could open up new lines of business.
Yet, equipment lease financing helps small business owners invest in growth while keeping monthly payments low and cash flow healthy. Here's a closer look at how equipment leasing works and when it might be the right choice for your business.
How Equipment Leasing Works
According to the Equipment Leasing and Finance Association, equipment leasing is on the rise as business owners look for smart ways to invest in their companies, growing by 11% year-over-year since April 2018. Let's say you're considering a new commercial vehicle for your business. What are your options? You could use your savings to purchase the vehicle, or you could get a loan to pay off the vehicle over time. These are fitting solutions for business owners who saved up for that specific purchase, or who plan to keep the equipment for many years. But what do business owners do when money is tight or they're balancing priorities that need working capital? What is equipment lease financing's value in this case?
Equipment leasing companies make it easy for small businesses to get the equipment they need without hefty, upfront payments. When you enter into an equipment leasing agreement, you're responsible only for payments on the equipment over the agreement term. There's usually no down payment and no collateral required. At the end of the term, you can return the equipment, renew the lease or potentially purchase the equipment at fair market value.
When Leasing May Be the Right Choice
Equipment leasing can be a smart strategy to get the equipment you need, but with other options like commercial vehicle financing and heavy equipment loans, how do you know when leasing is the correct call?
Leasing can be the right choice in a wide range of scenarios:
You need equipment to stay competitive or to complete work, but don't have the capital or cash flow to commit to a loan.
It's not feasible for you to meet a down payment or collateral requirement to purchase an expensive piece of equipment.
Technology or equipment needs change quickly in your industry, or change depending on your projects.
Your business is rapidly growing, and you don't want equipment purchases to tie up all your operating capital.
You want to go through a simpler application process.
You want additional support. When you lease equipment, the leasing company may pay for repairs, but it depends on your contract.
You're looking for flexible contract terms like purchasing, trading in or returning the equipment after your lease ends.
You're hoping to capture tax benefits. With the IRS Section 179 tax deduction, the cost of leasing equipment up to $1 million may be fully deductible in the same tax year.
The main downside to leasing is the total cost. It may be more expensive to lease a piece of heavy equipment or a commercial vehicle than it is to finance the purchase. However, when you're looking at a more nuanced picture with different considerations — from current cash flow to tax implications to evolving equipment needs — leasing may be the right choice for your business.
Owning vs. Leasing: 5 Cases to Consider
Deciding whether to purchase or lease equipment is a major decision. There are a number of factors to consider, from the type of equipment to the financial state of your business. Still not sure what's right for you? Here are five scenarios where small business owners considered owning vs. leasing equipment, and what they ultimately decided was right for their situation.
Test Out New Services Without the Risk
Equipment can play a pivotal role in growing a small business and expanding into new service areas. Rose owns a construction company. Most of the time, she takes on small jobs and residential repairs, but she just learned about an opportunity to help build a new commercial space in town. The project owners want to support the local economy by turning to community businesses first. It could be a great chance to see if commercial construction is the right way to diversify her business.
Because of the project's scale, she doesn't have all the equipment she needs. If she's going to expand to this type of work, she'll at least need a bulldozer. That's a big investment for a machine that she may only use once, depending on how the project works out. As a result, she explores her options. What is equipment lease financing going to accomplish for her business? After weighing the pros and cons of leasing equipment, she decides that leasing a bulldozer is the right level of risk. She'll have the equipment she needs to complete the project and, if commercial construction isn't in her wheelhouse moving forward, she can simply return the machine at the end of the lease. However, if she finds that the work engages her team and adds to the bottom line, she can renew the lease or explore purchasing the bulldozer for long-term use. Equipment lease financing is a smart option for Rose because it lets her expand her operations for a set period of time while lowering the risk of a larger investment.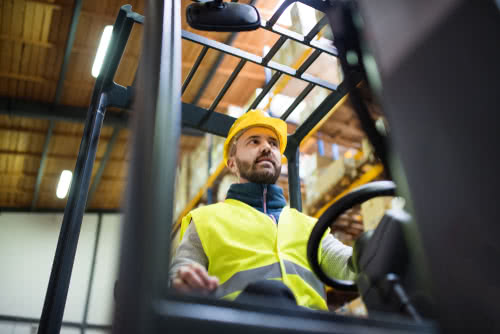 Financing a Forklift for Essential Operations
Nick owns a small hardware store and is expanding his store space and inventory. He's also building a warehouse to store the additional products, and he'll need a forklift to handle the new style of inventory storage. Should he purchase the forklift outright or opt for equipment lease financing?
As he considers his options, he knows that this could be a good opportunity to purchase the forklift or take a business loan to spread out the costs. His accountant points out that he'd qualify for the IRS 179 tax deduction, reducing his tax liability and increasing the operational efficiency of his business. Yet there are other factors to consider as well. Nick has already invested a lot of his working capital into building the warehouse, acquiring more inventory and training his team on the new products. Capital is at a premium right now.
While he's likely to need the forklift for some time, he'd like to see the equipment in operation before committing for the long haul. In addition, he likes the idea of a low monthly payment without having to take on significant liabilities or dip into his savings for a down payment. With the lease option, he can test out the forklift he's considering and make sure it's the right long-term fit. He can strategically opt for a lease that gives him the option to buy the forklift at the end of the lease term. Alternatively, if he continues to lease, he'll have access to the latest forklift and warehouse automation technology, staying current on any evolving industry trends.
Preventing Breakdowns With New Delivery Vans
Meghan operates a flower shop, and her floral design studio has become her city's go-to choice for flower needs. Increasingly, the shop has been taking on big events: weddings, bar mitzvahs and corporate galas. These events add a healthy profit to her bottom line while potentially attracting new customers. Yet every detail must be just right, and that includes delivery. Meghan relies on her fleet of aging vans to deliver the flower arrangements to clients. When a van breakdown affected an event with an important client, Meghan realized it was time to consider her options.
Meghan has prided herself on controlling costs ever since she opened the business just a few years ago. Her margins are thin, and every dollar counts. With a significant mechanic's bill on the table, it was time to decide: Should she invest in repairs for her aging vans, purchase a new van or consider an equipment lease? Since the need was immediate and Meghan didn't have the cash on hand for a down payment, equipment lease financing was the right fit. She could immediately get a reliable van to ensure successful delivery to customers while evaluating her long-term options for the rest of her fleet. Eventually, Meghan decides to purchase the van and finance her commercial fleet by replacing them over time.
Upgrading Equipment to Grow the Business
Chad's landscaping service has been in business for years, and he's built a reputation as one of the best service providers in town. Customers keep coming back time and again, but Chad's recently noticed that he's not bringing in many new contracts. Finally, a prospective customer remarked that, while Chad does great work, his aging trucks and rusty trailers didn't reinforce the professional brand he worked hard to build. As he assessed the competition, he realized that modern, well-maintained trucks with clear branding would help him secure more lucrative contracts in the upscale residential and commercial markets.
As customer demands evolve, updating your fleet of commercial vehicles can help you stay relevant and appeal to new market segments. However, purchasing three new trucks and trailers is a big investment. Chad started to explore "What is equipment lease financing?" After some researching, it became clear that leasing would give Chad the ability to immediately upgrade his fleet without draining his savings. In a seasonal business with unbalanced cash flow, controlling costs is critical. If the upgrades help Chad close more deals, he plans to look at purchasing the trucks or renewing the leases at the end of the initial term.
Access to the Latest Technologies
As a third-generation farmer, Liz is excited to introduce new agriculture techniques and products to the land she bought a few years ago. However, after attending a recent conference, one thing became clear: Innovation is happening fast in Liz's space, and the equipment she needs today and what she'll need a year from now are completely different. As a result, Liz needs a strategy that can keep her on the cutting edge of technology while keeping her costs in check.
Initially, she considers buying the heavy equipment she needs and reselling it when it's time to upgrade. Yet she knows that it's likely her peers will be upgrading as well, and she may have to sell at a loss or have a hard time finding a buyer. Choosing a lease gives Liz the flexibility to invest in the equipment she needs today while staying agile enough to upgrade to new heavy equipment as the field evolves. With low monthly payments and no down payment required, Liz can also keep her business well-funded to invest in other areas of this fast-growing agricultural segment.
How to Apply for an Equipment Lease
If you're interested in exploring equipment lease financing for your business, there are a few aspects to consider:
Decide how much capital you need. Equipment lease financing is often available for up to $150,000.
Explore your equipment options. You can lease pre-owned or new equipment.
Outline the business case and check your financial situation. If you need to increase efficiency without spending a lot of cash, leasing could be the right fit.
Talk to a tax advisor to discuss whether you qualify for tax incentives under the Section 179 deduction.
Consider whether a specific repayment option, such as seasonal payments, quarterly payments or monthly payments, is the right fit for your business.
What Do You Need to Apply?
Applying for equipment lease financing is easy. Prepare in just a few steps:
Ensure you meet minimum operating qualifications. Businesses usually have to be at least six months old to apply.
Gather your basic personal and business financial details.
Get a quote from the vendor that has the equipment you need.
Typically, that's enough to get the process started and, from there, the leasing company will outline any additional documents or steps needed. Understanding how equipment leasing works can help you quickly and efficiently navigate the process.
If you started this process wondering, "What is equipment lease financing?" and now you're convinced it could help your business grow, take the first step. Upgrading your equipment, opening up new lines of business, and solidifying your brand can help lay the foundation for future success.
What is equipment lease financing's value in this case?