Trucking safety is a top priority for trucking businesses. Attention to safety protects lives, reduces injuries, cuts costs, lowers the risk of legal liability and increases compliance with federal regulations.
If you own a trucking fleet, you know that monitoring safety is essential. But it can be complicated. Using technology to streamline your safety efforts can be a smart business move.
Here are four technologies you could invest in for better trucking safety management.
1. Route Planning Software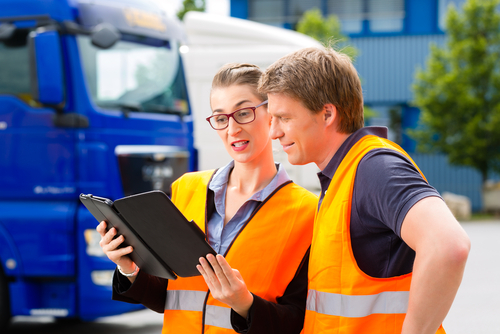 You know that efficient delivery routes are important, and your fleet manager is a whiz at using pen and paper to map out routes. But manual route planning gets more cumbersome as your business grows. Automating aspects of the task can save time and money.
Route planning software helps you create routes that let drivers steer clear of dangerous turns and adjust speed and delivery times to local weather conditions. More efficient routes cut down your fuel costs and ensure orders get to customers on time. Route planning software can also improve fleet safety by steering drivers away from traffic hassles, stress and fatigue.
2. GPS-Based Telematics
Telematics — the use of telecommunications technology to send, receive and analyze information, essentially — has myriad applications in the transportation industry. You can use telematics tools to plan better routes and manage risks. GPS-based fleet tracking systems using telematics can track fuel use, vehicle conditions and driver performance.
Automotive Fleet magazine named telematics a top trucking safety trend for 2021, noting its usefulness in detecting and correcting problems such as distracted and dangerous driving.
3. Dashboard Cameras
Dashboard cameras also use telematics, and they can enhance trucking safety management by recording what drivers see from the cab. Bidirectional cameras can record what's happening inside the cab — and alert supervisors when drivers seem drowsy or take their eyes off the road to fiddle with radios or smartphones.
Having a dashcam in the cab could encourage drivers to drive safely, and footage of exemplary driving could be used in driver training. And if one of your drivers gets into an accident, a dashcam recording could help reduce your company's financial liability if your driver wasn't at fault.
4. Driver Scorecards
Driver scorecards can also help streamline trucking safety management. These performance evaluation tools use telematics to track dangerous driver actions, such as hard braking, idling, speeding, running stop signs and traffic violations. You can also lean on driver scorecards to deliver feedback to drivers who need to improve their driving.
Most fleet management software systems include driver scorecards, Commercial Carrier Journal notes.
Investing in technology that keeps your fleet and drivers safe is one of the wisest business moves you can make. To explore your lending options, visit National Funding's Small Business Loans page or apply for a loan now.