Running a successful small business comes with its share of challenges throughout the year. Variables ranging from bad weather to economic shifts can affect your ability to thrive.
For many business owners, cold and flu season presents special challenges. At the first sound of a dreaded sneeze or sniffle, you or your most valued employees could be under the weather or even out of the office. Knowing how to run a successful small business during cold and flu season will ensure that even the worst illnesses won't leave you with an unhealthy bottom line.
How Cold and Flu Season Impacts Running a Successful Small Business
According to the CDC, workers miss 17 million days of work each year due to the flu. That doesn't account for time missed due to colds and other bugs circulating during the same time. Depending on the year, the cold and flu season can begin as early as October and end as late as May.
As the head of the business, it's important that you have a plan in place to help minimize the impact of illness on your company's performance. From putting strategies in place for dealing with sick employees to making it easy to get coverage when you need it, here are some factors to consider when developing your company's cold and flu plan.
Call the Shots: Make It Easy to Get Vaccinated
One way small business owners can help keep their teams in top shape is by taking precautions to keep staff healthy. Make it easy for your staff to get a flu shot by hosting an on-site clinic or giving your team members time to visit a vaccination location nearby. Many people don't get vaccinated because it's not convenient or it's difficult to find time away from work. Overcome those barriers by simplifying the process; just remember that guidelines on mandating vaccines vary by state.
Share Information About Good Hygiene Practices
Educating employees about flu season and steps they can take to prevent illness makes it more likely that they'll make smart decisions. Solutions are as simple as posting notifications to wash hands after using the restroom, taking advantage of sanitizer, or wearing a mask when coughing can help keep those best practices front and center. Strong communication around issues like these can be an overlooked tool in understanding how to run a successful small business.
Step Up Your Cleaning and Hygiene Practices
Small investments can go a long way toward keeping your team healthy. Buy disinfectant wipes, hand sanitizer, antibacterial hand wash, and tissues for your physical locations. Ask your commercial cleaner to use disinfectants and to focus on high-traffic areas as well as frequently touched surfaces. Make it easy for your team to keep their work areas disinfected by ensuring they know where these supplies are kept, and that they're free to access them as needed.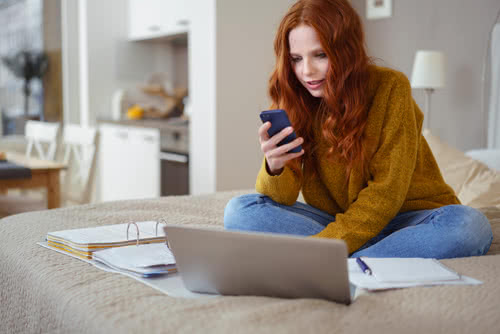 Ask Employees to Stay Home When They're Sick
If one of your staff calls in sick — or you find yourself coming down with something — it's important to have policies in place. For some business owners, the idea of being without critical staff can be overwhelming. But in the long term, you'll be better off encouraging employees to stay home when they're ill. Sick people who rest get better faster and will be back to work with the energy and focus they need to do a great job. When they're not bringing germs into the workplace, your team is less likely to infect other workers. Remind your team that they can use sick leave or personal time to recover from illness, in line with whatever your company offers.
Embrace Strategically Working From Home
Sometimes running a successful small business means being flexible. For example, if you have an employee who's coming down with something but still wants to work, consider letting them work remotely. You'll get the benefits of their ongoing productivity, while minimizing exposure and providing them with the flexibility to get more rest. Working remotely can also be a good option when one of your staff is taking care of a sick child. Have a communication system in place so it's easy to stay in touch. Remote collaboration tools, for example, can help you keep track of what your staff is working on so you can ensure they're staying productive at home.
Talk About Flex Scheduling in Advance
Have conversations about schedule shifts before they're needed at the last minute due to illness. Let's say you have three people working customer service and the person covering weekends becomes ill. Can one of your other employees step in with short notice? Alerting staff to the possibility of last-minute schedule changes can also help them put plans in place for last-minute child care or transportation needs when the issue arises.
Define Essential Tasks and Cross-Train on Them
If you're running a successful small business, what tasks must happen every day without fail? For example, if you operate a physical store, that involves making sure your location is staffed and open. A consultant may need to ensure that someone acknowledges incoming customer emails or calls. Outline your most important tasks and who is primarily responsible for them. Take the time to train at least one other person on how to complete these tasks. That way, even if your most valued employees are out of the office due to illness, your business will keep moving forward. Cross-training can help you run a successful small business under a range of different scenarios.
Keep a Cash Buffer on Hand
Adapting to the unexpected is always easier when you have the necessary resources on hand. Consider keeping a cash cushion in your business bank account or evaluating whether a small business loan could give you more flexibility. If you need the funds to hire temporary staff during an illness outbreak, for example, you can always rest assured you have the means to do so.
Running a successful small business means having a plan, and that includes for cold and flu season. Take the time to help keep your team healthy, put plans in place for responding to illness, and devise emergency strategies to keep your business running even when you're out of the office. If illness strikes, you'll be prepared to keep your business on track and minimize the damage to both customer experience and the bottom line.