Small business tax preparation is one of the tasks that business owners dread the most. In fact, 48 percent of business owners responding to a QuickBooks Payroll survey said taxes are their biggest challenge.
While few people enjoy paying taxes, tax preparation doesn't have to be cringeworthy. It helps to get organized and understand all the steps you must take to file your taxes on time. This tax preparation checklist can help you get all your ducks in a row and simplify the entire process of small business tax preparation.
2019 Tax Preparation Checklist
1. Talk to Your Bookkeeper
Most business owners have a bookkeeper on staff or outsourced to handle payroll, quarterly tax filings and other bookkeeping tasks. Even if this isn't the same person who will be filing your tax return, it's important to talk to him or her about the year's books. You may need to answer questions about how to classify certain expenses or income. Also, make sure all your accounts have been reconciled. Your bookkeeper is likely the person who will prepare and send 1099s to contractors you've worked with over the past year, so be sure these forms have been sent over.
Your bookkeeper can also give you an idea of how your business balance sheet compares to the previous year. Higher earnings may mean you'll owe more in taxes, and lower earnings may mean you'll owe less (or get a refund).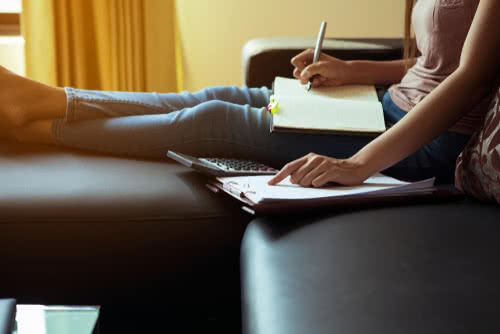 2. Set Aside Time in Your Schedule
Small business tax preparation may not be an income-generating activity, but it's essential for continuing to conduct business. To ensure you'll be available to give the task the attention it deserves, block out some time in your schedule to gather the documents you need, meet with your tax preparer, and review his or her work.
Depending on the size of your business, you may need to set aside several hours to a couple of days for tax preparation. If you plan to file taxes on your own rather than using an accountant or professional tax preparer, you'll need even more time. Though, an easy-to-use small business tax preparation software can simplify the process and limit the time needed to do your taxes on your own.
Once you've scheduled that time, protect it just as you would protect a client meeting or other important task. Don't accept phone calls, requests for information or meetings during that time; stay focused on tax preparation.
3. Gather Important Documents
If you plan to pay an outside tax preparer to handle your tax filings, you can minimize the charges by making things easy for them. That means gathering all the information they will need and supplying it upfront, so they won't have to contact you asking for more information. If you're doing your own small business tax preparation, you'll also need to gather the necessary documents.
Important tax documents include last year's tax return, your business's articles of incorporation, a partnership agreement if you have one, bank statements, receipts for any assets purchased during the tax year, depreciation schedules, payroll reports and any 1099s you've received. If your business accepts credit cards, you'll also need any 1099-Ks from your credit card processor. Check out our guide to paying small business taxes for a list of all the forms and documents you'll potentially need, plus some handy deadlines.
4. Review Tax Deductions Available to You
Thirty-six percent of business owners responding to the Quickbooks Payroll survey said they could make better use of available deductions, and 8 percent said they don't take advantage of deductions at all. If you qualify for tax deductions and don't take them, you're giving money away to the government for free. Take time to review tax deductions for which your business may qualify, and provide the information to your tax preparer.
Not sure which small business tax deductions are available? According to the survey, the most common deductions include business supplies (53 percent) and car and truck expenses (46 percent), including mileage. Small businesses may also qualify to deduct the cost associated with goods sold, such as freight, raw materials and storage of products or raw materials, according to the IRS. Most small businesses can also deduct their employees' pay; retirement plan contributions; interest on loans; rent paid for your business location; taxes paid to your state, municipality, the federal government and international taxing authorities; and the cost of insurance for your business, according to the IRS.
5. Meet With Your Accountant
When you have gathered all the necessary documents and know which deductions you want to take, you're ready to sit down with your accountant or tax preparer to discuss your return. You'll probably need to make an appointment and take time to talk through the highlights of your financials for the previous year. Make sure you book early as accountants are usually slammed during tax season. Your accountant will need to know if there's been a change in ownership of your company (maybe you added a partner), if you have a new address, or if there have been other changes. Many accountants offer tax organizers for their clients to complete for each year. A tax organizer is a questionnaire that allows you to answer pertinent questions to help inform the tax preparer about your business; it's also a way to ensure you're providing all the necessary information.
If you don't plan to work with a professional tax preparer, take time to find the right small business tax preparation software that will simplify your filing process. Your tax software will also require you to answer most of the same questions an accountant would ask.
By following this 2019 tax preparation checklist, you can simplify the process of preparing for your small business taxes. As you follow these steps, it's a good time to review your previous year and remind yourself about the gains or losses you experienced and what led to them. Once you've completed the filing process, you'll be armed with information about your business and ready to move forward into a successful new year.