Tax season is typically a stressful time, and for small business owners, it can be even more difficult. You have forms to file and receipts to dig up, and not much time to do it. Even the most organized of business owners will need to devote a serious chunk of time to this task. That's why many owners will frequently turn to a tax preparer or small business tax software when preparing their taxes. Some business owners will call on official accountants as well, though that can get pricey. CBS News reported that accountants charge $457 on average to prepare a business tax return. While there are advantages to hiring an accountant, small business tax preparation software is less expensive and delivers many of the same benefits.
With your business on the line, you can't trust just any company with this important job. In this guide, we list some solid options for small business tax software, summarize their key details, and explain when they could be a good fit for your business. This isn't an exhaustive list, but a great place to start for those testing the waters with a technology solution.
TurboTax, User-Friendly Small Business Tax Software
TurboTax is the best-selling tax software in the country and with good reason: it's user-friendly and effective. The software runs you through a series of questions like "Did you buy equipment this year?" As you fill in this information, the software will figure out your deductions and put together your tax return. If you use QuickBooks or created a TurboTax return in the past, you can upload this information to speed everything up.
Cost
There is no cost to start using the small business tax software, so you can give TurboTax a try without paying. TurboTax only charges a fee when you accept everything and submit your return to the IRS.
The company offers two types of software for small businesses: one for self-employed businesses and one for larger businesses like partnerships, corporations and multimember LLCs. The self-employed version costs $89.99, plus $39.99 to file taxes for your state. This version also includes your personal tax return along with your business return.
The business version costs $159.99 to prepare your federal return and $59.99 for each state where you need to file. This doesn't include your personal income tax return; you'll need to sign up for this separately. However, the business version does more for your business taxes, like creating tax forms for your employees, handling the specific tax requirements for your business structure, and finding industry-specific tax deductions.
The fee covers up to five federal tax returns. If you have more than one business, you can prepare multiple returns just by paying the one fee.
Customer Support
TurboTax's customer support is excellent. If you need help while preparing, you can ask questions on the website or call customer support. For an extra charge, you can sign up to receive live support from tax professionals. Once you're done preparing your return, the accountant will go over everything and make sure that it was prepared correctly.
TurboTax guarantees that your return will be accurate. If there's a mistake and you end up owing taxes and penalties to the IRS, TurboTax will cover these costs. The company will also support you through an audit at no extra charge. If you use another method to calculate a better deduction, TurboTax will refund your purchase of its small business tax preparation software.
H&R Block, Offers Face-to-Face Customer Service
H&R Block has approximately 12,000 physical locations worldwide. As technology made it easier for people to prepare taxes at home, H&R Block developed their own small business tax software to get into this market.
H&R Block software is not quite as fancy as TurboTax software. The graphics are a little simpler and it's more like filling out several forms. However, it's still clear and straightforward to enter your information. You can start preparing your return for free and only need to pay when you accept the return and want to file.
Cost
H&R Block offers two versions for small business owners. The premium version is best for those who are self-employed. It costs $74.95 to prepare your federal taxes and $19.95 to file your first state tax return. If you need to file in more than one state, you need to pay $39.95 to prepare each additional state tax return.
If you want to buy the premium and business versions together, it costs $89.95 for your federal return, and state tax returns cost the same fees as the premium version. It includes the tax forms for business structures like corporations and partnerships, and you can use it to prepare employee W-2s and payroll forms. Finally, it covers more business deductions like Section 179 depreciation and vehicle expenses. When you sign up with H&R Block, the fee covers up to five federal tax returns, which is useful if you have more than one business.
Customer Support
H&R Block shines with its customer support options. First, you can speak with the company's tax experts using a live chat, or you can reach them by phone. You can also hire an H&R Block accountant to review your completed return, though this will cost more than the software.
Finally, if you want to speak with someone in person, you can go to one of the H&R Block branches to meet with a tax specialist. This is something the other programs do not offer, since they are only software companies.
H&R Block also guarantees the accuracy of your return through their small business tax preparation software. If the IRS charges penalties because of something wrong with your return, H&R Block will cover these costs. The company will also help you respond to any audits at no charge. If you realize that you could have received a larger deduction by filing elsewhere, H&R Block will refund the fee you paid for the software.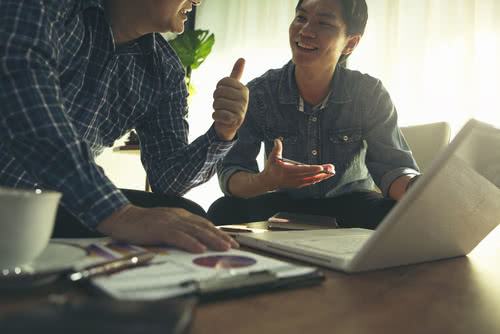 TaxAct, Small Business Tax Preparation Software at a Lower Price
If you only need to file one business tax return, TaxAct is significantly less expensive than the previous options, though their small business tax software is not quite as smooth as TurboTax and H&R Block. It gives you a long list of questions to answer so it can prepare your return. However, you need to answer all the questions, including those that might not be related to your business, as it does not filter questions based on your responses. If you prepared a TaxAct return last year, you can upload it to speed up the process.
Cost
It costs $59.95 to prepare federal taxes for your business, plus $39.95 for your state return. This price includes one business tax return, while TurboTax and H&R Block include up to five federal business tax returns. If you have multiple businesses, you won't get much of a discount with TaxAct because you will need to pay $59.95 to file for each one. You can test the software for free, and you only pay when you file.
Customer Support
For help with your return, TaxAct offers support by email and by phone. However, the company doesn't offer any options to hire someone to review your return; it just offers the software.
TaxAct guarantees that your return will be accurate and will lead to the highest possible tax deduction. If the software makes a mistake that leads to extra fees from the IRS or to a lower refund, the company will cover the charges and make up the missed refund.
TaxAct does not offer audit protection. If you are worried about an IRS audit, you can sign up for three years of protection with another company, Protection Plus. You need to set up this protection while filing your return though; you can't wait until later, like when you are audited.
Credit Karma, Free Small Business Tax Software
Credit Karma is best for individuals preparing a return for a simple business, like a sole proprietorship. It can help with the self-employment taxes and the business profit/loss forms. However, Credit Karma's software is not an option for more complicated structures, as it doesn't prepare the business tax returns for partnerships, corporations and multimember LLCs.
Cost
Credit Karma's tax preparation software is free. The company doesn't charge anything to prepare and file both your federal and state tax returns. When you use Credit Karma's software, the company will also enroll you in free credit monitoring programs and let you check your credit score at no charge.
Customer Support
Credit Karma offers very little tax help. While you can contact customer service for technical issues, they are not trained tax specialists and cannot give you advice for preparing your return. Credit Karma also offers minimal guarantees. If the software makes a mistake on your return, the company will reimburse the cost of IRS penalties up to only $1,000 and that will come in gift cards, not cash. If you find out you could have received a bigger refund with another software's calculation, the company will reimburse the difference up to only $100 and, once again, that's in gift cards.
This program could be a way to quickly estimate your taxes and might be useful if you already know what you are doing. But if you need high-end support or have a more complicated business tax return, Credit Karma may not be a good choice.
Using Your Small Business Tax Preparation Software Effectively
As you get ready to select your small business tax software, there are a few things you can do to make the process more efficient First, most companies let you test the software for free and you only pay when you file a return. Consider trying a few to see if one stands out. Ideally, you want to keep using the same program year after year. That way, when you prepare future returns, you can quickly upload your previous returns and won't need to relearn a new program.
When you compare prices, remember that companies usually highlight the cost for completing your federal tax return. State tax returns are extra, so check that cost, too. This is particularly important if your business files in multiple states, as you would need to pay the filing fee for each one.
Start the filing process early, especially if you are working with new software. That way, you can take your time going through each section, and if you run into any difficulties, you can easily reach customer service. If you wait until the tax deadline is looming, not only will you be more stressed, but customer service lines will be busier.
Even though most tax software offers some type of guarantee for the accuracy of your return, there's still always the chance of an IRS audit. Don't assume the software will cover you as part of their normal package. You may need to pay extra to add the audit protection.
Should You Consider an Accountant Instead?
While using small business tax software can be a fast and cost-effective way to prepare your return, there are still some advantages to working with an accountant. When you use software, it's up to you to make sure you enter the right information and think of all the possible deductions. While the software will prompt you about what to enter, there's still a chance that you might overlook something.
An accountant would personally get to know your business and can make sure you receive all the relevant tax breaks, like figuring out which of your loan repayments are tax deductible. It's also nice to build that relationship, so if you have questions when you prepare your return or at other times during the year, you can call up this professional.
As your business grows and deals with more complicated issues, like expanding to other states or managing payroll taxes, an accountant can make sure you handle everything correctly. You don't get this level of service with tax software.
This extra service does come at a price. You could end up spending twice as much on an accountant as you would on a piece of software. The most expensive software on our list, TurboTax, costs less than half of the $457 average accountant cost. You need to decide whether the extra support and ensured accuracy are worth the additional cost.
If you've decided that small business tax software is the right fit for now, then you've got plenty of competitive options. Picking an option from this list and using our strategies could leave you well-prepared for this year's tax season.
The recommendations, opinions or views expressed in this article are those of the author, and do not necessarily reflect the recommendations, opinions or views of National Funding.