Entrepreneurs who love working with children might be wondering how to start a daycare business. Child care is a $54.6 billion industry, according to IBISWorld, and working with kids can be a rewarding career path. But before you can open a company of your own, you'll need a daycare business plan.
Here's how you make one.
Why a Daycare Business Plan Is Important
A business plan is a blueprint for how you'll run your operation and will help you meet your goals. If you ever need to ask for funding from a lender, you'll absolutely need a business plan, and a good one will demonstrate the strength of your business to lenders.
Business plans are living documents and should be updated as your business grows or changes. They're as much a vision for the future as they are a plan for now, so look three to five years ahead when writing yours.
What You Should Include in Your Business Plan
A business plan can follow a template — the U.S. Small Business Administration offers several examples — but lenders don't require you to follow a specific outline. When you write yours, use a combination of these nine sections.
1. Executive Summary
The executive summary is a general overview that highlights the main points of your daycare business plan. It should include your mission statement, location, services, management team and staff, and anything unique about your child care center. While this section comes first in a business plan, it helps to write it last by summarizing the following sections into a succinct overview for potential lenders or investors.
2. Company Description
This is where you detail your facility and the services you provide. There are several types of daycare businesses, such as:
In-home care, such as a service that contracts nannies or sitters
Daycare and child development centers for infants and toddlers
Before- and after-school care for children with working parents
A nursery or preschool, which provides daycare and education to toddlers and young children
In this section, discuss your specific competitive advantages. Maybe you plan to open a daycare center near a new corporate headquarters or by a large living development that's being built. Your location could provide you ready access to clientele. Or maybe your staff members are bilingual, which means you could communicate with parents who aren't comfortable speaking English or teach a foreign language to children in your care. Given the shift to remote work and education, you could even offer virtual learning technologies at your center.
This section should also include practical information about your operating hours.
3. Market Analysis
This section is where you demonstrate how you'll set yourself apart from your competition. Provide information about the demand for your services in your area and how you'll address them. Conduct thorough market research and note the size of the market you intend to serve. List the other daycare offerings that are available in your market, their strengths and weaknesses, and how you plan to position your center to compete. For example, you might offer flexible scheduling for parents with irregular working hours.
4. Organization and Management
This part of your plan includes information on how you'll structure your daycare business, such as whether you'll be a sole proprietorship, a partnership, an LLC or a corporation. Include legal information, such as your plan for site safety and emergency care. Provide bios for the management team that highlight any strengths that set them apart. And give details on your staff, including their qualifications, training, and responsibilities.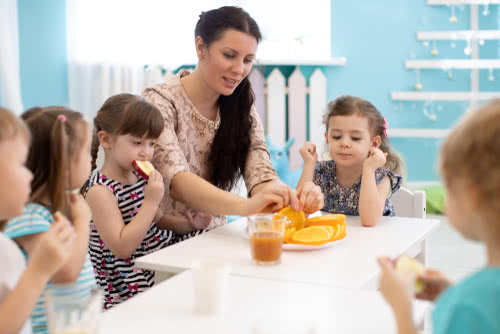 5. Products and Services
Every daycare business offers child care services, but you could structure your offerings in various ways. In this section of your business plan, explain what you'll provide to parents and what you'll charge clients. For example, you might offer drop-in daycare at one price and full-time daycare at another. Or you might offer meals and snacks as part of your program for an extra charge.
6. Marketing
This section explains how you'll market your services to your target clientele. Be specific on how you'll market your business. You might plan on taking out an ad in a local parent magazine. Word-of-mouth can be a big lead generator with daycare; you might set up a referral program for your clientele, offering discounts to existing customers for sending new ones your way.
7. Funding
If you plan to apply for a small business loan, you'll need to add a section on funding that includes the information a lender needs to assess your business. Explain how you'll use the money; for example, if you plan to purchase new playground equipment, provide a list of the items you intend to buy, how much each piece costs, how the new equipment will improve your business, and your projected return on investment.
8. Financial Projections
Whether or not you're seeking funding, your daycare business plan should include financial projections. In this section, provide past and current revenue information, including your pricing structure, expenditures, balance sheets, and cash flow statements. Forecast future income based on expected enrollment growth. Back up these projections with data, such as population growth charts for your area.
9. Supporting Documents
Your plan should end with an appendix of supporting documents. This section commonly includes tax returns, credit histories, permits and licenses, contracts, lease agreements or mortgage statements, reference letters, and resumes. This section is optional, but including these documents provides helpful context to lenders or investors reviewing your plan.
Bringing Your Plan to Life
By taking the time to write a well-researched daycare business plan, you'll create a rule book that can help your business succeed. But don't stick your business plan in a drawer once it's done. Instead, roll up your sleeves and review it monthly or quarterly to ensure that you're on track, and update it as your goals and needs change.
A daycare business plan is the first step in how to start a daycare business. With a comprehensive plan, you validate your commitment to providing professional, high-quality services that can make a difference in a child's life.