You have a great rapport with your customers. You know them, you know what they like, and sometimes you know what they need before they do. So you may not think you need any technical assistance to connect with them. But while one-on-one people skills are the cornerstones for building customer relationships, a small business customer database lets you scale that personalized touch as your business grows. With a database, you're able to gather and track customers' information more systematically and efficiently, so you can take advantage of every opportunity to win their loyalty.
Your database will include information like what your customers purchase, the last time they made a purchase or service call, how often they contact customer service, and what questions or problems they present. You can also make note of their birthdays, line of work, community interests, hobbies and favorite sports teams.
Creating a customer database can be as simple as entering names, contact information and a few notes into a spreadsheet. For a large and highly detailed database, you might want to employ specialized software — which might be part of a customer relationship management program — or use an online database manager.
How can you take advantage of this centralized treasure trove of information to improve your business? Here are three ideas.
1. Personalize Your Marketing Messages
Creating a customer database makes it easier to use information from previous conversations as prompts for new contacts with customers. For example, if you're a florist or gift shop owner, you might send out an email or postcard mentioning an upcoming birthday or anniversary a customer had brought up. Your timely connection could lead to a new sale from a customer who was puzzling over what gift to buy a loved one.
According to McKinsey & Company, targeted and relevant messages like these help build lasting customer loyalty and can increase revenue by 10% to 30%.
2. Anticipate Customers' Needs
When your list of customers gets too long for you to rely on your memory to know what each one needs, a small business customer database can track those needs for you. If you have an HVAC business, for instance, the database will chronicle each service call so that you know it's been a year since the last checkup of a customer's air conditioning or heating system. That opens up a chance to offer a special deal on annual maintenance checkups and perhaps gain a recurring source of new revenue.
You can also learn a lot about your customers' needs by analyzing their comments to the customer service department. Both compliments and complaints inform you about customers' impressions of your brand and how well you are meeting their expectations. You can use that information to improve your business operations, so you generate more sales.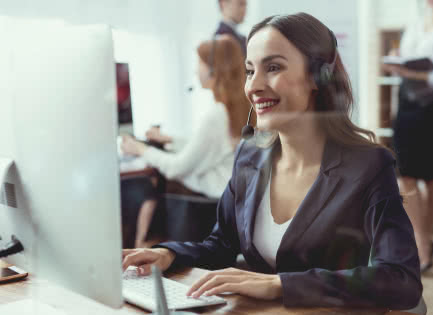 3. Discover Untapped Business Opportunities
While you're monitoring customer communications, you might find a few patterns that suggest possible changes to your business offerings. What issues do customers consistently bring up that you've been unable to resolve? What items seem to be on everyone's wish list but not in your inventory? Is there an opportunity to address those issues by adding a new product or service?
Maybe you could test an expansion of your general lawn care business into landscape design by offering spring garden planning consultations to a few regular customers. Or, if you're a home improvement contractor, you might consider expanding your list of subcontractors to include experts in some of the latest design trends your customers keep asking about.
Creating a customer database makes it easier to spot upselling opportunities and capitalize on trends so your business can earn more money.
Sometimes getting short-term financing help can be a smart move for business owners who want to reap the long-term benefits of a tool like a small business customer database. A small business loan is one option for making the investment feasible, so you can invest in the technology without disrupting your cash flow.
Draw up a list of all the ways you'd love to see a customer database help grow your business. If these benefits align with your business goals, it may be time to start researching your options.