Jack's Car Clinic opened three years ago on a shoestring budget, with some borrowed tools, personal savings and financial assistance from family members. Now word-of-mouth about the auto repair shop's stellar service keeps a steady stream of customers driving into Jack's garage. Jack sketched out a loose auto repair shop business plan in a notebook before launching the company, but never got around to formalizing it. Now the business is ready to grow, and a small business loan would help provide the resources Jack needs to expand. To prep for the loan application process, Jack needs to update his business plan to show lenders.
If you, like Jack, are an auto repair shop owner who is facing the task of writing a formal business plan for the first time — or updating an old plan — you may need help getting started.
Here's a guide to help you develop an auto repair shop business plan that will get your new venture on track for greater success.
Why You Need a Business Plan
It probably doesn't matter to Jack's loyal customers that the car shop started up with a business plan that would fit on a repair order form. They only care that the shop's reliable service keeps their vehicles in mint condition. But a potential lender may require more thorough paperwork to assess whether Jack's business is a good investment.
If you're thinking of applying for an auto repair business loan, you can't afford to put off creating a business plan any longer. A solid business plan may help potential lenders feel confident that you know how to manage an auto repair shop and have a clear vision for how you want to use the loan funds to grow your business.
How to Structure Your Business Plan
There's no single business plan template, but it's probably wise to adhere to some of the more common practices and traditional lender expectations.
Business plan styles generally fall into one of two categories, according to the U.S. Small Business Administration: traditional or lean startup. The more common, traditional plans are longer and more detailed, while lean startup plans stick to brief summaries that typically fill a single page, according to the SBA.
Your choice may depend in part on the preferences of the lenders you plan to approach, keeping in mind that some lenders may not require you to have a formal business plan at all. The SBA notes that business owners seeking financing from traditional sources may want to go with a traditional business plan. Other considerations include the complexity of your business and how often you expect to update your plan.
Ultimately, your goal should be to write the auto repair shop business plan that best fits your company's current needs and guides it to the next stage.
Lean and Traditional Business Plans
The SBA lists nine common elements each for lean startup and traditional business plans, with the former list taken from the well-known Business Model Canvas template, created by Swiss business theorist Alexander Osterwalder.
Sections of a Lean Startup Business Plan
Key partnerships – e.g., suppliers, manufacturers, subcontractors
Key activities – methods your business will use for competitive advantage
Key resources – e.g., staff, capital, intellectual property, networks, organizations
Value proposition – your company's unique value in the market
Customer relationships – how customers will interact with your business
Customer segments – your target market(s)
Channels – ways you will communicate with customers
Cost structure – your key business costs and spending strategy
Revenue streams – how your business will make money
Sections of a Traditional Business Plan
Executive summary – overview of the purpose, leadership, staff and finances of your business
Company description – more detailed discussion of the mission, target market, structure, etc.
Market analysis – research-based report on industry trends and market competition
Organization and management – details about company's legal structure, key team members
Service or product line – what you will sell and how these offerings will help your customers
Marketing and sales – your marketing strategy and selling process
Funding request – how much money you want to borrow and how you will use it
Financial projection – your five-year financial forecast, including budget, income, cash flow
Appendix – supporting documents like credit histories, resumes, product pictures, letters of reference, licenses, permits, patents, legal documents and other contracts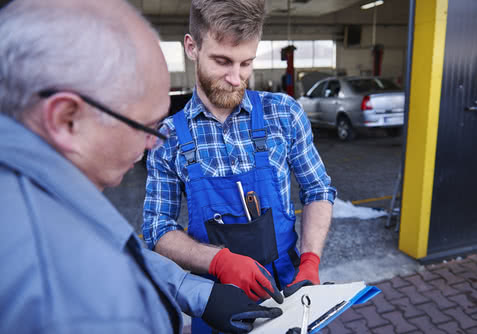 Tweaking the Template for Your Business
Your business plan may be similar to other auto repair companies, or any service business, for that matter. But there are still ways to tweak your plan to make it stand out from the crowd.
Let's say you don't have the time to develop a highly detailed, comprehensive plan and you think your business model can be explained in a simpler, shorter plan. For those reasons, you might start with a basic lean startup template and put a special emphasis on highlighting those elements that show your company's best strengths. For example, you'll want to highlight competitive edges — like hiring graduates of a top-rated automotive mechanics' school or using a revolutionary enterprise software system for diagnosing mechanical problems — in the key activities section. Maybe you've developed a robust email communications and social media strategy you'd like to tout in the section describing your channels for customer engagement.
If you enjoy delving into the details — or you simply must buckle down and do it to qualify for the financing you seek — the longer traditional business plan format is probably the way to go. You might decide to put extra effort into your market analysis of the automotive repairs industry and sizing up your local competition. If recent trends in your own business have you rethinking your product and service line or your long-term financial projections, it makes sense to focus on those areas when you create a new or updated business plan.
Like Jack, you've learned a lot about how to manage an auto repair shop since you put up your sign and saw your first customer drive up. Incorporating those lessons into a vision and plan for growing your business is an essential step in acquiring the financing you need to fuel its success.