Dentistry is a rewarding career, but it can be difficult and costly to stay on top of the latest treatments and services. To help your dental practice thrive and stay ahead of the competition, it's important to evolve your offerings. A dental practice business loan can help you update your services more quickly instead of relying on often lengthy insurance payment processes and patient invoices to cover costs.
Dental practice financing can help you achieve your goals and stay competitive. Here's how you can grow your business in five important ways.
1. Revamp Your Dental Practice
If you started your practice by saving money on your office setup, it might be time for an office and brand makeover. You can help patients feel more comfortable by creating an inviting atmosphere with attractive furnishings and décor.
You can also help make a patient's visit as comfortable as possible even with the COVID-19 precautions and state/federal guidelines for health and safety. To create a calming atmosphere, consider installing gadgets like a wall- or ceiling-mounted televisions, or stereo equipment with headsets to improve their in-chair experience.
2. Bring on New Staff
Gaining new clients is exciting, but if you're having difficulty fitting in their emergency visits or timely cleanings, it may be time to grow your team. A dental practice business loan can give you enough working capital to afford to hire another dentist, hygienist, dental assistant, or office staff member. These new employees will add monthly revenue to your practice, but it will likely take a few months to build their time and billings to full capacity.
3. Expand or Upgrade Existing Dental Equipment
Adhering to all the new COVID-19 requirements involves added expense for proper PPE and cleaning supplies. If you expand your team, you'll also need to expand your dental equipment to make sure you can serve the new customers your additional staff will generate. This may include adding one or more new chairs, as well as the necessary equipment and tools.
If your current equipment is outdated, it may be time to give your treatment rooms an update. New equipment can be gentler and more effective, which will help you provide a better patient experience and distinguish yourself from your competition.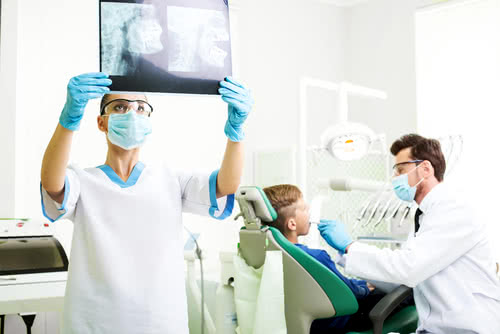 4. Add New Technology
From dental lasers that replace drills to robotics that perform surgery, the dental industry is being transformed with new treatments and technology. If your customers are asking about these less invasive options, it may be time to consider adding new equipment and services.
While some items can be costly, new technology should pay for itself over time. If you want to be an early adopter, it may help you attract new patients or even practitioners. Or if you see your competitors already offering new treatments, adding them yourself can help you keep up and stay relevant.
5. Invest in Marketing
Ninety percent of consumers used the internet to find a local business in 2019, according to BrightLocal. Patients often search online to find a nearby dentist who takes their insurance and has positive reviews. If you want to stand out among the competition, consider creating a website and investing in marketing.
A dental practice business loan can help you add a dedicated marketing staff member to your team, or you can use the services of an agency. Once you've got your branding and marketing strategy in place, leverage software tools that will automate marketing and appointment follow-ups. The idea is to make it as easy as possible for a patient to find you and interact with your office.
The Bottom Line
Achieve your business goals and grow your practice by taking advantage of dental practice financing. This small business loan can be a pain-free way to invest in your business' future. Take great care of your current patients and be confident that you can serve those who will find you as you grow.