Like every other industry, HVAC and plumbing businesses are beset by the challenges of the COVID-19 pandemic. Plumbing and HVAC businesses are essential businesses, but that doesn't mean that they haven't been affected by the pandemic. Yours might be weathering a sales slump, a cash flow crunch or, at the very least, the need to revamp health and safety protocols.
Despite the challenges, running a successful HVAC and plumbing business in the COVID-19 era is an achievable goal — it just requires creativity, clear priorities and new approaches. These seven opportunities for adapting and retooling your business can help boost your success in the coming months.
1. Prioritize Health and Safety
The COVID-19 pandemic has made everyone hyperaware of how they interact with others. To be successful, business owners must prioritize employee and customer safety. Examine the health and safety standards in your industry, develop a plan for keeping your employees and customers safe and communicate that plan to both groups. The U.S. Occupational Safety and Health Administration offers helpful COVID-19 safety guidelines for in-home repair services workers, such as those working in plumbing and HVAC repair.
Customers might be reluctant to invite your employees into their homes to make repairs. By setting safety protocols and requirements — such as mandating face masks, frequently sanitizing equipment and enacting routine employee health checks — and sharing those standards upfront, you can put your customers' minds at ease and make sure they keep calling you when they need you.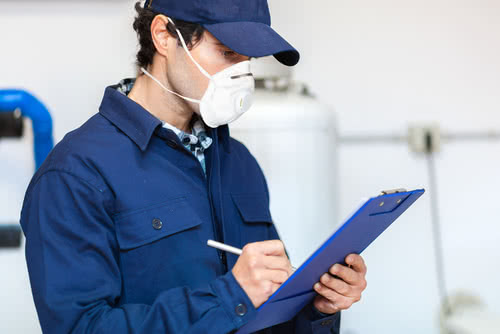 2. Cut Costs Carefully
In an uncertain economy, it's natural to feel pressure to cut costs and conserve cash. That's a good idea — as long as it doesn't affect your ability to attract customers and provide them with quality service. Cutting back on the cost of fuel or utilities is always a good idea — but if you cut marketing costs too drastically or lay off employees, you might inhibit your growth.
Extreme cuts might be necessary in some cases. But if you can, try to reduce costs in areas that won't affect your company's ability to meet customer demands and continue growing.
3. Focus on Marketing
When consumers need plumbing or HVAC help, they usually search online or ask friends and neighbors for referrals. In this business, it's crucial to invest in marketing so that your business will rise to the top of the local search results and remain at the top of your target customers' minds. If you have the resources, paid search marketing and local TV advertisements can be effective tactics.
But some of the best opportunities for marketing your business, such as social media and blogging, are completely free. Maintain an active social media presence and regularly post helpful information and links to your blog posts, and your business will gradually climb toward the top of the search results. People will find you when they're searching for plumbing and HVAC advice, and they'll remember you when they need help.
4. Interact with Your Community
Getting involved in your local community can drive sales. If you volunteer at a local school or with a community organization or sponsor a youth sports team, make sure that the people you work with know that you run an HVAC and plumbing business. They'll likely call on you when they need an HVAC technician or a plumber.
5. Sharpen Your Business Skills
Most plumbing and HVAC business owners have the technical skills required for the job. But running a business requires more than a solid skill set. You need to know the fundamentals of business management, including how to manage your finances, operations, human resources and marketing.
Joining a trade organization, such as the Air Conditioning Contractors of America or the Plumbing-Heating-Cooling Contractors Association, can give you access to inexpensive education and training. You could also seek out a mentor — someone who has extensive experience in the industry and is willing to share advice. The business world is constantly changing, so keep learning and sharpening your business skills.
6. Build a Strong Team
Your employees are a reflection of you and your business. Hiring and training the right people and building a strong, service-oriented team might just be the most important step toward building a stronger plumbing and HVAC business. Thoroughly vet any new employees and provide ongoing training in technical skills and in company standards and procedures.
The best employees will reflect your company's values and will leave customers with a positive impression. Keep employees focused and engaged by providing competitive compensation and perks that they value, such as flexible hours or extra time off. A strong, dedicated team will help you run your business efficiently and effectively.
7. Build Your Cash Reserves
Cash flow is a challenge for almost every business — especially during a global pandemic and economic uncertainty. You can build your cash reserves by requiring your customers to pay at the time of service and requesting extensions on payment deadlines from your vendors.
If you need extra cash — or think you might one day — consider applying for a business loan or line of credit. The right business loan can be an inexpensive way to access cash when you need it, and having cash available can relieve some stress so that you can focus on growing a successful business.