One of the best parts of running a small business is turning a profit, and when money starts rolling in, you'll need a way to collect it. To process debit and credit cards, you're going to need a point of sale system, commonly referred to as a POS. A POS system is the hardware and software used to complete transactions. Several options are available, but choosing the best POS systems for small business needs will depend on your industry and company goals.
Every Business Needs a POS System
While cash and checks are easy to deposit, your customers want the ability to use other forms of payment. A 2017 survey by payment processor TSYS found that 44 percent of people prefer to pay with debit cards and 33 percent prefer credit cards. Just 12 percent prefer cash. Accepting the type of payment that's most convenient to your customer has the potential to increase sales and order sizes.
The best POS systems for small business needs can quickly become the backbone of your company. Technology and a growing list of features have turned POS systems into small business hubs, able to handle a variety of tasks like inventory management, payroll and human resource management, and marketing. Plus, POS systems offer robust analytics that can help you better understand your customers and grow your business.
Choosing the Right POS System
In addition to the processing device, which can be a smartphone, tablet or laptop, your point of sale system may include a stand, cash drawer, receipt printer, bar code scanner and mobile payment reader. Your specific needs will depend on your business.
Less expensive point of sale options are designed solely for processing payments, but if you are paying for other business services, such as loyalty programs, gift cards or supply tracking, it might make sense to combine your tools into a single device.
Choosing the best POS systems for small business operations begins with understanding the features that are important to you. Before you start to review systems, here are some questions to consider:
How important is reporting or analytics to your small business?
Do you have a loyalty program in place, or are you planning to launch one?
Do you want your POS system to also process payroll?
Do you have inventory you need to track and manage?
How will you accept payments?
Where will you accept payments? At a stationary counter or another spot?
Will you need more than one terminal?
Five Best POS Systems for Small Business Owners
The perfect point of sale system for your business will depend on your specific industry and the type of transactions you see most often. Here are the best systems for each industry or niche.
Square: best POS system for service providers
ShopKeep: best POS system for retailers
Toast: best POS system for restaurants
Vend: best POS system for businesses with loyalty programs
Shopify: best POS system for businesses with e-commerce sites
Now, let's take a deeper look at each POS system's features, drawbacks and pricing.
1. Square
If you're looking for your first point of sale system, Square is a good option because there's no upfront cost to get started. Its features also make it the best choice for a service-based business that accepts payments outside of the office. Simply download the app onto an Apple or Android device, such as a smartphone or tablet. Square will send you the magnetic card reader to swipe credit or debit cards for free, and you're ready to start accepting payments.
Features
In addition to being a payment processor, Square offers a variety of business management tools included in its basic package, like inventory, invoicing, sales reports and customer profiles. You can upload customer information in bulk by importing data through a spreadsheet or add customer profiles one by one.
Square's data analytics feature offers a variety of reports, including average sales, sales by hour, inventory levels, and new or repeat customer levels. As your business grows, you can add some of the paid features, such as loyalty programs, payroll, employee management and marketing.
Square Pricing
POS app: $0
Processing fee: ranges from 2.5% to 2.75% + 10 cents per transaction, depending on the equipment type
Keyed-in payment fee: 3.5% + 15 cents per transaction
Square Reader for magnetic cards: $0
Square Reader for contactless and chip cards: $49
Square Stand iPad POS for contactless and chip: $199
Square Terminal all-in-one device including receipt printer: $399
Square Register with customer display: $999
Drawbacks
Square's transaction fees can be more expensive than other processing options, and to use their service you must use their processing, which means you can't use an alternative merchant services account. High volume businesses might explore other plans that offer lower transaction fees.
The Takeaway
If you are looking for your first point of sale system or if you process payments on the go, Square is a good option. With no upfront cost and no long-term contracts, it's a low-risk choice.
2. ShopKeep (Now Lightspeed)
If you want to customize your point of sale system or choose your own merchant services account for payment processing, ShopKeep is a good option. This system works on iPads and is a good fit for specialty retailers.
Features
Like Square, ShopKeep offers free software. However, it's only available to merchants who process less than $5,000 per month in sales and have just one active register. One of the advantages of ShopKeep is its strong inventory tracking ability. It allows you to track items with multiple variant combinations, track raw goods and ingredients, create low-stock alerts with suggested reorder amounts, and track vendors and suppliers per item.
The ShopKeep Analytics feature offers reporting on sales by hour, department and employee, as well as shift performance. It also allows you to add advanced features, like loyalty programs and marketing, through third-party vendors. And ShopKeep offers 24/7 customer support, unlike Square, which doesn't offer support on the weekends and only during certain hours of the weekday.
ShopKeep Pricing
ShopKeep doesn't publish its pricing on its website; it requires that you get a custom quote. However, FitSmallBusiness.com reported this pricing estimate from third-party sources:
POS app: starts at $69 per register per month
ShopKeep payment processing fee: interchange plus + transaction fee
Pick-your-own payment processor: interchange plus + gateway fee
Bluetooth credit card reader: $329
Mobile register kit with iPad mini enclosure and magnetic card reader: $198
Basic hardware kit with cash drawer, printer, iPad enclosure and card reader: $809
Drawbacks
Because the displays and dashboard need to be customized, ShopKeep will take longer to set up than another POS. It might also take longer to learn than the other best POS systems for small business owners.
The Takeaway
If you want customized service and setup as well as lots of inventory tracking options, ShopKeep is a good choice. It, too, doesn't require a long-term contract.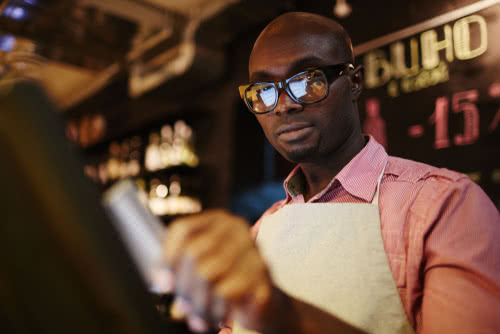 3. Toast
If you are a restaurant owner and want a system that is made specifically for your industry, Toast is a great tablet-based option and is one of the best POS systems for small business restaurant owners. It's designed to handle all of the special functions in a restaurant — from the dining room to the kitchen.
Features
With restaurant-grade equipment that can stand up to the fast-paced environment, Toast processes transactions and offers many of the same features other POS systems do, such as staff management, customer profiles and inventory. In fact, Toast's system tracks ingredients and lets you calculate the cost of a recipe, which is helpful when pricing your menu. Plus, the point of sale system provides restaurant-specific reporting, such as tips and average table turnover time.
Toast also allows you to manage your menu, creating categories, such as breakfast, lunch and dinner, as well as subcategories, like appetizers, entrees and desserts. The tool allows the user to modify an order, such as subtracting an ingredient or requesting a substitution. And you can easily split a check for diners. An integrated loyalty program is available as an advanced feature for a monthly fee.
Toast Pricing
POS app: $79 per terminal per month
System installation: starts at $499
Toast payment processing fee: interchange plus + transaction fee
Hardware bundle, including 10″ terminal, flip stand, magnetic card reader: starts at $899
Drawbacks
Like Square, you are locked into Toast's payment processing service and can't use your current merchant services account. Also, Toast currently only works with Android devices.
The Takeaway
While Toast is more costly than other options, it's specifically designed for restaurants. That means you won't outgrow the system as your business expands.
4. Vend
If you have or want to build a thriving loyalty program, Vend is a point of sale system that offers this built-in capability. Vend operates on an iPad, Mac or PC, giving you the largest choice of hardware devices when it comes to the best POS systems for small business owners.
Features
Vend's POS system can process transactions as well as manage customer information, sales and inventory. The app allows you to customize your screens to provide shortcuts to your frequently used features. Vend also offers two levels of reporting. The basic program provides data such as costs versus profits, trends, and sales timing, while an advanced level available with higher-tiered plans provides additional information, such as employee performance.
One of Vend's strengths is its built-in loyalty program, which you set up by defining levels. Sign up customers during checkout, or include a link to self-enroll in the emailed receipt. Reward balances will show up in their customer profile and at the bottom of receipts after a purchase. Vend also has an option to offer gift cards enabled in the system.
Vend Pricing
POS app: starts at $99 per terminal per month
Pick-your-own payment processor: interchange plus + gateway fee
Mac or PC hardware bundle (uses your existing computer), includes receipt printer and cash drawer: $360.49
iPad bundle, includes iPad, stand, receipt printer, cash drawer and power backup pack: $980.38
Drawbacks
While it does integrate with PayPal, Square and Worldpay, Vend doesn't have a built-in payment processor, so you'll have to handle that separately. This could be an advantage.
The Takeaway
While Vend is more expensive than the others, if you're paying for a third-party loyalty or gift card program, the convenience and cost savings of having it built into Vend could be a powerful reason to choose this system.
5. Shopify
If you own a retail store and want to add an e-commerce element to your business, Shopify is one of the best POS systems for small business owners. You can use the point of sale system on Apple and Android devices to manage online sales as well as transactions in your store and on social media.
Features
Like the other best POS systems for small business needs, Shopify processes transactions, tracks inventory and creates reports. One of its advantages is that e-commerce isn't treated as an add-on feature, and it seamlessly combines online and offline sales. Data is updated in real time, so if you sell a product in the store, the inventory is adjusted online, helping you avoid ordering issues with products that are no longer available.
Shopify's POS pricing plans also come with thorough inventory management capabilities, allowing you to add variants and SKUs.
Shopify Pricing
Shopify offers four plans that range in price from $9 to $299 per month. It also has a Shopify Plus program for enterprise merchants, starting at $2,000 per month.
POS app: ranges from $9 to $299 per month
Online payment processing fee: ranges from 2.4% to 2.9% plus 30 cents per transaction
In-person payment processing fee: ranges from 2.4% to 2.7%
Additional fees for using payment providers other than Shopify: ranges from 0.5% to 2%
All-in-one basic mPOP: $399
iPad bundle (uses your existing iPad), includes iPad stand, receipt printer, card reader and cash drawer: $656
Drawbacks
To access reports, you have to subscribe to one of Shopify's two highest plans. This could be expensive, depending on the information that's important to you.
The Takeaway
If you are adding e-commerce to your business, Shopify is a good way to streamline your point of sale system.
Other Considerations for Your POS System
Once you review all of the best POS systems for small business operations, it's important to match the right fit with other criteria that impact your business daily. You can find a lot of information on each provider's website, but you should make a list of questions before contacting the company and speaking to a sales representative. Consider the following topics and how they pertain to your specific needs and industry:
Price
First, look at the monthly price. Consider the cost of payment processing fees as well as any add-on features that are not included in the base price. For example, take your average monthly sales and calculate an estimate of your fees. Square may offer free basic hardware, but it may also cost you more in the long run with higher payment processing fees than a system that allows you to choose your own merchant account.
Also, more expensive systems usually offer more features. Do you really need them? If you're a sole proprietor with a service business, you likely don't need employee time tracking. Don't pay for features you don't need. You can always upgrade as your business and staff grow.
Ease of Use
Consider how easy the system will be to use. You will need to train your employees on how to use it and to process transactions. If your business is more complex, be sure to take a demo of the system to determine if it's intuitive or if it requires more extensive learning.
Also, consider your customer's ease of use. If you have self-service kiosks in your restaurant or store, or if you use the e-commerce integration, you want a system that customers will find convenient and engaging.
Inventory
All of the systems here have a feature to manage inventory, but how detailed yours is should factor into your decision. If you sell clothing, for example, you'll need to have an inventory management system that easily accounts for sizes and colors. Or if you have a restaurant and need to track ingredients, you might want to choose a system designed for that need.
Customer Relationships
The best POS systems for small business owners help to build stronger relationships with customers. Sales data and customer tracking can be used to help you provide more personalized service as well as insights on the best discounts or loyalty rewards to offer.
HR Functions
POS systems can handle HR functions, such as clocking in employees, tracking staff schedules, measuring productivity and sales, and handling payroll. Your POS system may include accounting services or integrate with third-party software like QuickBooks. Managing your costs, revenues, invoices and payroll all in one place will help you keep better track of your business and find opportunities to improve profits.
Integration With Other Tools
Consider the other apps and programs you use and see if there is overlap or an easy way to integrate your point of sale system. You want to make your life easier, not harder.
Reporting and Analytics
Reports and analytics features help you gain valuable insights into your business, but the level of information you need varies. Consider each system's reporting as part of your review process. Many offer different levels of information with various packages, so examine the options available.
Hardware and Equipment
Finally, consider the type of equipment you need. How will you take payments? Will customers pay at a counter or cash register? Or will you come to them at their table or another location within your store? Will you be on the move, accepting payments at your customer's home or place of business? The best POS systems for small business owners who make sales outside of their brick-and-mortar location will include mobile capabilities. Is a bar code scanner convenient for handling sales or inventory? And do you need multiple points of sale?
How Can You Afford a New POS System?
The costs associated with the best POS systems for small business owners can quickly add up. A good rule of thumb is to reserve 3-4 percent of your revenue for POS expenses, suggested Merchant Maverick. While you can add equipment to your business as you grow, you'll likely need to make a large investment upfront, especially if your business will need several devices, such as for a restaurant.
Some of the providers offer financing on their equipment. For example, Toast offers financing on its system installation. You can also consider small business loans and other types of financing to help you purchase a system without getting your working capital involved. Your immediate needs will depend on your industry and business goals, but you might consider a system that allows you to add equipment over time and as your budget allows.
Choosing the best POS systems for small business needs can bring benefits that enhance your company in many ways. First, by allowing your customer to pay with the method they find most convenient, you can boost your sales as well as customer loyalty.
When you track inventory and supplies more effectively, you can save time and money in the operation of your business. And by examining the reporting, you can make changes to increase your revenue and improve employee performance with more effective training.
Finding the best POS systems for small business needs is about increasing your profitability, now and in the long term. Selecting the right system is a big decision, so take your time. It might help to talk to others in your industry to find out why they chose the system they have, what they like about it, and what they wish they had done differently. It's time to turn your original cash register into a vintage decoration and consider a POS system to be a partner in your future success.
The recommendations, opinions or views expressed in this article are those of the author, and do not necessarily reflect the recommendations, opinions or views of National Funding.