As a small business owner, many of your daily decisions will impact your business finances. But keeping track of all those decisions can be a burden, especially if you're trying to do it by hand or on your own. You can't contact your financial adviser or chief financial officer 24/7, but you can do the next best thing with your smartphone. The best finance apps for small business owners can offer insight into your company's financial health, while making your life easier. Here are six apps you should consider downloading.
1. LivePlan: Create Business Plans
A business plan creates a road map for your company's success, but putting one together can be stressful and time-consuming, especially if you've never built one before. LivePlan can speed up the entire process.
You can choose from one of its business plan templates. First, you enter your goals and information about your business. Then, you can link the account to your tax software to see if you're on track to meet your goals. LivePlan also creates one-page summary handouts that you can show lenders and investors.
For example, Susan owns a farm and is considering buying more land to launch a new crop. She's not sure how the cost and increased revenue will impact her business plan. She punches this data into the LivePlan app and can see that the investment is definitely worthwhile.
LivePlan works on iPhone devices. Their website says the app should work well on Android, but testing has been more limited. It costs $19.95 per month with a 60-day refund window. You can also get a discount for signing up for six months or a year at a time.
2. Expensify: No Need for Paper Receipts
If you're drowning in a pile of paper receipts, Expensify could be the solution. With this mobile app, you can take a photo of your business receipts and it will immediately save and categorize the expense with your tax software. If your employees sign up, they can get reimbursed more quickly for their expenses.
Expensify makes our list of the best finance apps for small business owners because it also helps with tax breaks. For example, you can use GPS tracking to record your mileage for the driving deduction. It also can warn you about potential tax mistakes that could lead to an audit, like accidentally deducting an expense twice.
Expensify is available for both Android and iPhone devices. You can try the service for free and scan up to five receipts per month. For more scans and features, a paid account starts at $4.99 per month.
3. Square: Process Credit Cards Anywhere
Square is a POS and mobile payment processing firm. You can use the service to accept payment through your website, a POS system or by sending invoices. It also offers small business mobile apps where you can set up your phone to accept credit card payments from anywhere.
For example, Noah, a food truck owner, uses Square to accept customers' payments through his POS system. When he fulfills catering orders or delivers food off-site, he uses the Square app and the card reader, which easily accept credit card payments.
The Square system works on any type of mobile device. For payment, the service charges a percentage of each customer transaction. You get one free mobile card reader, then it's $10 for additional ones.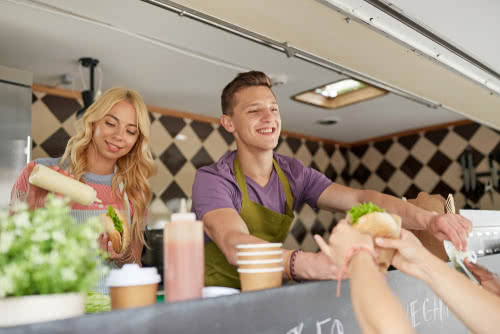 4. Due: Fast, Online Invoice Payments
Due made our list of the best finance apps for small business owners because of its invoicing feature. You can easily create customer invoices on your mobile device, which clients can pay through the website/app. Due also lets you set up time tracking for your clients, calculate sales taxes, set due dates and late fees, and schedule automatic billing for repeat customers.
For example, Steve, a contractor, has trouble collecting payment from customers because he doesn't have time to manually file invoices and track deadlines. With Due, he can create and email an invoice to customers immediately after he finishes a job. His account will also send out automatic reminders to customers and charge penalties for late payment.
Setting up a Due account is free, but there may be a small monthly fee based on how many invoices you send. Due also charges a 2.8% fee for processing invoice payments. This app works on all devices, including Android and iPhone.
5. inDinero: An On-Demand CFO
If you're looking for as much support as possible, the inDinero team markets themselves as an on-demand CFO. In other words, they aim to handle all parts of your finance department in one software. When you sign up, you link inDinero to your bank accounts, business plan and tax software. The app will then use this information to prepare financial statements, see if you're on target with your goals, analyze your budget and find ways to improve your cash flow.
The software can also be used to prepare your tax return, create customer invoices, track deductions and reimburse employee expenses. The premium package has live support from an off-site CFO.
inDinero's most basic plan costs $300 per month, but that could be a fraction of hiring your own finance department. inDinero is available for both Android and iPhone devices.
6. Mint: Personal Financial Planning
Mint is a personal financial planning and budgeting software. You can connect all your personal bank accounts, investments and bills to the program and it will automatically start creating your budget. It can teach you financial terms and give you recommendations for credit cards, investments and bank accounts. For example, if Mint sees you're holding too much in cash that's not earning any interest, the program could recommend a higher-growth savings account or a CD that will actually build your nest egg.
Even though Mint is geared toward your personal finances, you can connect it to your business accounts. As you make money from your business, that information automatically goes into your personal financial plan as well. Mint is free to use and works on both Android and iPhone devices.
Most of us could use an extra hand with our finances, but whether it's through an app or by hiring an accountant, there's often a cost involved. If you need help with funding, you can use a short-term business loan to offset these kinds of expenses.
By taking advantage of these small business mobile apps, along with the best accounting tools, you can manage your finances at any time and from anywhere. While they don't quite replace the advice and support from a trained financial expert, they certainly come close.
The recommendations, opinions or views expressed in this article are those of the author, and do not necessarily reflect the recommendations, opinions or views of National Funding.