Running a farm often involves dealing with uncertainty. On top of the typical risks of owning a business, you also need to worry about uncontrollable factors like bad weather, a poor harvest or political roadblocks like tariffs. Given all these challenges, it's understandable if your farm faced financial stretches that hurt your credit score and made it difficult to attain farm business loans for bad credit. Fortunately, there are still financing options available. Let's dive into the current state of farm financing and your options for how to get a farm loan.
The State of Farm Financing
A Need for Capital
The farm business model depends on flexible access to credit. Not only do you need to borrow money to buy equipment and land, but there's also the seasonal need to restock fertilizer and seeds, buy livestock, and hire staff to get through your busiest time of the year. You also might need money to get through unexpected problems like a poor crop yield, a natural disaster or lower-than-expected prices.
Once you sell your harvest, you can pay everything back. It's a business model that's worked for hundreds of years. But while farmers depend on credit, it's getting harder to find.
Tough Times for Farm Loans
The farming industry is going through a difficult stretch. Net farm income has fallen nearly 50 percent since 2013 and is at the lowest point since 2009, according to Farm Aid. As a result, the financial condition of the average farm has weakened.
The farm sector is seeing an increase in debt-to-income and a fall in working capital, meaning farms have less in cash reserves. The Associated Press reported that farm loan delinquencies just reached their highest point in nine years, as farmers are not earning enough to keep up with their payments.
Given these difficult conditions, traditional lenders have become reluctant to set up farm loans, and when they do, they require more collateral. For a farmer with bad credit, this is a tough landscape to navigate.
How to Get Farm Loans With Bad Credit
In this section, we look at who lends to farmers, how to get a farm loan, and what it takes to qualify.
Traditional Lenders: While traditional lenders do offer farm loans, their standards have gotten tougher over the past few years. To qualify, you'll need a proven track record of farm income, valuable assets to put up for collateral, and a strong credit score. Their lending process can also take several weeks or months as they review your application.
One benefit of working with a traditional lender is that, if you do qualify, you could receive a larger amount of money through a long-term loan. This can be useful for buying more land or adding new buildings to your farm. But when your credit score is below average, it can be difficult to qualify. You may need to delay using traditional loans until you rebuild your score.
Government Programs: The government can help you qualify for farm loans with bad credit through the Farm Service Agency of the USDA. In this program, the agency guarantees partial repayment of the loan so if a borrower can't pay it back, the traditional lender gets part of their money back. As a result, these lenders may be more willing to take on someone with a lower credit score.
However, similar to traditional lenders, it can still be difficult to qualify. Aside from a credit score, the lender will look at other qualifying factors, such as whether you have a long track record of farming (10 years or more), a low amount of other debt, a cosigner and collateral.
Alternative Lenders: Alternative lenders are the easiest way to borrow farm loans with bad credit. These lenders base their decision primarily on whether your farm is bringing in income. You may be able to qualify so long as you earn at least $100,000 a year.
Since alternative lenders do not review a complicated list of requirements, they can process your loan application within a couple of days. This comes in handy when you're in a sudden cash crunch, like after your tractor breaks down, and can't spend months waiting on a traditional lender. These fast loans are for smaller amounts of money, between $5,000 to $500,000.
Alternative loans often give you the flexibility to pay off the debt as soon as you want without a prepayment penalty. You can pay everything back right after you sell your crop. If you're a farmer with bad credit, alternative lenders can be a quick and effective way to gain access to the money you need now. Plus, making the loan payments will allow you to rebuild your credit score.
How Financing Can Help Your Farm
Your credit history shouldn't stop you from considering new paths to growth; a farm loan can be used for more than bridging a financial dry patch or unexpected setbacks. By taking advantage of farm equipment loans, you can free up the cash needed to run your business during tough times and expand operations when you see the opportunity. Think of what you could invest in:
Buying New Machinery/Equipment: Whether it's updating your tiller, buying a new tractor, adding a conveyor belt or installing a generator, farm equipment financing gives you the money you need to make these investments today. You can also use a farm loan to cover any emergency repairs during harvest, when you can't let a broken piece of machinery hold you back.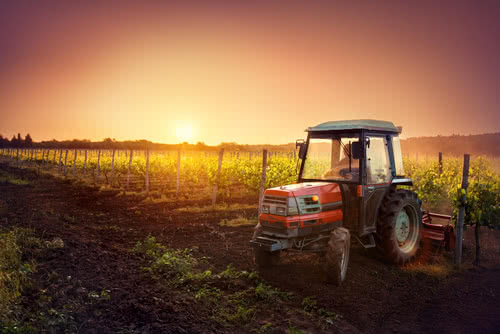 Upgrading Your Systems: You can also use farm loans to improve your current processes, like redoing your irrigation system or building a new silo for your increased harvest.
Adding Another Crop: If you want to diversify by adding another crop or type of livestock to your farm, a farm loan will help you purchase the new seeds, equipment and buildings needed.
Hiring Farmers During a Cash Crunch: If your business is going through a tough financial stretch, it may be tempting to downsize your staff, but ultimately, you can't harvest all those acres on your own. You'll need employees to help you. A farm loan can cover their pay until you sell your crop and get back on your feet.
Whatever you're looking for, make sure to work with a financing company that has experience lending to farmers, especially those with bad credit. They can help you identify how to get a farm loan while also explaining any possible tax breaks you could earn through farm equipment financing.
Don't let your credit score hold back your farm. With these options, you can raise money and make all the investments you need during dry spells and high-yield harvest years alike.