When it comes to business ownership, your friends and family are likely your biggest fans. They're ready to root for you through the good times and the bad. They may even lend you money if you're in a dry spot, or if a traditional lender rejected your loan application. A personal loan agreement between friends or family can seem like an easy way to raise capital for your business needs. Proceed with caution, though, because it comes with some risks for business owners who don't plan ahead.
Here's the good, the bad and the ugly about borrowing money from your personal connections.
The Good: Easy to Borrow, Almost Too Easy
The people in your life who are open to loaning money to friends might be your first contact for a loan. Friends and family members who are willing to lend you money probably have a less strict approval process than a traditional lender.
Your personal contacts may just write you a check, skipping steps in the formal loan process like:
Asking for a written loan agreement
Negotiating a fair interest rate
Checking your business credit score
Reviewing your business plan to learn how or when you'll pay them back
If you decide to borrow money from a friend or family member, make sure you avoid shortcuts. As easy as it might be to take the check and buy them dinner as a thank you gift, it's important to set up the loan properly.
You should absolutely create a formal loan agreement between friends. This agreement should list the interest rate and payment schedule. This way there will be no misunderstandings over when you'll pay the money back.
You should also present your business plan to your friend or family member. This gives you the opportunity to show how you'll invest the loan proceeds and when you expect business income to grow. Take the time to explain your business goals and how you plan to use their investment to reach those goals.
Your personal investor will probably enjoy hearing how their money can make a difference in your business. Additionally, knowing how you plan to use the money gives your friends and family more confidence it's in good hands. Putting in this extra work ahead of time to create a personal loan agreement between friends prevents future problems, which we cover below.
The Bad: Tax Trouble From Skipping the Formal Loan Process
One big downside of financing your business with a loan from family and friends is the potential tax headache you could run into with the IRS. A legitimate business loan must have fair market terms. That generally means the loan charges an interest rate that someone you don't know personally would charge.
If your friend is loaning money to friends like yourself at a below-market rate, the IRS could consider part or all of the proceeds as a gift rather than a business loan. If someone gives you more than $15,000 that means they can owe gift taxes. Suddenly your friend's kind gesture is costing more than their initial investment.
Additionally, if you borrow more than $10,000, the IRS assumes you'll be paying interest on the loan, according to Entrepreneur. This is taxable income for the lender.
Even if you don't pay interest, the IRS still assumes your friend or family member collects interest on the personal loan agreement between friends. The IRS sets a minimum interest rate for loans and taxes the lender under the assumption they received that amount. This extra bill could be a nasty surprise for someone doing you a personal favor, which is why you should pay them a fair interest rate.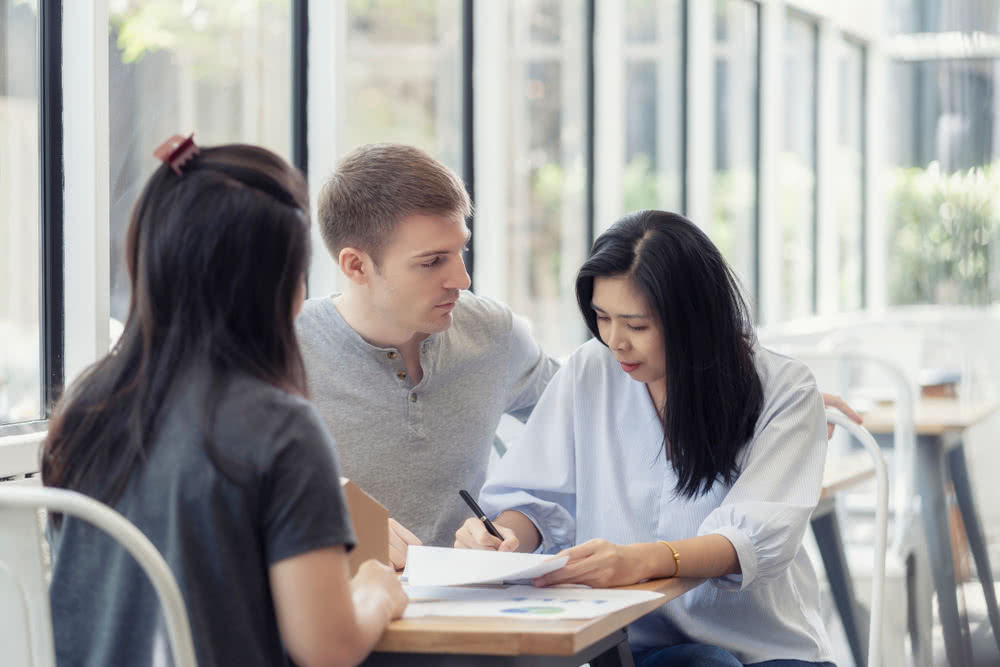 The Ugly: You Put Your Relationships at Risk
You've heard the expression, "Never lend money to a friend because you might lose both."
When you borrow money from friends and family, both you and your lender are taking a big risk with the relationship. That's the biggest downside of accepting financing from family and friends. At the start of the lending process, everyone is in good spirits. You're excited to share your business vision and your friend is ready to help you make your dreams a reality.
But what happens if things don't go well for your business? How will people react during a slow stretch when you miss a few loan payments? Or even if you end up defaulting on the loan altogether?
That's why it's important to keep the entire process formal and set up a personal loan agreement between friends. By showing your contacts your credit score and business plan, they can appreciate the potential risks of lending you money. Also, by giving them a fair interest rate and following a set payment schedule, you ensure the lender is compensated for the risk.
Before You Make It Personal…
Business owners typically turn to friends and family after a traditional lender turns them down. You might think your personal connections are the only option for raising money.
Luckily, that's not always the case. Before you rule out all your options, consider that alternative lenders offer small business loans with a much easier approval process. Your business could qualify as long as you meet accessible terms such as being open for business for at least one year and having over $100,000 in annual sales.
By working with an official lender, you avoid the risks involved with borrowing from family and friends. Be sure to consider all your options as you figure out how to borrow money for small business costs.
This isn't to say you should never borrow money from family and friends for your business.  The key is to treat a loan agreement between friends as seriously as any other business deal. That way your personal loan will only lead to good results – and you can skip the bad and the ugly.