Your small business is committed to environmental responsibility, and you've got the goods and the actions to show for it. Your company's sustainability creds might fit one of the following categories, for instance:
A retail store that sells products made from recycled, organic or nontoxic materials
A restaurant that uses biodegradable supplies and local ingredients to reduce carbon emissions from long-distance transport
An office building that runs on renewable energy
If you have a track record of eco-friendly practices, consider making it official with a green business certification. With all the other tasks you're juggling as a business owner, you may be hesitant to add another time- and resource-consuming item to the mix. But once you've assessed the potential advantages of getting certified, you may decide it's well worth the effort.
Consider these factors when deciding if this formal recognition is the right move for your green business.
What Is a Green Business Certification?
A green business certification is an independent validation of a company's compliance with a set of voluntary environmental or energy-efficiency standards. The list of benchmarks will vary depending on the type of certification and the organization conducting the review.
How Can Certification Help My Business?
When your sustainability efforts earn an official stamp of approval, you get to tout that achievement in your marketing message. A green business certification provides a chance to brand your business as a socially conscious company that's committed to environmental protection. It lets you attract more customers who share your passion for that cause. Plus, as consumers become increasingly wary of greenwashing — making misleading or unsubstantiated claims about the environmental benefits of a product, service or business practice — having that third-party authentication can make all the difference.
How Do I Become Certified?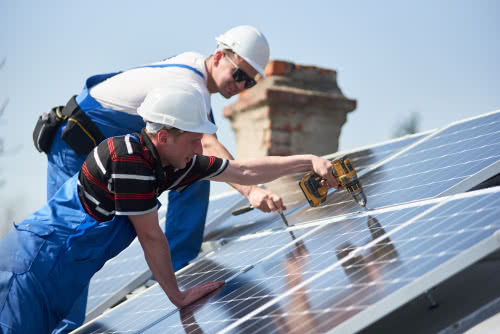 While the specific requirements vary, each certification process will involve some method of documenting your company's compliance with the standards of the certifying organization. You'll be required to pay either a standalone certification fee or an organization membership fee that includes certification among other benefits.
Types of Green Certifications
Here are two examples of small business certification programs focused on sustainability practices.
Green America. Green America conducts online certification assessments, with 40 industry-specific options available. The list includes architects and builders/construction; food products; health services; landscaping, gardening and farming services; retail stores; and restaurants, cafes and catering.
Each 10-question application is designed to take 20 to 40 minutes to complete. Business owners become eligible to apply for certification by joining Green America's Green Business Network. Membership fees range from $130 for businesses with up to five employees to $2,500 for companies with more than 250 employees.
Green Business Certification, Inc. GBCI administers several certification programs focused on building design, engineering and management. These certifications include LEED (Leadership in Energy and Environmental Design), EDGE (Excellence in Design for Greater Efficiencies), and TRUE Zero Waste. The organization has locations in the U.S., China, Europe, India and Mexico.
Each program has a different set of standards, credentialing requirements and fees. For example, LEEDS and EDGE require site audits, while the TRUE evaluation consists of a 90-minute, 75-question online exam.
The Costs of Certification
The TRUE certification costs $350 for GBCI members and $450 for nonmembers. For U.S. Green Building Council members, the costs for the LEEDS certificate for building design and construction include a $1,200 registration fee, a $4,000 pre-certification fee per building, and project review fees ranging from $2,850 to $27,500 or higher, tied to the square footage of the space. Nonmembers pay more to become certified in all LEEDS categories. EDGE applicants pay a $300 registration fee covering all buildings on the company site, plus a certification fee for each building ranging from $2,250 to $11,000, depending on the square footage.
Whether you need the technology to become environmentally compliant, or you need cash to cover the membership costs, the certification does require an investment. If that expense aligns with your business goals, you can lean on a small business loan to cover some of the costs instead of tying up your cash flow.
Explore more facts about getting a small business certification for going green. You may discover a workable, affordable program that pays off in more sales and community goodwill once you start displaying that environmental seal of approval.