Sometimes, a young entrepreneur has a great product and nowhere to sell it. All too often, this is the story for minority-owned businesses trying and struggling to get off the ground, often due to discrimination in areas like securing capital.
In fact, according to the U.S. Senate Committee on Small Business and Entrepreneurship, only 18% of business owners are people of color.
To create a more equitable marketplace, your established small business can actually purchase inventory from these minority-owned businesses to sell in your stores. Not only can this help generate a steady stream of income for the entrepreneur, but it can also serve as a form of grassroots marketing.
Below are some insights into this strategy.
Join the 15 Percent Pledge
After the death of George Floyd, Black entrepreneur Aurora James, owner of the luxury accessory store Brother Vellies, challenged retailers to advance racial equity by supporting Black-owned brands.
"So many of your businesses are built on Black spending power," she wrote on Instagram. "We represent 15% of the population and we need to represent 15% of your shelf space."
Today, more than 25 national brands — including Macy's, Sephora, and Crate & Barrel — have joined James' 15 Percent Pledge. Small business owners can make a difference, too, by sourcing and buying inventory from minority-owned companies.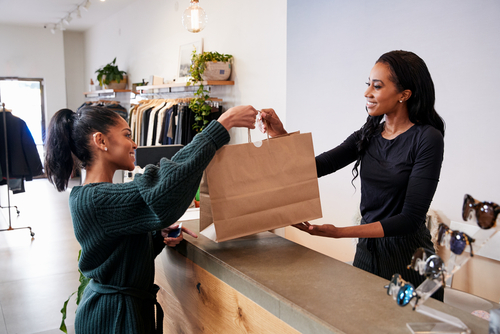 Back Up Your Words With Action
Wanting to make a difference is the first step. The next is to source products and find inventory for a retail store. Luckily, there are several directories that can help.
You can also take a more grassroots approach. Share your commitment to creating an equitable marketplace on your social media platforms. Ask your followers and customers for referrals and recommendations. Then directly reach out to these companies.
Level the Playing Field
In addition to purchasing inventory, you might also offer to mentor entrepreneurs of color just starting out and share advice that could help grow their businesses — especially in the most challenging early stages. Connect these small business owners with others who could help them, particularly when it comes to funding.
On average, traditional banks approve around 60% of the loans white small-business owners apply for, 50% of Latinx small-business owners' loans and just 29% of Black small-business owners', according to McKinsey & Company. Introducing a POC owner to venture capital firms, angel investors or alternative lenders committed to diversity can go a long way in achieving equity.
Broaden Your Reach
These relationships can benefit your business, too. Creating an inventory that represents a more diverse population can strengthen your connection to your customers and community. According to a survey by Markstein, an integrated communications agency, 70% of consumers are interested in how the brands they support are addressing social issues.
Broadening your vendor list might also help you attract a diverse group of new hires who identify with and appreciate your product mix. A growing number of job candidates look closely at a company's diversity and inclusion efforts.
In fact, according to McKinsey & Company, 45% of minority job candidates have not pursued or have turned down a job because they perceived the potential employer to lack an inclusive mindset.
Rise Together
When you're determining how to buy inventory for a retail store that delivers what your customers need, a commitment to minority-owned businesses is essential and inclusive of the greater small business community.
A rising tide lifts all boats. By supporting each other, everyone benefits.
If you need funds to purchase new inventory, check out National Funding's small business loans for retailers. Complete the contact form on the site, and a representative will contact you.