If you're a business owner who is also a minority, you could grow your company by becoming certified as a minority business enterprise (MBE). State and federal government agencies have special programs and contracts for certified minority-owned businesses, and more private corporations are seeking out ways to support and work with MBEs.
In fact, the financial gains can be significant if an MBE participates in supplier diversity programs. According to Entrepreneur, for every $1 million spent in procurement operating costs, a minority business owner could add an additional $3.6 million to their bottom line. That's a 260% net return on investment.
Becoming a Certified Minority-Owned Business
In order to be eligible for programs for certified MBEs, companies need to meet the criteria and be certified. There are two main certification programs:
NMSDC Certification: The National Minority Supplier Development Council (NMSDC) is a prominent third-party certifier, and it works on behalf of private U.S. corporations. To meet its criteria, a minority business must be a for-profit enterprise located in the United States and owned and operated by a U.S. citizen who is at least 25% Asian, Black, Hispanic or Native American.
Companies need to apply to become certified by the NMSDC. The process includes a series of screenings, site visits, and interviews. Business owners are then notified of the decision by email and postal letter.
SBA Certification: You can also become certified as a minority-owned business owner through the Small Business Administration (SBA) 8 (a) Business Development Program, which provides access to government programs and contracts. To gain the SBA certification, you must be classified as a small business by SBA standards. In addition, the business needs to be at least 51% owned and controlled by a U.S. citizen who is considered "socially disadvantaged" due to racial or ethnic prejudice or cultural bias. The SBA deems anyone who is Black, Hispanic, Native American, or Asian American to be socially disadvantaged. The SBA also requires that applicants show potential for success, demonstrate good character, and not have any outstanding federal financial debts.
Certification can take as long as 90 days, and applicants will be required to provide statements and documentation. You'll receive a letter that tells you whether or not you're approved.
The NMSDC charges an application fee for its certification, but there is no cost to become certified under SBA 8(a) guidelines. To apply for SBA minority business certification, create a profile at SAM.gov, then start the process on the certify.SBA.gov website.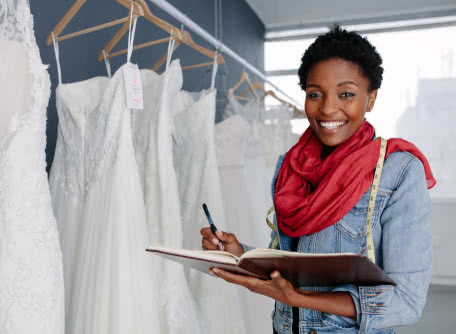 The Benefits of Being a Certified MBE
The process for minority business certification can be time-consuming and labor-intensive, but the benefits make it worth the investment of resources. Government agencies and private corporations are increasing efforts to work with minority-owned businesses, and certification gives you access to several opportunities reserved for MBEs.
One of the benefits is that governments and corporations often reserve a portion of their budgets for minority-owned businesses. These programs are often part of their diversity and inclusion efforts, through which they demonstrate that they're working with a broader group of businesses to better represent their communities. NMSDC works with more than 1,400 corporations, including Apple, Bank of America, Facebook, Google, GM, Microsoft, Walmart and The Walt Disney Company. Certified MBEs are added to the databases that are used to award these contracts, and you can use them to search for potential customers.
If you're certified by the SBA's 8(a) Business Development Program, you can compete for multiple government contracts that are reserved for MBEs and designed to help level the playing field for socially disadvantaged small businesses. Owners get free assistance with their applications from an appointed Business Opportunity Specialist, who will help you navigate the federal contract process.
Owners of MBEs also gain access to networking opportunities. NMSDC holds an annual Conference and Business Opportunity Fair where minority entrepreneurs have a chance to meet with prospective buyers and potential clients as well as network with peers. Forming these business relationships helps owners grow their businesses because of the advice and guidance they get from others, and relationships may also lead to partnerships.
In addition, the SBA's 8(a) Business Development Program offers opportunities for free counseling, training and guidance. Entrepreneurs can receive management and technical assistance, including business training, counseling, marketing assistance and high-level executive development.
A certified MBE can also participate in the SBA's mentor-protégé program, through which they can get guidance on aspects of business such as human resources, management, accounting, marketing and strategic planning. Mentors can also offer advice on bidding for federal contracts as well as provide information on global trade and new markets. Mentors and protégés may even form joint ventures that would help them qualify for a broader range of set-aside contracts.
Last but certainly not least, becoming a certified MBE can open doors to special loans products that lenders reserve for minorities. While traditional lenders can be a source of funding, owners of MBEs may want to consider alternatives, such as those that are committed to working fairly with underserved small businesses.
There are alternative lenders who offer loans to minority business owners who meet financial requirements. That funding can be used as working capital for things like rent or payroll. A small-business loan can also be a good way to pay for new marketing campaigns or community outreach that could help grow your business. These lenders also tend to have a higher rate of approval than traditional lenders.
Bottom Line
According to the U.S. Senate Committee on Small Business and Entrepreneurship, minority owned business enterprises made up more than half of the two million new businesses started in the U.S. during the past 10 years. Their impact is powerful: MBEs created 4.7 million jobs and had annual sales near $700 billion.
By becoming a certified minority owned business, you can join this growing and important group of entrepreneurs, and taking advantage of the benefits offered specifically to MBEs can help your business thrive.