Many entrepreneurs start their food truck business with a passion for food or food truck culture, but they don't know how to go about creating a formal business plan. Learning how to make a business plan for a food truck may not be the most exciting step of running your company, but it could be the most important.
The food truck industry generated $1 billion in revenue in 2019, according to IBISWorld. If you want to operate a successful business and have access to scaling opportunities like funding, a solid business operating plan is essential.
Even if you already have a basic plan in place, you can upgrade it to a successful food truck business plan that will elevate your company. Here's how to make a business plan for a food truck that supports your growth.
Executive Summary and Concept
Start your business plan with an executive summary and company concept that outlines your general vision. What geographic areas do you operate in? What type of food do you serve? Is there something that differentiates your truck, such as using only locally sourced ingredients or being operated entirely by veterans?
This section provides a high-level overview of what you're trying to accomplish and helps the reader put the specifics that follow into context. When Maria started a taco truck, for example, she created a company concept and high-level plan that focused on bringing vegan tacos to health-conscious professionals in high-tech and financial areas of Boston.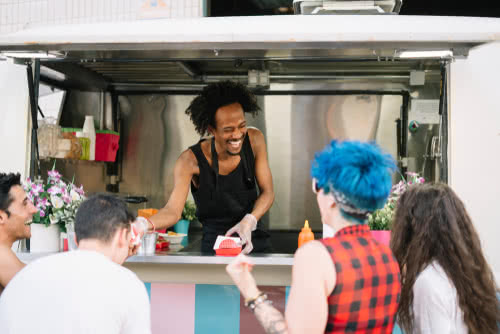 Management Structure and Operations
A successful food truck business plan breaks down how the business operates. There are several key considerations for this section:
Your legal structure: Is the truck incorporated, does it operate under an LLC structure, or are you a sole proprietor? For example, Maria chose an LLC for limited liability protection.
Your management team and advisory board: Maria's background as a vegan chef and her year of experience working on another food truck give her a strong background to make the venture a success. In this section, outline what you bring to the table and what advisers, consultants or support you use to help solidify your business.
Plans for basic operations: What hours are you open? Where is the food truck going to be stationed? Does food prep happen on the truck or does it begin in a commercial kitchen? What are the plans for cleaning and maintenance?
Company milestones: As you think through the operations, what are the key milestones? Examples might include purchasing or leasing a truck, obtaining any necessary permits, becoming profitable, or hitting other financial goals. Maria's business plan paves the way for her to double profits in her second year, thanks to what she learned in her first year of operation.
Market Analysis
A food truck business plan should also capture your market analysis. How much competition exists in the food truck market or with other food options — including nearby markets, restaurants or quick-serve establishments? In this section, you'll want to focus on your target customers, the opportunity size and what kinds of restaurants you're competing against. With these considerations in mind, identify the risks you're likely to face, your competitive advantages and how you stand out.
Maria's plan notes that there's not a huge food truck culture in Boston, but there are many successful examples. Her offering is unique, and recent studies that show a desire for veg-friendly and healthy foods give her a leg up. That, plus her commitment to local and organic ingredients, will differentiate her truck and help her stand out among the other lunching options in downtown Boston.
Marketing Plan
Once you've analyzed the market and identified your place within it, it's time to capture your marketing plans. How do you reach target customers and draw them to your food truck? It's helpful to focus on the products you create, your pricing structure, where your food truck is located and your promotional methods.
Maria knew that reaching the right people was essential. She created a robust social media marketing plan and then partnered with discount services like Groupon to get first-time tasters to her truck. In addition, she did outreach and partnered with local gyms, building management companies, health food stores and any other location that would connect her with health-conscious customers.
Financials
In this section, your food truck business plan should capture the critical elements of the bottom line. Where does your funding come from — through owner's equity, loans or investors? Include your pricing structure, plus the cost of food, labor and other operational costs. Your financial planning will need to account for seasonality and other factors. Financial planning helps you forecast when you'll be profitable, see areas where you may need to cut costs, and identify when to take extra promotional steps to sell more products to hit your revenue goals.
For example, the cost of fresh ingredients in Boston might be higher in winter, but Maria also expects business to slow. That means that her plan factors in a business boom in the spring through the fall and looks to savings and lines of credit to operate during the off-season. Overall, Maria's second-year food truck business plan allows her to plan for hiring some help, increasing profits and setting the stage to grow her operation even further in year three.
Grow Your Business
One question busy food truck owners ask is why they should spend time putting together a business plan. Business plans help you in several key ways. First, they encourage you to think through your plans and strategies, identifying weaknesses before they impact your business.
If you're planning to secure funding — either a small business loan to cover cash flow gaps or a food truck equipment leasing loan — a business plan can be an essential part of your application. Not only does it help a prospective funder understand your vision, but it helps build confidence that you're a thoughtful food truck owner who's managing your business in a professional manner.
The food truck business is booming, and this business model has created a whole new way for chefs and food lovers to bring their culinary visions to communities and customers. Spend time learning how to make a business plan for a food truck, then use that clarity of operations to achieve your goals and support long-term profitability, expansion and happy customers.