President Biden's Infrastructure Investment and Jobs Act includes around $550 billion in federal infrastructure investment in America's roads and bridges, public transit and utilities, internet and more. The improvements are much needed following an assessment by the American Society of Civil Engineers, which gave American infrastructure a C- grade.
This significant investment will improve the nation's shared resources and create well-paying jobs, reportedly adding about two million jobs per year over the course of the decade.
While this act is ground-breaking in many ways, small business owners — especially in the construction, manufacturing or transportation industries — may be wondering how this legislation might impact current and future operations.
Exploring the Infrastructure Investment and Jobs Act
As with any major legislative act, there are a lot of moving parts to this one. The overall goal of the act is clear: America will eventually see major infrastructure improvements across the country as these projects are implemented over the course of the next decade.
Let's get into the specifics of a few major buckets that might impact small businesses.
Transportation
$110 billion for roads and bridges
$40 billion for bridge repair and replacement specifically
$66 billion for rail repairs and modernization
$17 billion for port infrastructure improvements
$25 billion for airport repair and maintenance
Perhaps the biggest category of this act is the immense investment in American transport. Roads, bridges, rail, shipping ports and airports will all see major funding to address "backlogs" of repairs and jumpstart much-needed upgrade projects.
The act's fact sheet specifically calls out that "bridges in poor condition pose heightened challenges in rural communities, which often may rely on a single bridge for passage." With promised improvements to this lackluster infrastructure, small businesses that rely on the supply chain for materials or inventory will have more reliable (and safer) means to receive shipments.
Further, small businesses in industries based in rural areas, such as agriculture, will have easier methods of delivering their goods — thanks to additional roads and bridges connecting them to a wider range of customers.
Internet
$65 billion for extending broadband internet services
Considering the context of COVID-19, which abruptly forced millions of employees to switch to remote work, the world has come to appreciate the value of at-home internet. However, more than 42 million Americans live in areas without reliable internet or any access at all.
Biden's bill emphasizes that the "internet is necessary for Americans to do their jobs, to participate equally in school learning, health care and to stay connected." So, the bill plans to extend broadband internet to more people in the country and help lower the cost of internet overall.
These efforts could encourage small business development and growth — as they can have the option to move into more affordable areas previously inaccessible or recruit remote workers from new cities. Greater access to the internet for all also means customers who can't shop online can start interacting with small businesses located across the country.
Public Transit
$1.75 billion for public transit
There are quite a few components to the bill's public transit plans. Biden hopes the bill's funding will improve transit accessibility for the elderly and those with disabilities as well as modernize transit vehicles by replacing gas-powered buses (as an example) with "clean, zero-emission vehicles."
Most importantly, however, this bucket focuses on expanding public transit — specifically bus and rail — to new communities. For small businesses in all areas, urban or rural, this is only positive news. New public transit routes mean new communities full of potential customers can now access more businesses. Also, staff recruitment and retention will likely be easier as commutes to and from work might be faster or more direct.
Energy
$65 billion for upgrading power infrastructure
Power outages can negatively impact businesses. In fact, a Department of Energy study found that outages cost the U.S. economy up to $70 billion each year. This act will aim to upgrade America's power transmission lines to expand our energy resources, with an emphasis on renewable and reliable energy.
With reliable power comes reliable business hours.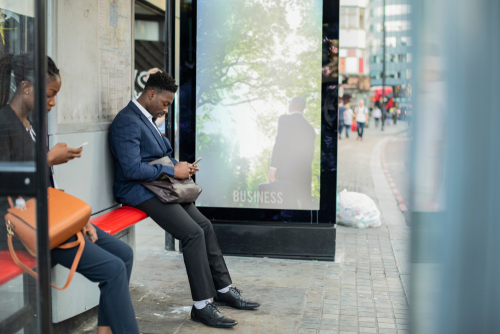 Staying Grounded
While all these infrastructure improvements are exciting and needed, the Infrastructure Investment and Jobs Act isn't all good news for small businesses. President Biden is openly pro-union, and one of his key promises with this bill is to create jobs specifically for union workers.
It's uncommon — though not unheard of — for small businesses to unionize. And while there is no exact language in the act stating that new jobs, contracts and opportunities are for union workers only, it does appear that nonunionized businesses will have difficulty competing for federal contracts.
As an example, federal spending requires businesses to pay their workers an "appropriate" wage based on the location of the project. So, according to the government, a paver working in highway construction in Wayne County, Michigan, must be paid at least $35.88 an hour. That base pay may be higher than some nonunionized small businesses normally pay their workers, which would eliminate their candidacy.
In addition, business owners can't forget that this act comes on the heels of other massive stimulus packages. All this government spending can trigger inflation by putting money that isn't matching real demand into the economy.
As a result, economists are predicting the prices of goods and services to rise with modest inflation anywhere from 2% to 5%. For small businesses, this means paying more for materials, supplies, wages and rent.
Investing In Tomorrow's Workforce
Not only will the Infrastructure Investment and Jobs Act help business operations run more efficiently but it could also help small businesses across the country grow into new markets and recruit new talent.
In an interview with CNBC, Brian Turmail, spokesman for the Association of General Contractors of America, emphasizes how great the infrastructure investment will be for hiring the next generation of talent: "This large, multi-year infrastructure measure signals to a new generation of workers that there's going to be great infrastructure jobs out there for a long time," he explains.
And while investing in American roads, rails, ports and energy is an important undertaking, investing in American workers is the most important undertaking of all.
Curious to learn more about how the workforce is recovering and rebuilding toward a brighter future? Read about six small business industries that are already showing signs of rebounding from the pandemic this year.