Nearly every industry took a hit in 2020. But many businesses are opening their doors again in 2021, and owners in small business industries are ready to come back strong.
According to a recent study by Capital One Business, more than half of business owners report that they're in the same financial position as they were before the pandemic, if not better. And 67% are confident that they'll hit or exceed pre-pandemic operations and revenue levels.
The future seems bright for small businesses. Here's a closer look at the biggest small business industries likely to rebound in 2021 and a few trends from 2020 owners can expect to continue.
Restaurants
The restaurant industry was hit hard by the COVID-19 pandemic, and the road to recovery will be long and hard.
Management consulting firm McKinsey & Company predicts that it could take more than five years for the food services industry to recover to pre-COVID levels. Still, the National Restaurant News noted in January 2021 that restaurant sales were projected to climb more than 10% in 2021. This will help the industry get back to solid footing, but it might not be enough to reverse the damage done in 2020.
Experts think that 2021 will be a transition and rebuilding year for the restaurant industry. Many restaurants expanded their offerings in 2020 to include online ordering, curbside pickup, and third-party partnerships with providers such as Uber Eats and DoorDash. These will continue to be significant revenue streams, as will maximizing space for outdoor or patio dining.
Trends such as ghost kitchens and virtual restaurants — in which food is only available for takeout — will also be on the rise. Restaurants must work to stand out even in their local landscape to attract new customers and build loyal followings.
Gyms and Fitness
Americans are ready to resume their fitness routines, the International Health, Racquet and Sportsclub Association notes, which means gyms and other fitness businesses could also rebound in the second half of 2021.
"Gyms are going to be overwhelmed with business," Walter Thompson, former president of the American College of Sports Medicine, told Today. "I'm incredibly optimistic about what's going to happen to the fitness industry in 2021."
For many gyms, the focus will be on reopening safely in connection with guidance from the Centers for Disease Control and local governments, as well as consumer preferences. Many consumers might want to continue social distancing, and some might pay a premium for private training. Many gyms will continue to offer the virtual programs and remote classes developed during the pandemic, too.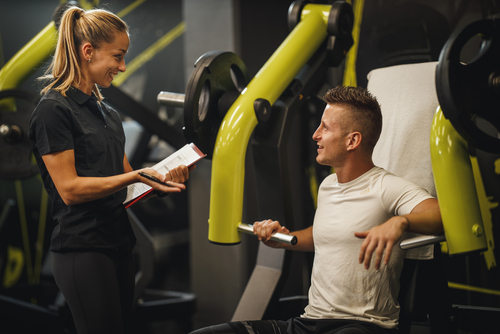 Construction
People spent significantly more time at home in 2020, and homeowners used that time to rethink their relationship with their spaces. Homeowners are looking to customize their living areas, whether they're adding dedicated workspaces or updating outdated kitchens and bathrooms. Office, manufacturing, and infrastructure projects are also likely to boom as municipalities reimagine public spaces.
Research and Markets predicts that construction output will grow by 1.4% in 2021 and could grow by 2.3% by 2025. But a few concerning trends are taking hold: builders are having difficulty hiring for the construction surge and subcontractors are feeling squeezed by a surging economy.
Personal Care
Barbershops, salons, and spas shut their doors or restricted their services for much of 2020, leaving consumers to try at-home haircuts or forgo their preferred personal care services. So the personal care industry is primed for a resurgence in 2021 as people make appointments to get cleaned up. The industry is expected to experience about 4% compound annual growth in 2021, according to Research and Markets.
Many of the trends that started during the pandemic are likely to continue, such as an increased focus on cleanliness and social distancing, as customers get reaccustomed to the up-close nature of these services. Stylists might continue to offer virtual consultations, too, as consumers might choose to continue at-home care (with professional support). However, many businesses are bracing for an influx of customers looking for a chance to relax and enjoy a bit of pampering.
Trucking
Truck drivers logged thousands of miles to deliver foods, goods, and medical supplies in 2020. And the trucking industry shows no signs of slowing down: FTR Intelligence predicts that truck loadings will jump 5% in 2021, after a 4% decline in 2020, American Trucker reports.
American Trucker also reports that refrigerated and specialized truck services will see even higher growth rates in the years to come. Other trends that could affect the trucking industry include the rising fuel costs and the potential of hybrid or electric delivery options.
E-commerce
Online shopping soared during the COVID-19 pandemic — and it shows few indications of slowing down. Shopify predicts that e-commerce will account for nearly 20% of all global retail sales in 2021 and could reach close to 22% by 2024. For small specialty providers, online sales are vital to their business's health. Staying current is key.
Barbra Harper's online spiritual goods and crystals boutique YJNCrystalsandCurios is experiencing significant growth. It sits at the intersection of trending consumer interests and the convenience of online shopping.
"Based on what I've learned about my customers and my business since COVID began, I'm currently in the process of rebranding to bring my customers even more of what they are looking for from my business," Harper says.
For many in the e-commerce space, COVID-19 highlighted similar opportunities to change inventory, delivery strategies and more to increase sales as their customers turned to online shopping. Harper, for one, plans on creating new items, offering a wider variety of products and building stronger relationships with her customers.
A rebounding economy coupled with continued consumer commitment to e-commerce will offer small businesses tremendous growth opportunities.
Building Your Business for Tomorrow
Owners in the biggest small business industries should prepare now for success tomorrow. Assess what your customers are looking for in a post-pandemic world and make a plan to give it to them. For owners ready to seize the moment and rebound, 2021 and beyond promise major growth opportunities.
Need funds to grow or pivot your business for success in the coming years? Check out National Funding's small business funding solutions or fill out our contact form to contact a representative.