Business leaders are recognizing the benefits of embracing eco-friendly practices. More than 90% of CEOs say sustainability is important to their company's success, according to the Stanford Social Innovation Review. Green businesses create a more positive brand image, increase customer loyalty, and save money by using less energy and being less wasteful. Learning how to make your business more sustainable doesn't have to be a huge undertaking. Start with these four ideas.
1. Reuse and Recycle
One of the most basic sustainable business practices is looking for every opportunity to reduce waste. Recycle plastics, paper, cans and electronics. Use paper supplies and packaging made of recycled material.
Instead of stocking the break room with paper or Styrofoam cups and plates, encourage employees to bring their own reusable dishware.
If you're a restaurant owner, explore opportunities to donate leftover food to charity. About one in five restaurant operators are doing just that, according to the National Restaurant Association, while half are at least tracking their food waste.
2. Improve Energy Efficiency
Restaurant owners are even more enthusiastic about finding ways to reduce their energy consumption, the association reports. About 80% of restaurateurs use energy-efficient lighting, 60% use programmable heating ventilation and air conditioning thermostats, and more than 40% use Energy Star-rated refrigerators, freezers and ice makers.
Of course, you don't have to be in the food business to control energy costs. Every type of small business can benefit from steps like getting an energy audit, switching to energy-saving LED lighting and programmable thermostats, and incorporating more natural lighting into the office design.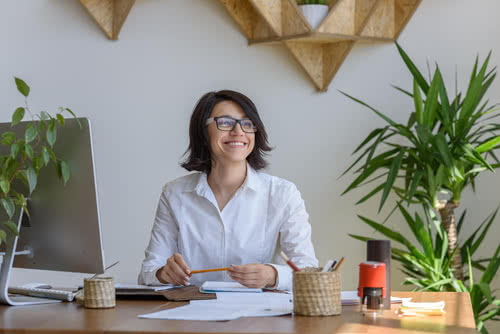 3. Embrace the Biodegradable
Learning how to make your business more sustainable also means looking for more ways to go natural. Plants can make your accounting firm, healthcare practice or other workplace environments more inviting. They can be a refreshing substitute for throwaway décor, and they also improve indoor air quality.
If you have a restaurant or coffee shop, consider joining the growing number of business owners who have switched from plastic and Styrofoam containers for takeout orders to alternatives made from compostable materials. You can also add the restaurant's unusable food waste to your own compost for growing a backyard or rooftop garden.
4. Offer Green Products and Services
Investing in sustainable business practices can also lead to higher quality — and better-selling — products and services for your customers. A Nielsen report studied three product categories — chocolate, coffee and bath products — and found that sales for items making certain sustainability claims grew twice as fast as the average product in that category.
Small business owners in other industries can take data like this as a sign that consumers care about the environmental impact of the businesses where they spend their dollars. Your response to this demand for more sustainability might involve prioritizing locally sourced and organic ingredients for a food business, for example, or eco-friendly building materials for a construction business. You might consider conducting a customer survey or other market research to improve the sustainability of the products and services you sell.
If you want your sustainability effort to be successful, you can't treat it as an add-on you attend to begrudgingly. It should be part of your business plan from the start, touching on every level of your business operations. If you need extra cash to fund your green business, consider finding an investor, renting the necessary equipment or even starting a crowdsourcing campaign.
You can embrace the business benefits of going green without drastic changes. Even a small step toward greater sustainability can put you on the right track toward being a more socially responsible business that leaves a smaller carbon footprint and gains a larger group of loyal customers who care about the environment.