When you're running a small business and funds are tight, borrowing even a few hundred dollars can make the difference between paying your bills or not. But many traditional lenders won't even consider loans for less than five figures. Fortunately, there are other lenders out there willing to make microloans for small businesses.
If you're in a pinch and need a quick infusion of cash, our guide can help you determine if microloans are the right solution for you.
What Is Microlending?
Microloans are loans for small amounts, typically less than $50,000. Depending on the lender, you could borrow as little as $5,000.
Since microlending is for lower amounts, the application process is much simpler. You could apply, be approved, and receive working capital within a few days. On the other hand, traditional loan applications could take several weeks or months to process and will have tougher requirements.
Micro business loans can be repaid more quickly. You might pay back a traditional loan over the years, but you can pay a $5,000 microloan back as soon as you want, without a prepayment penalty. Although microloans may charge a higher face interest rate than traditional loans, you could owe less interest overall since you're paying it back earlier.
Who Is Eligible for a Microloan?
If your small business has been operating for at least a year and is earning revenue, you could be a strong candidate to qualify for a microloan. Even if you've been turned down for a traditional loan, your odds of taking out a microloan are still decent as their approval process is more flexible.
While the exact requirements for the loan will depend on the lender, these are some typical standards:
Proof of revenue – The lender could ask for several months of bank statements to show that you're making money and can pay the loan back.
Credit score – While having some established credit history can help you qualify for a lower interest rate, it's not a necessity. If you need to borrow money with bad or no credit, microloans for small businesses are one of your best options. Take Gabriella, a food truck owner, for example. Her food truck has operated profitably for the last two years and she needs money to upgrade her fryer. Gabriella hasn't established her credit history yet because she started the business with her personal savings and hasn't taken out any loans, so the traditional lender denied her loan request. However, Gabriella was easily able to qualify for a microloan. By paying off a microloan, she can build her credit history so she can qualify for other types of loans in the future.
Documentation – Business plans and financial statements, like your income or balance sheet, are nice to have because they show the lender you have a plan for the loan proceeds, but you can still apply without them.
Collateral – Collateral shouldn't be necessary for a microloan. You won't have to put any of your valuable assets up to borrow.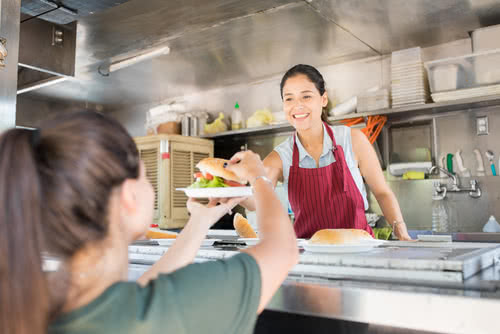 Where Can You Get a Microloan?
Microloans for small businesses are typically not available through traditional lenders. They spend so much time on their application process, it's not worth it for them to set up financing for these smaller amounts. But there are several other options where you can get a microloan.
Alternative/online lenders – Alternative and online lenders specialize in fast financing with a simpler application process. These lenders rely on getting to know your business one-on-one rather than through additional documentation. You may be able to qualify with them just by showing that your business has revenue. They are willing to accept smaller loans and can pay out quickly, sometimes in as little as 24 hours.
The Small Business Association (SBA) – The SBA is a government organization for small businesses. They offer a microloan program where you can borrow small amounts from lenders working with the SBA, with the average loan at roughly $13,000. However, the SBA notes there may be collateral and credit requirements to set up their microloans.
Nonprofits and community organizations – There are organizations looking to support groups that are underrepresented in the small business community like veterans, minorities and female business owners. If you are in one of these categories, you could apply for a microloan through these groups.
What Are Possible Uses for Microloans?
Restocking inventory – 52% of small business owners had to forgo projects or sales worth $10,000 or more because of a lack of funds, according to Intuit State of Cash Flow report (slide 2). With a microloan, you can get the inventory and supplies you need to close a deal, and then use that revenue to immediately pay off the debt.
Working capital during a cash crunch – Cash flow can be unpredictable and sometimes you get stuck waiting for money to come in, even when you're profitable. For example, Steve is a contractor and just completed a major project. But his client has up to 30 days to pay the final invoice and Steve needs money now. A microloan can get him through that stretch until the client covers the invoice.
Making payroll – Your staff is counting on their salary and missing payroll would be devastating for morale. With microlending, you can make sure this doesn't happen.
Covering emergency expenses or repairs – When something goes wrong, you might need cash to get back on your feet. Susana runs a farm and her tractor broke down, right in the middle of the harvest season. She uses a microloan for repairs so she doesn't lose any of her crops.
Buying equipment – Depending on the cost of buying equipment or machinery, microloans could be an option. Especially if you don't have the credit yet to qualify for traditional equipment financing and leasing. Remember, you can borrow up to $50,000 through these loans so they can work for small to medium business investments.
What Is the Application Process?
While each lender will have a different application process, expect to follow something like this:
Fill out a simple, online application. To speed things up, many microlenders handle everything remotely, without a face-to-face meeting. The form will ask things like what industry you're in, how long you've been in business, and what your past revenue looks like.
Speak with a loan specialist. You may need to schedule a call to discuss how you plan on using the loan and answer some questions about your business.
Submit any necessary documentation. Some basics include your bank statements and possibly your business plan and credit report (though not all lenders will ask for these).
Receive your decision. You can finish this process and receive your money within a few days. That's a key benefit of a small microloan; qualifying is faster and simpler than with a traditional loan.
So what is microlending going to accomplish for your small business? It could keep you steady through the natural ups and downs of your business cycle. A small amount of money at the right time can make a huge difference.