If you're running a seasonal business, you know how easily a change in season can affect your revenue. You may choose to go with the flow — enjoying the fast pace of your busy season and kicking back to relax when it slows down.
But there's a better choice: Set yourself apart by turning fluctuating demand into a competitive advantage. Knowing how to run a seasonal business during the low and high periods can make a difference in your success.
Almost every seasonal business can find a niche to serve during a slow period. And more often than not, there will be customers waiting to take advantage of lower costs, special promotions or new services on the market. Check out these ways you can improve your business during the next slow season.
Amp Up During the Slow Season
You worked hard during your peak season and there's no doubt you deserve a break. However, part of learning how to run a seasonal business is using the whole year effectively.
You might find that your slow cycle is the perfect time to sharpen the competitive edge of your business. As your competitors take the season off, you can work hard through the slower months to set your business apart. When business starts to slow, take steps to draw in more customers while leveraging the downtime to prepare for the next busy season.
1. Offer Specials
Many seasonal businesses face the problem of a lower workload during the slow season. One way to lure customers is to offer specials and promotions throughout your slow periods. You might be surprised how many people are happy to spend money on your seasonal business services during the off-season if they can save a few dollars.
Restaurants, for example, often ease up in the winter when people are consumed with the holidays. Entice diners by offering discounts, such as buy-one-get-one-free coupons, happy hour pricing all evening, or loyalty programs that encourage repeat visits.
You can also tie specials into your surroundings. If your business is close to a sporting venue or theater, offer promotions that can convert passersby into customers. A discount to anyone who brings in a ticket stub could bring more customers into your establishment.
Construction or landscape companies can offer discounts during the slow period to customers who book and prepay. This is a win-win because you won't have to compete for the business later.
2. Leverage the Season
A key factor in how to run a seasonal business is not to let the season get you down. The slow season is a good time to try out seasonal offerings. Try to think of services your customers might need and how you can be the one to offer that service.
If you own a restaurant, consider featuring ingredients that are only available during that time of year. A limited-time menu can bring in diners. Or offer catering packages for holiday parties for families or offices.
Service providers can also take advantage of the season. A landscape company, for example, could offer to hang outdoor Christmas lights or clear snow.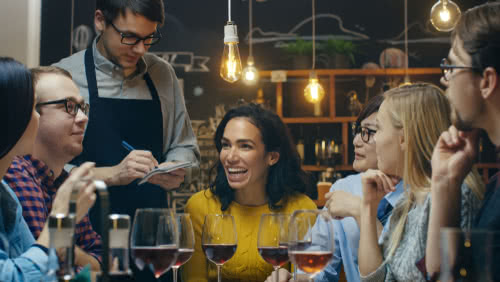 3. Host Events
Boost traffic by hosting an event. Choose a type of event that best fits your seasonal business. An open event hosted at your location could help bring in passersby if you're in a busy area. On the other hand, you could host a private event and make it exclusive for those who purchase advance tickets.
A restaurant can offer dinner and a cooking class, for example, or a spa can host ladies' nights. A coffee shop can have an open mic night during the summers, when hot beverage sales might slow down.
4. Revamp Your Equipment
The slow season is a good time for construction owners to purchase new equipment and become proficient with it before using it on the job. While you may be hesitant to invest money during a time when cash flow is slow, financing and leasing opportunities will allow you to reap the rewards during the peak season.
The off-season is also the perfect time to tune up existing equipment. A moving company, for example, can get its trucks into shape when the fluctuating demand for each vehicle will be lower. This reduces the risk of something breaking down when you need it most.
5. Remodel Your Location
No one likes to close a business for maintenance or a needed refresh, but the slow season is the perfect time to do so. Everyone loves to see something new and improved, so be ready to have a grand reopening when you're done.
Making the Most of the Busy Season
The New York Times reported that 70% of a seasonal business's income can come in during a busy cycle. It can be tempting to simply focus on making it through in one piece, but will your competitors be doing the same? Here's how to push past your competitors this peak season.
1. Leverage the Season … Again
Seasonal offerings can boost sales during your busy time even further. Restaurants should keep their seasonal menu going by featuring limited-time specials. Consider offering add-on menu items, such as frozen drinks or ice cream during the summer. Construction companies should increase marketing during the busy season to stay top of mind to customers who are ready to start renovations. Hiring more employees can help you take on more projects.
2. Stay on Top of Maintenance
Even if you fixed your equipment during your off-season, make sure you perform regular maintenance and cleaning. You don't want something breaking down when you really need it.
Likewise, make sure you have a backup plan in case your equipment bites the dust during your busy period. You may want to develop a relationship with your repair company and have a contact in place if you need emergency repairs.
3. Pay Attention to Finances
Finally, the peak season is a good time for a seasonal business to apply for financing and have it in place for when you need it. This is also the time to save a percentage of your money to help you get through leaner times.
Final Thoughts
You know that well-deserved break we keep mentioning? We still encourage you to take it. While knowing how to run a seasonal business requires leveraging the ebbs and flows, make sure you carve out some time to relax. Your best ideas will often come at a quiet time. Make room on your calendar for inspiration and much-needed R&R. Then you can return to work refreshed and ready to take your company to the next level.