When you have a holiday promotion kicking off, orders ramping up, customers pouring in and a long list of end-of-year tasks on your plate, the last thing you want to think about is working on next year's budget. Even though you'd rather put it off until after the holiday season flurry, your small business budget planning can't wait.
Fortunately, you can streamline the process and make it feel like less of a chore. If you start preparing now, you can line up everything you need to build your small business budget and make informed decisions about the numbers you put in it.
Before you start your business budget planning, whether you do it on your own or with your accountant, you'll need to decide what kind of budget you want to create. According to the Corporate Finance Institute, there are three general categories: an expense budget (also known as an operating budget), a capital budget and a cash budget.
What Is an Expense Budget?
An expense budget is a short-term forecast — either weekly, monthly or annual — of the income and expenses involved in the day-to-day operation of your business. The income side would include your projected sales revenue, interest income and investment income. The expense tally would encompass things like payroll, benefits, business insurance, utilities, equipment maintenance, rent, marketing, legal services, accounting services, taxes, loan payments and other costs.
Expense budgets can account for fixed or recurring costs as well as variable or occasional costs. As Accounting Tools explains, an expense budget also can include non-cash expenses like depreciation and amortization. Depreciation accounts for the decreased value of tangible assets like equipment and inventory over time, while amortization factors in the diminishing value of intangible assets like patents, trademarks and brand recognition.
What Is a Capital Budget?
Unlike the expense budget that focuses on everyday operating costs, a capital budget covers the occasional purchase of major assets like real estate, manufacturing equipment, IT systems, a new product line or a large amount of inventory. This type of business budget planning prepares you for the impact of capital expenditures on your company's cash flow. It also helps determine how to allocate funds for these types of projects.
What Is a Cash Budget?
A cash budget, or cash flow budget, looks at the projected amount and timing of a company's payments and receipts. It's a money management tool that helps you keep track of whether you have enough cash to keep the business operating or to take on a new project.
Information from all three categories of budgets — expense, capital and cash — provide the foundation for creating your income statement, balance sheet and cash flow statement.
Gathering Preliminary Information
When you know what kind of budget you're trying to build, it's easier to assemble the information and resources you need to create it. To start, pull up a copy of this past year's budget. Go over the document with an eye toward identifying where it was on- and off-target, noting the adjustments you made. To do that analysis, you'll also need to have your records of the past year's expenses on hand.
You should also review documents that help you evaluate the return on investment from your spending on items like marketing, adding new products to your inventory and providing additional training to your workers. That might help you decide how much spending you want to include for those items in next year's budget.
Creating a list of your business goals for the coming year, including revenue and profit targets, as well as any expansion plans, is also a useful business budget planning exercise. While you're at it, you might start researching your options for financing the expenditures required to meet those goals.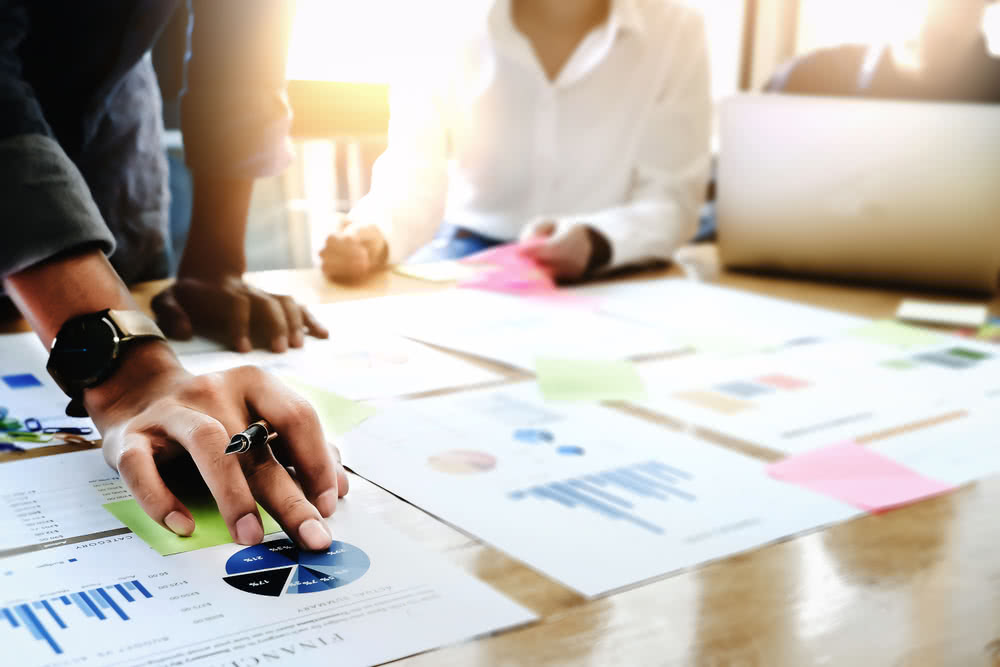 How to Create a Business Budget
When you're ready to create your small business budget, you should incorporate the analysis of your previous budget and the goals you've set for your business over the coming year.
Along with your projections of next year's expenses and income, you'll want to factor in your company's typical peak periods and lulls as well as some contingencies for dealing with unexpected costs.
Your goal should be to create a realistic document that's detailed enough to guide every aspect of your business operation, yet flexible enough to adjust to new financial situations when they arise.
A budget is a key component of your business plan, and it should reflect and support the strategy you've set for running and growing your business. That's why the analysis you do at the beginning of the budgeting process is so important. Just as essential are periodic budget reviews throughout the year to compare your projections to your company's actual performance.
If you're a relatively new business creating your first budget, you may be anxious about making sure you've covered everything and put it in the right format. The good news is you don't have to create the format from scratch. There are ready-made resources to help you with that part of the process.
Small Business Budget Templates
An online search for small business budget templates will turn up many versions that work with whatever type of budget you're building. You can even customize some of the templates to suit your company's needs.
Using a template not only simplifies the budgeting process, but it also provides you with a document that lets you track your business spending and helps you identify opportunities to save money. Microsoft Office and SCORE are two notable sources of free business budget templates. Employing the tools available to streamline your business budget planning process will make it a lot less daunting.
Instead of putting off budget planning until you're up against a deadline, start now by gathering documents, analyzing data and setting goals to guide the creation of your budget. Set aside a few hours here and there to work on budget-related tasks before the new year arrives, and you can change budgeting from a dreaded chore to something that's easy to check off your to-do list.