Do you know what people are saying about your business? If you're not keeping up with the online local business reviews, news stories and social media mentions of your company, you're missing out on a valuable opportunity to improve its quality, customer relations and sales. Small business online reputation management is an indispensable operation for any small business owner.
Here are five ways to stay informed about your business's online reputation and build stronger relationships with customers.
Update Your Business Listings
When a consumer searches online for area HVAC contractors, restaurants, barber shops or other businesses, listings on platforms like Yelp and Google My Business may be among the first hits to turn up.
The problem is that most business owners neglect to claim and verify these automatically generated listings, according to Forbes. That can lead to disappointed potential customers who act on erroneous information about your product and service offerings or your business hours. For example, if you own a seasonal business, your hours likely shift every few months.
Take a few moments to review the online listings for your company and make sure the information is up to date.
Read and Respond to Online Reviews
Local business reviews are another source of potential customers' earliest impression of your company. It might be tempting to avoid reading online reviews — especially knowing how anonymity can embolden even harsher negative feedback than people would express in person — but that wouldn't be a smart business move. Instead, think of responding to negative online reviews as a golden opportunity to build better relationships with your customers.
You might consider, like the Wharton School of Business suggests, creating an automatic "thank you" message for each review and following up later if you need to provide a more detailed response. That could involve reporting back to offer a remedy for a negative experience or expressing the pride you and your staff take in earning a positive review.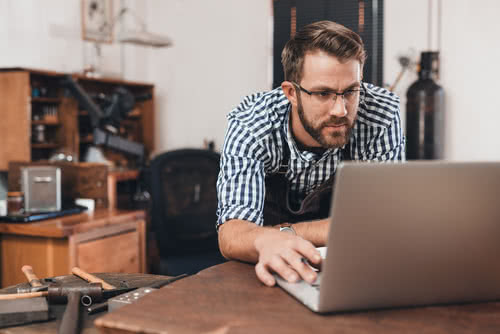 Manage Your Social Media
You can't talk about small business online reputation management without bringing up social media. Even if your business doesn't have any social media accounts, people who are active on these forums could still be posting comments about it. That's a good reason to at least conduct periodic searches to see whether your company's name comes up.
If your brand is active on social media, make sure someone is responding regularly to comments. You can manage your social media content more easily with an automatic scheduling tool for publishing your posts. Another option is social media marketing software, which enables you to scale your engagement and analyze the results.
Finesse Your Online Press
In addition to customer reviews, you should also pay attention to mentions of your business in the professional media. Google Alerts can help you monitor your press mentions; when news about your company appears online, you'll get a link in your email inbox.
You may receive some positive press about your latest product improvement or community service project. On the other hand, your business may receive bad press from a food critic's negative restaurant review or a business journalist probing a controversial development. Either way, you'll want to know what's out there so you can mitigate the negative and highlight the positive.
Consider Reputation Management Software
A reputation management software program makes it easy to monitor reviews, listings and mentions of your business on multiple sites. Program features also may include customizing the distribution of reviews for maximum impact, creating customer surveys, and using data analytics to identify trends that can help you improve your products and services. This method would require some investment, but if you don't have room in your marketing budget, a working capital loan could offset the cost.
Managing your online reputation doesn't have to cost money, but it will require your time and resources. Include reputation management in your next business plan update to ensure your business's commitment to building healthy customer relationships, both online and in person.