Updated 05/15/20
Whether you're a seasoned builder or a tradesperson looking to seize an opportunity to expand or even launch your own construction business; the COVID-19 pandemic has impacted every business owner in very different ways. Running a small construction company can typically be lucrative and enjoyable, but like any business, it requires dedication, industry knowledge, and hard work. Especially during these uncertain times, to maintain and keep your business thriving, you must go beyond construction expertise, tapping into your financial, legal, marketing, technology, and safety know-how.
It doesn't matter if you started your small construction company in the past year, or you're working to keep your company going strong after a decade. The following are several ways to position your business for success and profitability beyond the COVID-19 crisis.
The Basics of Running a Successful Construction Company
Perhaps you recently inherited or took over your business and want to reorganize things your own way. Maybe you've experienced an unexpected spike in business and want to be sure you don't take on too much, too fast. Or, you've simply been running your company for a while, and you need a gut check to make sure everything's running smoothly. Whatever the reason for your assessment, keep in mind that it's not too late to make changes. Even if you feel things are running smoothly, there's always room for improvement and growth.
1. Access Outside Expertise
It would be challenging for even the most experienced business owners to handle all the tasks associated with running a successful small construction company by themselves. Rather than getting overwhelmed, look for help. You'll likely need an accountant, insurance professional, and possibly a lawyer. You can also take advantage of small business assistance programs like SCORE Mentors, a U.S. Small Business Administration (SBA) partner organization that provides free business mentoring. Your local Small Business Development Center or Women's Business Center, both sponsored by the SBA, are also great resources.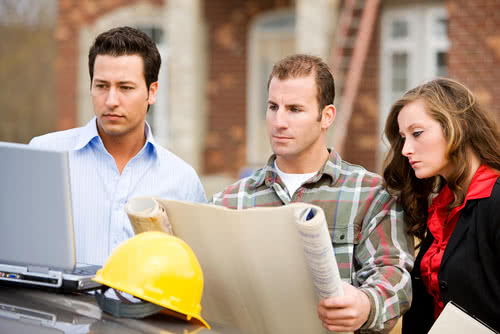 2. Create or Update Your Business Plan
If you didn't start your business with a construction business plan, that's an essential step. This plan can help you outline specific goals and strategic plans for reaching them. It can also help you make important financial decisions, like determining where opportunity awaits and what's worth the investment. For example, during your market research, you may discover you're missing out on jobs that require a type of equipment you can't afford. You may need to look into construction equipment financing to cover the costs of that machinery (if it aligns with your business goals for that year).
Even if you started with a solid plan, you should revisit it after the first year (and each year thereafter) to make sure you're still on track. Your business plan should be a living document that changes regularly based on your current goals and the trends in your industry and market. Revisit your business plan every few months, or at least once a year, and update it to reflect your current priorities. When you're feeling overwhelmed or unsure, reviewing and revising your plan as necessary can help you get back on track.
3. Get Licensed and Insured
Most cities and counties require every business to obtain a license to operate within their jurisdictions. Along with a general business license, a small construction company may need additional permits or licenses, such as a tradesperson license or a construction permit for certain projects. If you're not sure you have the right licenses in place, contact representatives in your state business license office to find out exactly which licenses you need.
Every construction company also needs insurance, such as workers' compensation, general liability, vehicle and property insurance. Speak with your insurance professional to make sure you have what you need.
4. Stay Abreast of New Technology
The essentials of quality construction may not have changed much over the years, but new construction technology is now available to help you and your team increase productivity and improve communication. When you adopt these technologies, you show customers that your company provides high-quality work with a modern touch. Don't feel like you have to adopt every new technology trend, but do make an effort to keep your smartphones and tablets updated, consider new ways of communicating with your team and your customers, and offer more efficient methods of invoicing and receiving customer payments. (For instance, by allowing customers to pay on the spot via a point of sale system on your iPad, payment is easy for them and you get paid faster.)
5. Focus on Cost Management
When you're running a small construction company, efficient cost control is crucial. There are a number of strategies you can take to manage costs and keep cash flowing, such as negotiating for agreeable payment terms with customers, budgeting carefully to cut expenses when possible, hiring a project manager if needed, and securing affordable rates for large expenses through equipment financing.
6. Implement a Safety Plan
In the construction industry, job-related injuries are common and can be detrimental both to employees' health and your company's bottom line. It's crucial to develop and implement a safety plan to ensure that your business is doing its best to keep workers safe.
7. Create a Training and Recruiting Plan
The construction industry continues to face an industry-wide shortage of qualified workers. To keep your business running smoothly, you'll need to find ways to overcome that labor shortage, recruiting and retaining reliable and qualified construction workers.
8. Determine Funding Needs
Throughout the life of your business, you'll need to figure out how much working capital is required to keep your business going. For instance, as you're working on a construction project, you often need to purchase materials and pay for labor before you receive payment from your customer. Some avenues for growth, like training plans or new technology, require an upfront investment as well.
The next step is determining how you'll finance these needs. Some business owners may be able to fund their businesses with personal savings, but in many cases, construction company owners need construction business loans to keep their companies afloat between jobs or between work and payment. If you lack the equipment you need to take on new jobs, your machinery is failing, or you just have your eyes set on a shiny new bulldozer, you might consider heavy equipment leasing to move your business forward.
It's easy to get distracted by the day-to-day requirements of managing each construction project. Even if you're currently running a successful small construction company, remember to take time to gauge the health of your business and continue planning for the future to ensure long-term success.