Whether you own a neighborhood deli or a fine dining establishment, you probably started your restaurant because you have a passion for food. As a business owner, you also have a desire to provide great customer service. Installing one of the top restaurant POS systems can help you exhibit both of these traits in your business.
Restaurants often process a high volume of cash and credit cards, especially during peak hours. A POS (point of sale) system will help you handle those transactions seamlessly. In fact, a reliable restaurant POS system will eliminate that outdated cash register and add efficiency to your operations, from taking orders to managing inventory.
The most popular POS systems for restaurants streamline daily tasks so you can focus on serving great food and staying on top of restaurant industry trends. While a food truck has different needs than a coffee shop, certain features are helpful for all restaurant types. Our guide to the top restaurant POS systems covers those must-have features, the top five systems to check out, and how you can afford one.
6 Features of Restaurant POS Systems
1. Inventory Management
The worst thing that can happen during the lunch or dinner rush is running out of your most popular menu item. That's why a good inventory system is critical. You can manage your inventory the old-school way, with a clipboard and checklist, or you can use a POS system to automate it.
POS systems will keep track of your inventory, including fresh and dry ingredients, paper products and cleaning supplies. As orders are taken, quantities will be adjusted, and you'll receive alerts when products are running low.
The top restaurant POS systems will calculate your food costs and profit margins, so you don't have to worry about doing all of that math. A POS system will also generate reports, such as usage patterns over time, so you can adjust your buying each season. And it will help to reduce waste by noting product surpluses, prompting you to run a special or eliminate an unpopular menu item.
2. Order Taking
A POS system will seamlessly send orders from servers to a kitchen printer, where your cook staff can receive and fill them. This will speed up the amount of time between ordering and delivering your customers' food. Faster orders will lead to faster service, which your customers will appreciate.
The most popular POS systems for restaurants will allow your servers to customize orders. For example, a customer orders a hamburger, medium rare, with avocado and light mayo. With written tickets, this type of instruction could easily get misread or overlooked.
By using a POS system, the waitstaff is also less likely to make a mistake when entering orders — another way to ensure a good customer experience. The POS system will create a tab for the customer, leading to an accurate bill.
The top restaurant POS systems will also allow you to easily update the menu; you can add daily specials, introduce new menu items or remove old ones. And if you own a sit-down restaurant, hand-held POS systems speed up food delivery; the kitchen will send electronic messages directly to servers notifying them that food is ready.
3. Table Management
The top restaurant POS systems will also help your restaurant course out meals. Diners usually aren't happy when their entrée comes soon after their salad was delivered. A POS system can help enhance the dining experience by spacing out the delivery of courses.
If your restaurant has seating, a POS system will also help you track the status of your tables at any given time. You'll be able to better estimate wait times during your peaks or accommodate large parties by pulling tables together.
The top restaurant POS systems offer an option for taking reservations or call-ahead seating. While not all POS software systems have reservation capabilities built-in, many are compatible with third-party apps such as OpenTable.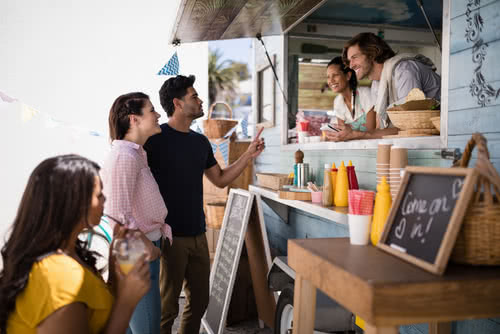 4. Transactions
Of course, you'll need a POS system to process payments, including debit and credit cards and restaurant gift cards. You'll want a reliable system with the ability to split checks or comp meals. The top restaurant POS systems include software that performs updates in the cloud or has a server onsite, so you don't lose a sale if you experience a technical issue.
If your business is mobile, such as a food truck or sidewalk kiosk, consider a mobile restaurant POS system, which can process transactions on the go.
5. Loyalty Programs
A loyalty program is a popular marketing tool for many restaurants. According to Upserve, 30% of restaurants offer some type of loyalty program, and 57% of consumers say they're more likely to dine in a place that offers one.
The most popular POS systems for restaurants integrate loyalty program capabilities or work with third-party apps. You can use a loyalty program to reward customers for purchasing a set number of items, such as getting their 11th cup of coffee for free. Or you can offer discounts or free bonuses after customers spend a certain amount in your restaurant.
6. Staffing
Finally, a restaurant POS system will help you manage your employees by allowing them to clock in and track sales and tips. Staffing reports can help you decide the number of staff members you need during peak shifts. POS systems can also generate payroll reports, onboard new servers and provide training.
The Top Restaurant POS Systems
Now that you know the features you want, here are five POS systems designed specifically for restaurants. They offer the capabilities you need, plus options that can enhance your business.
1. Toast
Toast is one of the most popular POS systems for restaurants. From a pizzeria to a fast-casual chain, this system syncs your front of house (FOH) and back of house (BOH) operations and processes payments. Set time-specific menu pricing, such as happy hour specials. Or create different menu sets that allow customers to order online and pick up their meal at your restaurant.
Toast's equipment keeps up with the busy pace of a restaurant. Its hardwired terminals work in offline mode so you don't have to worry about processing transactions, as cloud-based access keeps you connected to your business from anywhere. And Toast is one of the few providers that offers an Android POS system.
Toast's software package starts at $79 per terminal per month, and hardware packages start at $899.
2. TouchBistro
TouchBistro is another leading POS system, catering to fast and full-service restaurants, including bakeries and coffee shops. The iPad-based system allows your waitstaff to take orders and process transactions tableside. The POS system lets you hide menu categories that aren't relevant, such as your breakfast items during dinner, speeding up order input. And reporting tools include sales, void reports by employee, credit card payments and shift details.
TouchBistro also offers a customer relationship management (CRM) tool so you can track your regular customers' favorite orders and personal details. For example, make a note that one of your customers "hates onions" or "loves the Chicago Bulls." These details help servers build relationships with your customers who will keep coming back because they feel valued.
TouchBistro software packages start at $69 per month while software and hardware packages start at $105 per month. The company also offers a free trial plan.
3. Lavu
Another one of the most popular POS systems for restaurants is Lavu, which features specially designed software for a variety of restaurant types, such as single-location restaurants, chains, bars, ice cream shops, food trucks, wineries, coffee shops, breweries and pizzerias. This system runs on iPad devices that can be used tableside to take orders and payments. Customers will appreciate that their credit or debit card is processed in front of them. And Lavu accepts contactless payments, such as Apple Pay, which are growing in popularity with customers.
The Lavu POS system includes enhanced HR functions, such as onboarding and new employee training. And you can use its equipment to set up self-serve kiosks or digital menus that allow customers to place their own orders. Lavu's platform can be customized to a restaurant's specific needs and integrated with several third-party applications, such as Chowly, which syncs your system to delivery-ordering platforms like GrubHub or UberEats.
Lavu software packages start at $69 per month and starter hardware kits start at $399.
4. Lightspeed Restaurant
Lightspeed Restaurant is another one of the top restaurant POS systems that offers tableside ordering. The cloud-based software is easy to use, helping your servers deliver accurate orders in a timely fashion to make customers happy. The system lets you create custom floor plans so you can keep track of table status. It also helps you create menus; you can upload images and customize descriptions.
Lightspeed Restaurant integrates with several third-party apps to add features like loyalty programs and employee scheduling. The system provides end-of-day reports so you can stay on top of your business operations. And you get 24/7 premium support as well as access to training materials to onboard new employees.
Software packages start at $69 per month, and the company offers a free trial. Lightspeed Restaurant also offers an individualized hardware package quote.
5. Upserve
Upserve (formerly known as Breadcrumb) is another popular restaurant POS system. Compatible with iOS and Android devices, its features include table maps, updates to menus, and sales monitoring in real-time through its mobile app.
Upserve offers restaurant owners a range of packages that are based on the features you need. If you want inventory or loyalty programs, for example, you'll need to upgrade to its Pro level. While this POS system is more expensive than many of the others, its features are more advanced. In fact, the system was designed by restaurateurs. One example of its innovative offerings is the menu inventory countdown that warns servers when a menu item is running low, including how many more orders of the item can be taken.
Software packages start at $119 per month for the core package and $249 per month for the Pro package. The company also offers a la carte pricing so restaurant owners can create a package that's best for them. Hardware can be purchased or leased through Upserve with individualized quotes. The company also offers a free trial.
How to Afford Restaurant POS Software
Upgrading to a restaurant POS system will require an upfront investment as well as a budget for the monthly fees. Your immediate needs will depend on your individual business. A food truck, for example, will likely need a single POS terminal while a fast-casual restaurant might want to have enough devices so that each server can use their own to process orders and transactions. If your needs are somewhere in between, consider choosing a system that allows you to add equipment over time and as your budget allows.
The initial purchase of a restaurant POS system may cost hundreds or even thousands of dollars, depending on the size of your restaurant. How are you going to pay for it?
Some of the providers offer financing on their equipment, but another option is to choose restaurant equipment leasing. Leasing allows you to continually upgrade your equipment to the latest offerings so your establishment is up to date. When you expand your restaurant in line with industry trends, you become known as an innovative business — one that creates a buzz among customers.
If you know you're ready to commit to new equipment, consider restaurant business loans instead. You can use these loans to acquire the POS software and hardware, as well as any other business needs you might have, such as new furnishings, kitchen or bakery equipment, or updates to your physical location. By obtaining a business loan, you can combine all of your financing needs into one payment.
When you choose one of the top restaurant POS systems, you make an investment in your business that will pay off. Faster service and loyalty programs will keep customers coming back. An effortless inventory system will mean that you don't run out of important ingredients and disappoint customers. And real-time reports help you prepare for your busy times and manage your staff members.
A reliable POS system will quickly become your trusted business partner, helping you run FOH and BOH operations with the touch of a screen. Choose the system that is the best fit for your restaurant and you can focus on your passion — creating amazing food.
The recommendations, opinions or views expressed in this article are those of the author, and do not necessarily reflect the recommendations, opinions or views of National Funding.