Small business owners may struggle with finding the right system to keep track of employee hours. Time clocks and traditional pen and paper can be faulty, and employees may overestimate their hours worked. If you need to bill employees' time to various customers, tracking hours can be an even bigger headache. As with many business problems, a technology solution could ease the process.
The latest time tracking services offer robust features that can eliminate the need for spreadsheets, timecards and time clocks for good. A time tracking system will also capture data that could help you make better spending decisions, find underlying problems in your workflow, and pinpoint areas of focus, according to Inc.
When you start looking for the best time tracking software for your business, make sure your system has these four capabilities:
1. Syncs With Accounting Software
Make sure you choose time tracking software that will sync with your current systems, like small business payroll software or a POS system. For instance, if you own a retail store that pays employees commissions or bonuses when they sell certain items or sign up customers for a loyalty program, those details in your POS system can automatically transfer to your time tracking and payroll systems to make sure employees are paid properly.
2. Tracks Both Time and Projects
For many small businesses, just allowing employees to clock in and out isn't enough. Their workers or contractors may be assigned to different client projects, so in addition to keeping track of the hours they work, business owners need software that can apply those hours (or partial hours) to a particular client or job. For instance, a construction company owner may want to use this feature to keep track of subcontractors working on different projects. The software could log not only the subs' work time, but also which clients need to be charged for their work. Similarly, a business owner with several restaurants may want to use the same time tracking software for all staff members but could drill down to the project level to track work at each restaurant, particularly for employees like trainers and managers who may work at more than one location.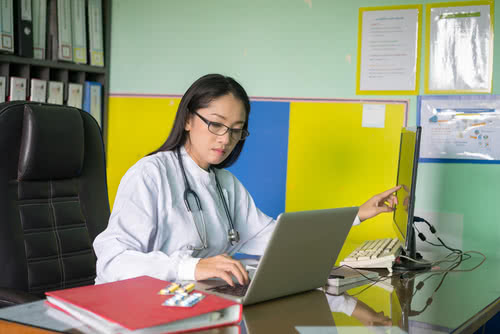 3. Updates Automatically
The most cutting-edge — and most convenient — time tracking software services are accessible in the cloud so you can update them from anywhere. For example, a subcontractor may find it helpful to update their hours via a mobile app at the job site. Cloud-based systems should be frequently updated to reflect any changes to state and federal wage and labor laws.
4. Offers Scheduling Features
Some time tracking software can serve as a one-stop solution for time scheduling and employee time management as well. For instance, the software could help you create employee schedules and keep track of their accrued vacation time and sick days. It may also track requests for time off and even forecast your future labor costs.
Investing in Time Tracking Software
The best time tracking software may sound too good to be true for your small business — but it doesn't have to be. Pricing models vary for time tracking tools, but many software companies offer an upfront cost for equipment and then an affordable monthly subscription cost.
For business owners who don't have the cash on hand to purchase the software upfront, a small business loan can help to fund what you need. Investing in an effective time tracking system can actually save you money in the long run, helping to ensure that you're paying employees appropriately for the hours they work without overpaying. It can also help to ensure that you're billing clients accurately, keeping margins under control.
With modern software, small business owners no longer have to worry about the best way to keep track of employee hours. The right system for your business can manage that for you and allow you to focus on your more pressing needs.