In business, cash is king. When a customer pays with a crisp $20 bill, you know two things: that the transaction is complete, and that you can deposit that money immediately. With credit card payments, though, transactions can take a day or two to hit your business accounts. Some transactions might be disputed — and some might bounce. Because of these hiccups, 55% of small businesses are cash-only, business.com says.
But if your business isn't accepting credit card payments, you could be missing out on big-time sales. Customers prefer the speed and convenience of swiping, inserting or tapping a card when they shop, and some have stopped carrying cash altogether. If your business can't accommodate these consumers, they could take their business somewhere else.
Why Accept Credit Card Payments?
The most compelling reason to accept credit card payments is that many consumers prefer paying with plastic. A 2019 Mercator Advisory Group study found that 43% of American consumers preferred to use credit cards. (Comparatively, 32% chose debit cards, and only 17% chose cash.) Cash might be king in the business world, but credit rules the consumers' roost.
Accepting credit card payments is useful for every type of business, whether you run a retail store or an e-commerce shop, a restaurant, a plumbing company or an in-home repair business.
What will you need to take credit card payments?
In-person. To take credit card payments at your brick-and-mortar business, you'll need a card reader and a point-of-sale credit card terminal like a Square reader.
Online. To process payments made via your website, you'll need an e-commerce platform that knows how to accept credit card payments online. (One like Shopify, for example.) Once you link the platform to your website, you can safely and securely process sales.
Over the phone. To accept credit card payments by phone, you'll need a card reader and either point-of-sale card processing hardware or an online processing portal.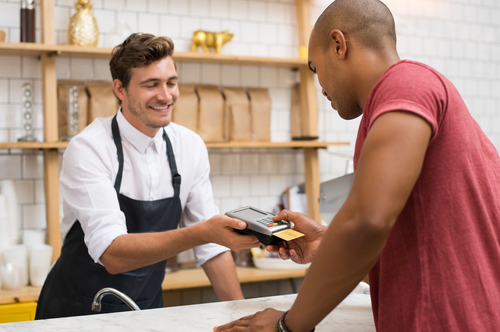 Credit Card Processing Costs
Part of why business owners prefer the cash-only model is the fees associated with processing credit card payments. Credit card companies charge a processing fee that's either a percentage of the sale amount for each transaction or a fixed rate per transaction (called a subscription model). There's also usually a monthly account service fee, not to mention the cost of purchasing and setting up your card reader or terminal. (Some card processing companies offer equipment leasing arrangements, though.)
With each transaction, you'll also pay an interchange fee to the bank that issued the credit card and an assessment fee to the payment network. But you might be able to secure a discounted rate if your transaction volume is high enough.
Choosing a Credit Card Processing Service
Consider these factors when deciding which credit card processing provider is right for your business.
Whether the equipment is compatible with what you have. For in-person credit card transactions, you'll need to make sure that the credit card processing equipment will work with the point-of-sale system you have. If you're looking at how to accept credit card payments online, make sure the processor is compatible with your company's website.
Whether the processing company's pricing is transparent. There are so many layers involved in service fees. Select a processing company that is upfront about what it charges per transaction, per month, per year, etc.
Which credit cards you plan to accept. Processing services often charge different fees for Visa, Mastercard, American Express, and Discover cards.
How you'll be accepting payments. As Bankrate notes, knowing which transactions you'll process most often — in-person, online, or over the phone — can help you find the best rates.
Setting up a credit card payment system can be complex, but it's worth it in the long run. Accepting credit card payments is a business move you can't afford to put off if you want to meet the demands and preferences of today's digital consumers.
Need funds to grow your business? Check out National Funding's funding solutions or fill out the contact form to contact a representative.