YouTube marketing for small business can be a great way to reach busy customers on the go. Producing video content doesn't have to be complicated or expensive. Hootsuite notes that 2 billion users log into YouTube monthly, and Pew Research reports that 73% of Americans are on YouTube, making it one of the most widely used social platforms.
If you're considering using a YouTube channel as part of your social marketing strategy — and wondering how valuable it could be — here's a look at how business owners can best use video media as part of their small business marketing plan.
Add a Human Angle to Your Testimonials
Megan runs a landscaping company. Landing new, ongoing contracts for seasonal landscaping and being considered for new project bids demands strong references. While her company has great reviews on reputational sites like Yelp and on its own website, video testimonials lend a dynamic human element to her online presence and promote trust in her company to prospective clients.
Video is a great way to breathe new life into testimonials, case studies and customer references. Getting a customer to give a short, positive, enthusiastic video review is powerful and is a good use of YouTube marketing for small business. Cross-promote the segments on all of your video-friendly marketing channels and make them a component of your overall marketing plan.
Show Your Products in Action
Today's customers want to see products or services in play before they buy, making video content a great way to showcase your work to people researching their options. With customer permission, Megan made several short video tours that included before and afters, and insights into specific types of projects. She even created a few of her own how-to pieces to highlight different landscaping techniques. Featuring these videos on YouTube helped her reach prospective buyers and assure them of the quality of her work. Creating similar videos not only shows prospects your work in action, but also builds your image as an expert, which can be a valuable asset in closing the deal.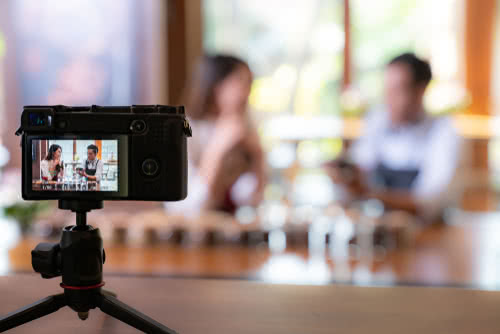 Answer Frequently Asked Questions
Do you regularly get the same questions, either from prospects or from existing customers? Creating quick, FAQ-style videos can be a great way to reach your audience at scale and to build your reputation as a leader. Megan found that one of her most common projects is seeding new grass for homeowners; although she reviews aftercare in detail and has leave-behind instructions, it's an area that generates a lot of questions. By creating a series of short, targeted videos, Megan not only made a resource she could directly refer customers to for quick answers — but she also attracted customers researching the topic on their own. Video can be a more engaging format to answer common industry questions or address recurring customer concerns.
Showcase Your Team
Customers want to do business with companies they know and trust. Quick videos that introduce your team and highlight their specialties can set you apart. For example, Megan made a series of short videos introducing her team members and interviewing them about their expertise, such as working on retaining walls or taking care of exotic plants. Informal, friendly and professional videos can position your business as the one customers want to use time and again.
YouTube marketing for small businesses is a smart way to expand your reach, attract business and create lasting customer relationships. Small business marketing doesn't demand Hollywood-quality production. If you're interested in expanding your small business marketing into video, a small business loan can help you invest in a camera, basic sound equipment or video talent to help you learn how to improve your techniques. Create a YouTube channel to connect with prospective customers, and lay the foundation for a strong future content strategy as audiences continue to devour video.