Women-owned companies account for 40% of all businesses in the U.S. That growth is thanks to women who followed their entrepreneurial visions and built something from the ground up. If you're already one of the country's 12.3 million women-owned businesses — or you're thinking of joining the ranks — you may be looking for some guidance, especially in a marketplace that's changing rapidly due to COVID-19.
What it took to launch and grow a business just a few months ago may look quite different in the future. As you navigate the new landscape, these tips can help you build and expand your successful venture.
1. Have an Entrepreneurial Mindset
A proper mindset can make or break your success at anything you do, and having an entrepreneurial outlook can help increase the odds that your business will thrive. While business owners aren't one-size-fits-all, many of the most successful share common traits.
Motivation. You're the boss, and you'll have to move your company forward every day. There will be distractions, and you'll need to be able to push past them.
Flexibility. You'll wear many hats and encounter several challenges as an entrepreneur. You'll need to be nimble and respond in the moment.
Risk tolerance. Not every business succeeds, and launching a company involves a level of risk. You'll need to be comfortable with a degree of uncertainty.
Decisiveness. Waiting too long to make a decision could result in missed opportunities or mistakes. Instead of getting caught up in analysis paralysis, you'll need to make the call and move forward.
Creativity. Every business needs a unique selling proposition (USP) and fresh ideas to compete. These two tasks take creativity — an ability to look at yourself and the market in new ways.
"Creativity is critical because it separates you from the competition," says Patty Schattler, co-owner of Blu Ivy, a home décor retailer in Oxford, Michigan. "It's a jumping off point for big ideas and essential in a highly competitive market, regardless of the product you sell."
2. Know Where You're Headed
Short- and long-term goal setting is essential at the start of your business and as you grow. For example, a short-term goal may be to increase sales by 10%, while a long-term goal might be to open a second location. A Dominican University study found that writing down goals makes you 42% more likely to achieve them.
You also need a business plan to stay on track. Business plans are living documents that need to be updated as your business and the environment changes. Entrepreneurs who execute a formal plan properly are 27% more likely to achieve viability, according to Harvard Business Review.
Knowing where you're headed also requires adjusting your business as the climate changes. COVID-19 forced some business owners to close their physical locations, but smart owners shifted their efforts online. Other signs you need to pivot could include a sales slowdown, loss of customers or disengaged employees.
3. Plan for Growth
All thriving women-owned businesses experience growing pains. Instead of letting them impact sales, have a growth strategy in place before you need it.
In 2008, Lisa Umansky started Polka Dot Pound Cake, selling baked goods at the local farmer's market. Today, she has a storefront in Rockville Centre, N.Y., thanks to effective planning.
"I set goals for my business," Umansky says. "I went from working in a commercial kitchen to having my own bakery. We were able to double the space two years ago. As your business evolves, it's important to have a plan."
Identify a potential area for growth by looking at pain points or natural next steps. For example, if you own a salon and you are booked solid for over a month, consider exploring a second location or expanding the facility you have.
"A business plan allows you to establish objectives and goals which then allows you to track your progress and make any adjustments required to maintain a profitable business," says Schattler. "Also, if you are looking for investors or to obtain a small business loan, a business plan is required."
4. Move Into the Next Stage
As your business grows, how you set up your company may need to change. Many entrepreneurs start as sole proprietors, but you may decide to structure as a limited liability company (LLC) or corporation.
With a sole proprietorship, you are the business, and business debt is your debt. Forming an LLC or corporation protects your personal assets in case of bankruptcy. Also, if your business has potential legal liabilities, such as a gym where a customer may get hurt and sue, an LLC or corporation structure offers personal protection in case of a lawsuit.
As you grow, you may also want to form a board of advisors, which is a team of mentors who provide an entrepreneur with advice and guidance. Or you can simply expand your network by adding employees who possess strengths or skills you don't have. Many women start businesses in order to follow their passions. The owner of a clothing boutique, for example, may have an eye for trends and a knack for marketing, but might lack the skills that are needed to effectively manage employees or take care of bookkeeping. Hiring to fill your weaknesses can help you and your business move to the next level.
5. Find the Funding You Need
The number of women-owned businesses that applied for funding in 2018 increased by 13%, reports CNBC. Increase your chances of being approved by knowing your business credit score. Thirty-six percent of small-business borrowers are turned down due to low credit scores, according to a Federal Reserve Survey.
Small businesses can obtain funding by applying for a small business loan or line of credit from banks, credit unions, or online lenders. A short-term loan, for example, can give you an influx of funds that you can use to invest in training or more inventory to grow. Women owners tend to apply for business loans less often than men, reports Forbes, but loans can be pivotal to your success.
You may also qualify for grants, which is money you don't have to repay. You can search for opportunities on websites like Grants.gov. Or you can look for money from investors. In 2018, just 2.2% of venture capital money was invested in women-owned businesses, reports Fortune. While that can be discouraging, firms with female partners are twice as likely to fund women-owned companies, reports Entrepreneur.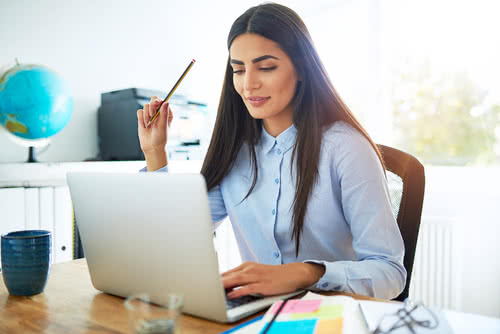 6. Expand Your Skillset
Every entrepreneur has strengths. Determine the areas where you need help by evaluating your business strengths, weaknesses, opportunities and threats, which is known as a SWOT analysis. Then expand your skillset with classes.
Local community colleges offer adult continuing education classes. The U.S. Small Business Administration (SBA) has a free Learning Center. And SBA's Office of Women's Business Ownership (OWBO) offers in-person training at local district offices. Or check out online learning opportunities like LinkedIn Learning, Udemy or Skillshare.
"I have taken many design seminars, digital marketing classes, and have read several books," says Schattler. "My favorite book is Building a Story Brand by Donald Miller."
Depending on the importance of the task, it might make more sense to outsource it. For example, a competent CPA could save you more money at tax time than they charge you.
7. Design Your Marketing Strategy
Every business needs some buzz. Create a marketing strategy that helps drive traffic to your doors and website. While your marketing budget will vary depending on your type and age of your business, the SBA suggests allocating 7 to 8% of your gross revenue to marketing. Sometimes you'll need to spend more, such as if you're expanding to a new location or are adding a new product or service.
If your budget is tight, focus on cost-effective strategies, especially social media. Experiment with free posts as well as ads, setting a low weekly budget and tracking your success.
"Being a small business owner I always look for the most cost-effective solutions," says Schattler. "Social media has been a great place for my business to be able to target my customers with very little expense. Instagram and Facebook have been proven winners for me."
Be sure to build your social posts with a goal in mind. "Your social media posts need to be meaningful, eye-catching content to grab the attention of the customer with a limited amount of time," says Schattler. "Always provide a solution to the customer's problem with helpful information. This will help to position yourself as an industry expert."
List your business on review sites, such as Google and Yelp, and increase your visibility by volunteering at local events. If you own a landscape company, for example, offer to plant flowers at your city's library, and ask to post a sign advertising your work. Umansky donates baked goods to local organizations and says the community has paid her back for her generosity by supporting her business.
And don't overlook your current customers and social media followers. Asking for referrals costs nothing but a small investment of time. A SCORE survey of business owners found that the majority of their referrals come from social media and email.
8. Get Certifications That Set You Apart
Certifications and memberships can give you access to financing and guidance that can help you grow your business. For example, being certified as a small business by the SBA can provide the opportunity to apply for special contracts. The SBA also offers woman-owned business (WOSB) certification with exclusive access to compete for federal contracts.
Some industries and national organizations offer certificates and memberships that include networking events and training and mentoring programs. Explore what's available for your business type.
9. Network With Others
Meeting other small-business owners can help you generate leads, get advice and make more sales. Join groups for female entrepreneurs, such as Lean In Circles, Elevate Network or Create & Cultivate. Or attend industry events, such as trade shows or conferences. Umansky recommends finding a group that fits your working style and is active in their local chamber of commerce.
"It's been my experience that men and women network differently," she says. "Women tend to be more social and personal while men are more formal. Women help each other and get to know each other. It's very important to find the perfect group or association for you."
An important part of your network is a mentor. Seventy percent of small businesses with mentors survive longer than five years, reports the SBA. In a survey by HBR of CEOs who have mentors, 84% said they avoided costly mistakes, 69% said they make better decisions, and 71% said their company performance improved. Find your own mentor or reach out to SCORE, an organization that will match you with someone in your field.
10. Take Advantage of Resources for Women-Owned Businesses
Plenty of organizations help women succeed. The American Business Women's Association offers education and networking opportunities for women. The National Association of Women Business Owners has leadership development opportunities and access to information about capital and business certifications. And SBA's Office of Women's Business Ownership provides in-person and online business training and counseling, with guidance and access to federal contract opportunities, credit and capital.
Women can also get financing help from lenders that understand the key role they play in the economy. National Funding proudly supports women-owned businesses by providing funding solutions to help them sustain and grow their businesses.
Smart entrepreneurs are always thinking ahead. COVID-19 proved that you may not always be able to predict what's next, but having good systems in place can help you navigate a changing marketplace. Owning a business is a fulfilling pursuit, and you can make a meaningful impact on your customers and employees when you dedicate yourself to its success. Following these best practices can help you make your mark on your industry, today and in the future.