End-of-year business reviews can be valuable for small business owners. Reflecting on the last 12 months can shed light on what worked and what didn't, the technology that helped improve productivity, and the innovations that gave you a competitive edge. As the new year begins, it's a good time to look at some of the small business trends that could determine where you focus your attention and investment in 2019.
Read on to learn how 10 of the most noteworthy 2018 small business trends in technology, marketing and company culture can lead the way to a thriving business in 2019 and beyond.
Technology
1. Digitally Connected Businesses Do Better
Technology plays a leading role on the list of 2018 small business trends, especially tech tools that help small business owners analyze and connect with their customers. The benefits of digital engagement extend beyond improving customer relations and sales to making workers happier and more productive.
Deloitte's Connecting Small Businesses in the U.S. study found that companies most heavily involved in using data analytics and other digital tools earned twice as much revenue per employee than those reporting lower levels of digital engagement. They also saw nearly four times as much revenue growth and an average employment growth rate that was six times higher than their less digitally sophisticated counterparts. In addition, these digitally advanced companies were twice as likely to report that their employees collaborate regularly, while 69 percent said using digital tools led to higher employee satisfaction.
A study by cloud-based software company Salesforce found that growing small and midsized businesses (SMBs) have become especially big fans of customer relationship management (CRM) software. The devotion of CRM adopters runs deep — 34 percent of them would rather give up social media, and 20 percent claimed they'd sooner sleep on a bed of nails than stop using the technology.
These small business trends toward more digital engagement might inspire you to consider increasing your company's investment in information technology.
2. Small Businesses Have Higher Cybersecurity Risks
Worries about information security have made some small business owners hesitant to embrace more tech tools. Among the least digitally connected companies in the Deloitte study, 34 percent cited privacy and security concerns as one of their top three reasons for holding back.
Research indicates these are valid concerns that small businesses need to address by implementing proactive cybersecurity strategies. Security Magazine cites that 58 percent of all cyber attacks target small companies. The main reason: their information systems are easiest to breach.
The magazine notes that training employees and building awareness can go a long way toward lowering the nearly 20 percent of breaches resulting from human error, such as employees clicking on the wrong link or failing to secure their digital devices. The magazine urges small business owners to implement authentication and authorization procedures to control how employees access sensitive data. After all, more than 25 percent of attacks on organization networks are inside jobs.
If concerns about cybersecurity are preventing you from capitalizing on some of the small business trends that could make your business more technologically advanced, take a moment to re-evaluate your current security practices. If you upgrade the policies and resources you use to protect your company's data, you may feel more empowered to improve your business by incorporating technological advancements with less fear.
3. Small Businesses Take to the Cloud
In one of the major technology-related business trends, small firms are running ahead of larger enterprises. According to a study from Harvard Business Review, 10 to 15 percent of companies with fewer than 25 employees were using cloud computing by 2016, compared to 7 percent for all U.S. businesses. Companies with about 100 employees have the lowest rates of adoption. That may be because they are just large enough to have in-house IT systems, but not large enough to afford adding a cloud storage service.
The report posits that being able to access high-power computing without the overhead costs of in-house data storage makes cloud computing especially attractive to young, small businesses. Remote data storage and management via cloud computing reduces the requirements for internal IT staff and equipment.
A 2018 report from tech media firm IDG states that a whopping 73 percent of all companies have at least one computer application in the cloud, with another 17 percent planning to use cloud technology in the next 12 months.
If you're looking to streamline your data storage but haven't yet adopted cloud computing, now might be a good time to explore the option.
4. Small Businesses Slowly Gravitate to AI
This is one of those small business trends that hasn't quite taken off yet, but is worth watching. A survey by Salesforce found that 53 percent of small business owners are not yet ready to start using artificial intelligence (AI). Other small business owners (41 percent) say the technology is too complex for their needs.
The survey notes that just 11 percent of SMBs currently use AI, and fast-growing SMBs are more than twice as likely to adopt AI than those at a standstill. In addition, 51 percent of businesses view AI as an important factor when choosing new technologies to invest in. Among those that have joined the league of AI adopters, 85 percent currently or plan to use it to automate the sending of marketing emails, while 81 percent use it for sales forecasting, automating basic customer service responses, and automating product recommendations for customers.
If you relish the idea of being in the vanguard of your peers, perhaps an investment in AI will figure into your 2019 business budget.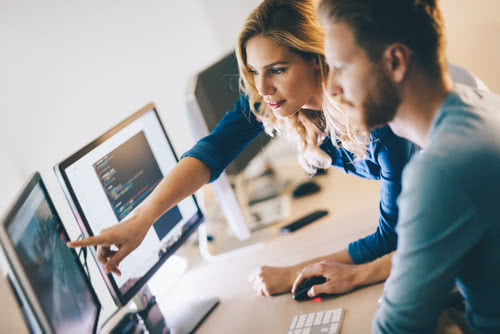 Marketing
5. Social Media Marketing Is Significant
The number of Americans using social media has leaped by 58 percent over the last 12 years, with 69 percent of the population using at least one social media site, according to SCORE. Small business marketers are taking note.
A survey by the email marketing and sales firm Infusionsoft found that 48 percent of U.S. small businesses plan to employ social media marketing in 2019. Thirty percent say they are increasing their budgets for social media.
Forty-seven percent regularly use Facebook, the most popular social media platform among SMBs. In 2018, Facebook launched the pilot of a new tool called Creative Compass that is designed to measure the impact of Facebook ads. As Search Engine Journal reports, Creative Compass ranks elements such as noticeability, brand association, message comprehension, information content and call to action. While the pilot program tested the tool with a select group of partners, Facebook is set to make it available to all marketing partners in 2019.
Small business owners following trends about social media marketing should note that its relevance is likely to grow, since an increasing portion of the population uses social media.
6. Email Marketing Boasts the Highest ROI
Every dollar spent on email marketing generates a $38 return on investment (ROI), according to research from Campaign Monitor. Results like that have given email marketing the highest ROI rating for 10 years running, according to SmallBizDaily.
Personalized subject lines and mobile optimization increase the chance that targeted customers will open marketing emails, according to Campaign Monitor. Research by the customer relationship management firm SuperOffice indicates that 61 percent of emails are opened and read on mobile devices, and 70 percent of consumers delete emails that aren't optimized for mobile.
Consider whether your marketing emails need a design overhaul to make them mobile-friendly and more effective. A little tweaking might increase the boon to your business from this category of small business trends.
7. Niche Markets Present Opportunity
The popularity of niche brands is taking off, especially among millennials. Beauty salons that only do eyebrow threading, restaurants with menus limited to gourmet grilled cheese sandwiches, and bars that only serve local craft beers are just a few examples of the kinds of narrowly focused businesses Gen Yers and other trend-leading consumers are embracing.
According to Inc., small businesses can better serve specialty markets than large companies, in part because of their lower operating costs. Online marketplaces like Amazon and Etsy also facilitate the sale of specialty brands.
Shopify ranked the best niche markets for retailers in 2019. The top five were shapewear, men's plaid shirts, athleisure (athletic clothing that doubles as casual wear), travel accessories and automotive accessories.
Perhaps adding and promoting a niche product or service will be one of the trends your company adopts in 2019.
Company Culture
8. Flextime Is the Norm
Flexible schedules have become ubiquitous in the workplace, according to a Flex+Strategy Group survey cited by FlexJobs. Ninety-eight percent of all employees report that they enjoy some form of flexibility in the hours they work. Sixty percent of those employees say they are "more productive and engaged," while 45 percent say their ability to "communicate, create and innovate with colleagues" has improved because of flex schedules.
The productivity and engagement benefit reached 70 percent of employees who received training on how to manage flextime. Yet the majority of employees say they haven't received any training or guidance on that front.
With flextime being so widespread, this is one of those trends that probably isn't new to you. But perhaps you can derive even more benefits and fewer downsides from it this year by offering your employees some time management tips and training, and monitoring their performance.
9. The Contingent Workforce Is Growing
Add the expanding use of freelancers and contract workers to the list of small business trends you should be considering. The Inc. article mentioned earlier notes that growing numbers of small business owners are staffing projects with on-demand workers, rather than hiring full-time employees. This tactic gives them more flexibility to scale up or down depending on need.
Is your small business among the 42 percent of companies that already use contract workers? Did you begin or expand your hiring of contract workers during the past year? Your assessment of this general trend and your own experience might factor into your 2019 hiring plans.
10. Remote Work Brings Benefits and Challenges
In a 2018 And Co and Remote Year survey of remote workers, 55 percent of respondents reported working offsite 100 percent of the time.
Thirty percent of employees in the study said the biggest drawback to working remotely was the lack of involvement in a workplace community. Of those who have worked remotely for less than a year, 33 percent reported experiencing loneliness. That figure also represents the percentage of those working remotely for more than seven years who said loneliness was less of an issue, but they were more likely to feel overworked.
Forbes suggests several ideas for businesses with remote workers to build a greater sense of community and a more cohesive company culture. For example, companies can send birthday and holiday cards to remote team members, talk with them frequently by phone or video conference, provide training and professional development support, and give public recognition for good work.
Forbes also notes that the advantages of using remote workers include savings on office space for the employer, and more flexible schedules for employees. If you find this growing small business trend appealing, and your employers have shown an interest as well, consider implementing training or employee recognition programs to maximize the benefits.
Business forecasters have already started pulling out their crystal balls to envision the top small business trends of 2019, but you don't have to rely on their predictions. Use your knowledge of the 2018 small business trends that show promise of continuing, and start planning how to capitalize on those developments to improve your business. With that said, if you want to incorporate any of these trends into your daily business operations, it's going to take an investment, not just of time and effort, but also of money. If you know you want to up your game, but aren't ready to compromise your cash flow, a small business loan could help to offset the expense while letting you place a bet on future business growth.