Identifying ways to be more eco-friendly is one of the best, high-impact methods for improving your small business. When your operations are more sustainable and eco-friendly, you'll be able to cut costs, attract a new customer demographic and support your local community — all while having a positive impact on the world around you.
Helping the environment doesn't have to be difficult. There are plenty of easy ways to be more eco-friendly on an everyday basis. Consider these four simple actions to jumpstart your business on a journey toward greater sustainability.
1. Update Lighting
Becoming a more eco-friendly, energy-efficient business is as easy as switching out your lightbulbs. Did you know LED bulbs use about 75% less energy than incandescents? So, simply replacing inefficient or outdated lighting in your building can immediately make a difference.
Also, get in the habit of turning off lights when they're not needed. Don't buy into the myth that turning lights on and off uses more energy than keeping lights on. You can experiment with:
Turning off or dimming lights when there is enough sunlight in your workspace.
Using sensors that turn off lights when an area isn't occupied.
Reducing the amount of outdoor lighting you use.
2. Boost Recycling Efforts
Recycling is a green approach on how to help the environment that most people can get behind. However, according to the most recent data available from the Environmental Protection Agency, out of almost 300 million tons of waste generated in 2018, only 69 million tons were recycled. Paper and paperboard are among the more recycled materials, while glass is only recycled at a rate of about 25 percent. Plastics recycling rates remain under 10 percent.
Most businesses throw away paper, plastic, cardboard and other materials that could be diverted from landfills by recycling. Make it easy for your customers and employees to recycle by providing marked bins and signage to remind (and inspire) them.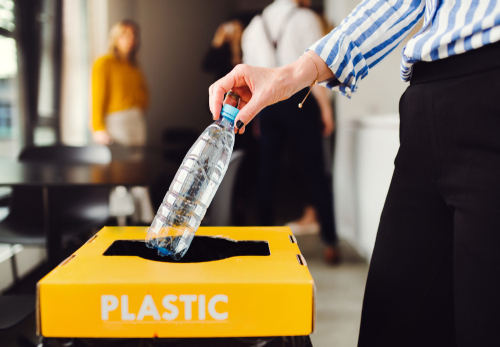 3. Reduce Travel
Many small businesses involve some kind of travel, whether it's driving across town or flying cross-country. Evaluate your activities to see if you can cut back on this aspect of your business. For instance, you may be able to avoid air travel by conducting videoconferences instead of holding in-person gatherings. Or maybe some of your employees can work from home, eliminating their commute.
These options allow you to reduce the significant amount of greenhouse gas emissions produced by air and road transportation. Carbon pollution from transportation is actually the largest contributor to America's greenhouse gas emissions. Make your business part of the solution, not the problem.
4. Conserve Energy
Consider changing up your business's physical space to help conserve energy. Start with tweaking your thermostat slightly lower in the winter and then a bit higher in the summer; it's a small (but significant) shift. Lowering your business's energy consumption reduces the demand for fossil fuels and, in turn, lowers the levels of carbon dioxide in the atmosphere.
Research has shown that an energy-efficient business also means happier (and potentially more loyal) employees and customers. The International Energy Agency (IEA) conducted a study to examine the many benefits of energy efficiency. In the study, the IEA claims that making improving building insulation, implementing efficient heating and cooling systems and switching to efficient lighting and appliances — referred to as the "whole-building approach" — creates a more comfortable, warmer feeling environment.
Tailor Your Green Initiatives
These four strategies are just a start — there are plenty of other ways to become more eco-friendly in your small business. Explore other specific and individualized changes you can make to your business operations as you consider how to help the environment.
By committing to becoming a greener business, you can make a positive difference in the world while hopefully also improving your bottom line.
Do you need funds to make your business greener or better prepared for future growth? Check out National Funding's small business funding solutions or fill out our contact form to contact a representative.