Having effective marketing for your construction business can be the difference between a full schedule and missing opportunities during the busiest part of the year. We're in the thick of construction season — informally marked on calendars as June 1 to November 30.
Is your business getting enough gigs during this prime time? If not, it could be a marketing issue.
Whether you're interested in attracting new clients or expanding the area you cover, here's a closer look at four ways to improve your growth marketing.
1. Treat Job Sites and Equipment as Advertisements
Good construction business marketing should absolutely involve any real estate you're working on. Talk to customers about displaying a sign on their front lawn when you're working on their property. A simple sign that reads, "Painted by Historic Designs," for example, lets passersby — and potential new customers — know who's behind the fantastic work they're seeing.
Also, your work vehicles and the shirts you and your crews wear on the job can also ensure that every time you're in action, you're building brand recognition. Keep construction business cards in your trucks to hand out to interested parties. And leave your construction business cards with happy customers to encourage referrals.
2. Consider Local and Social Media Advertising
Advertising can help you get your name in front of the customers you're targeting or a broader, more general audience. According to the Construction Marketing Association, more than 96% of businesses use advertising — and more than half spend under $25,000 on it. Not bad.
Some advertising options to consider include:
Print advertising in local papers or trade magazines. Respondents to the Construction Marketing Association found trade advertising as the most effective.
Visual ads on platforms like Instagram, Facebook, and Pinterest. As an example, you could post before and after pictures or videos on Instagram or TikTok to showcase your work and transformations.
Search ads — sometimes called PPC, or pay-per-click — let you target users by location and intention. Get your name in front of people who are considering construction projects now.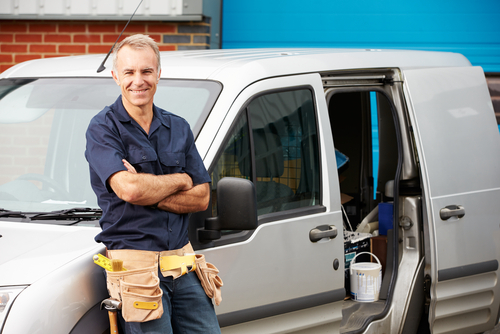 3. Spruce Up Your Website
A strong digital marketing strategy is a must-have in today's environment. Your website is the cornerstone of your digital plan. The National Federation of Independent Business recommends budgeting between a few hundred and $5,000 to develop a website, which should include several features for your construction business marketing:
Information about your business. Include an "About" page that introduces your business and a "Services" page that outlines the work you do, general pricing, and details.
Testimonials. Get written permission from previous clients and you could feature their before and after photos in a gallery. Showcasing testimonials from customers who explain why they liked working with you — for example, easy communication, showing up on time and coming in on budget — can help reinforce why you're a great choice.
Contact information. Supply an easy query form on-site as well as your email and phone number.
4. Harness the Power of Lead Gen Services
Owners considering construction projects usually check out specialized platforms like HomeAdvisor, Thumbtack, and Angie's List. The combination of streamlined communication, detailed profiles, and user reviews help buyers find exactly who they're looking for.
Create a profile and respond quickly to inquiries. These sites can provide a steady stream of potential clients who are interested in your services. Investing time to develop an active presence can help foster growth.
Marketing for the 21st Century
Turbocharging business growth often starts with a clear plan for construction business marketing that's ready for today's landscape. Word-of-mouth used to be enough, but today, a targeted marketing plan that integrates "old school" tactics like lawn signs and business cards with "new age" techniques like video shorts on social media is the ticket to an uptick of customers.
Try these out and see what works for you and your business — they just might help book you up for the rest of the construction season.
Need funds to grow or pivot your business for success in the coming years? Check out National Funding's small business funding solutions or fill out our contact form to contact a representative.