If your business has been affected by coronavirus shutdowns, developing a plan to communicate reopening during COVID-19 will help you take a proactive approach to reconnect with your customers. If you're looking for smart ways to let customers know what's happening and get them excited to buy from you again, here are five strategies to communicate your COVID-19 reopening plans.
Communicate Through Digital Channels
Digital channels are one of the most important ways to communicate reopening COVID-19 plans and let customers know what to expect. Update your website, share posts on all your social media channels, and send out a special newsletter with the details of your reopening. If you're sending a newsletter to customers, consider including a special reopening promotion. Service-based business owners that are reintroducing office hours can post that information on their blog. Consider letting customers know which digital channels you'll use to communicate, so they'll always know where to check for the latest updates, hours, and details.
Consider Your Signage Strategy
For customers you're less likely to reach through digital channels — like pedestrians passing your physical location — don't overlook your signage strategy. Having clear signs helps to attract customers. Restaurants and shops might find a good investment in sidewalk sandwich boards that clearly let customers know you're open for business. Digital signage can help small businesses, medical offices, and service professionals quickly and easily display their latest COVID-19 reopening plan details.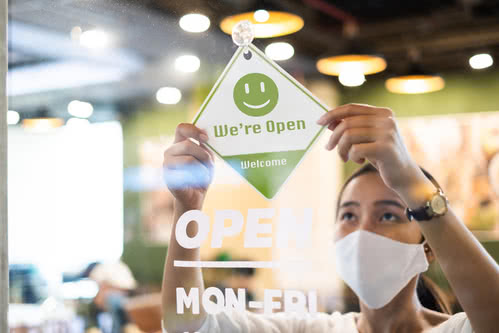 Invest in Advertising
Consider whether your COVID-19 reopening plan should include advertising and promotions. A local newspaper ad for a construction company can remind homeowners looking to have improvements made that you're open for business. Deals, specials, or core services, such as a dentist offering a discount tooth whitening package, do double duty, reminding customers you're open and offering them an incentive to buy now. A small business loan can help give you the cash flow needed to make the most of advertising and other outreach opportunities now.
Communicate Modifications
Reopening during COVID-19 likely means that your business will look different. In some places, city ordinances or state requirements are getting stricter, which may mean customers must wear masks. Alternately, you may have modified the options you offer to make it easier for safety-conscious customers. A retail shop may now offer curbside pickup of purchases, or even contactless delivery, similar to restaurants. Focus on how these changes help make it easier for customers to get the goods and services they need. Proactive communications let your customers know what's available — and can encourage them to choose you over the competition.
Explore New Ways to Connect
Your COVID-19 reopening plan can also benefit from exploring new strategies for communicating with customers and getting the word out. For example, an electrician might start a referral program and offer a discount on future services to customers who refer them to their friends. Or they might start a partner program where plumbers or construction companies that refer customers receive a portion of the profits or a one-time referral bonus. Another strategy companies can use is introducing texting programs. An SMS marketing program allows you to communicate with customers who opt-in to receive texts from you and can ensure they know about your latest offers and operational changes.
As your small business gets back in full gear, it's important to communicate reopening during COVID-19. Let customers know your plans and the steps you're taking to keep them safe and help them get access to the products and services they need. During your initial reopening—and any future changes—a proactive communication plan will help you drive business, build customer loyalty, and keep your business thriving.