Fitness fans are ready to jump back into their indoor gym routines after being disrupted for over a year. The long-term break in business as usual is also getting to gym owners, who are ready to move forward with gym reopening plans. But mindfully navigating the detailed Centers for Disease Control and Prevention (CDC) regulations for reopening a gym safely is key, as is finding and complying with additional state and local regulations.
"We are gradually ramping up to normal operations. We have a reservation system in place right now due to occupancy limits. And everyone has to wear a face mask," says David Sacher, founder of the 24-hour community-focused VITAL Climbing Gym in Brooklyn, New York.
As gyms like VITAL slowly reopen, owners like you should be realistic about the process. It will take patience, persistence and participation from your staff and customers. Here's a closer look at some essentials to keep in mind when reopening your gym.
Upgrade Your Cleaning Measures
From plexiglass dividers to adding sanitation stations, gyms and fitness studios are investing in new products to help with safe reopenings. "We have invested in a sanitizing gun that we use to disinfect all equipment after each session, contactless soap and hand sanitizer stations, and contactless check-in for class," says La Niecia' Vicknair, owner of Thrive Health Lab, a boutique fitness center serving the View Park-Windsor Hills Los Angeles area.
Other fitness studios are investing in ventilation systems, cleaning solutions and more to help create an environment that can operate safely.
Rethink Your Space
As you overhaul your cleaning regimen, also consider the physical environment. Could you change the way participants interact with your gym's machines (and each other) to reduce the spread of germs? "Clients are required to bring their own mat and towel. We don't do manual pose adjustments during class anymore, and we also don't share equipment," says Vicknair, noting that equipment is also thoroughly disinfected after each use.
Redesigning your space will be more successful when paired with clear communication to members. "Successful gym owners are putting up signage around their facilities with information about procedures for cleaning equipment once they are finished with it, as well as taping out social distance safe space," notes Jessica Armstrong, an associate at TeamUp, an app that helps fitness businesses schedule and manage their spaces and businesses.
Innovate Your Services
"This is the perfect opportunity to pivot and become innovative with what you offer. Always check in with your clients. Listen to what they need and always ask for feedback. It has been helpful for me to call clients to see what their new work/home life schedule is so I could create a class schedule that works for them," notes Vicknair.
Fitness studios that introduced new options such as outdoor classes, virtual offerings or one-on-one remote coaching may keep these options in place throughout their gym reopening and beyond. Not only do these offerings continue to support clients with different levels of comfort in a post-COVID-19 world, but they also diversify your revenue streams and help you reach new customers.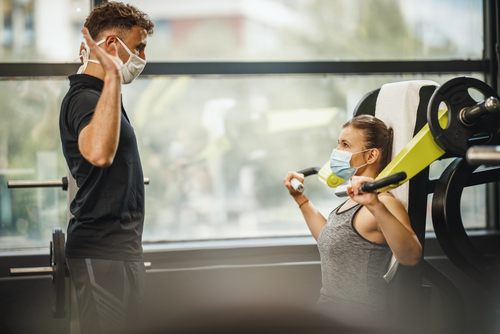 Reexamine Your Membership Options
It may be time to reevaluate your business economics, notes Armstrong, based on trends TeamUp has been observing with the gyms using their software. Some gyms are raising membership prices, she says, adding, "Cleaning supplies, especially medical-grade disinfectants, are not cheap, especially when you need to restock regularly. Gym owners are making their customers aware that, due to the situation, it costs slightly more to be able to provide them with an even better and safer experience."
Now may also be the time to talk to a legal professional. Does your gym require any additional or new insurance? Additionally, should you update your membership agreements? What about asking members to sign COVID-19-related waivers or a compliance agreement to any new gym guidelines? Reopening your gym after the pandemic is a great time to do a financial and legal checkup.
Develop a Workforce Plan
Keeping your customers and employees safe is the top indicator of a truly healthy gym reopening. The CDC recommends designating a COVID-19 coordinator who can implement screenings, monitor employees and manage communications about new gym guidelines with customers and staff. Also, consider implementing:
Daily temperature checks and questionnaire screenings for employees and on-site vendors/contractors
Advanced registration for group classes, paired with a temperature screening upon arrival
Protocols for anyone who suspects COVID-19 symptoms, may have been exposed to the virus or receives a positive test result (including on-site deep cleaning and temporary closures)
Many recommendations like these come from the CDC, but you should also check your state's gym reopening guidelines. It may also be beneficial to check with your local town and county for the same information.
Continue Social Distancing Measures
Whether you're complying with regulations or simply making people feel comfortable, having a plan for social distancing is essential. This may include limiting overall capacity or building your class schedule to comply with occupancy limits, says Christina Ching, owner of the high-intensity and kickboxing gym RockBox Fitness in Scottsdale, Arizona.
"Even with everyone vaccinated, people are used to not being close to others. We will continue to come up with creative ways to give our members an amazing workout while keeping our social distancing guidelines. If that means adding more classes rather than packing them in, then that's what we will do," says Ching.
Build Community Through Challenges
Challenges can help bring people together. And gyms that have found ways to build thriving communities during COVID-19 lockdowns may have real staying power.
"Stay the course. People will need to get out of the house and have someone motivate them to get fit and stay healthy. Be willing to make changes to meet your clients' needs. Remember that our clients are the reason we are in this business. So long as we are helping them make the changes to get results, we are succeeding," says Ching.
Sacher agrees, noting that it's possible to make changes that promote safety but that also preserve what customers love. "We've made changes, but we are really focused on coming out the other side of this having preserved all the things people loved about us before COVID-19. I think that if we can do that, it will help people feel that the post-COVID-19 world still has the things that we knew and loved before," says Sacher.
If the gym reopening guidelines have you wondering how you'll afford more staff or PPE, a small business loan could help. Consider your options today by checking out National Funding's small business loans for gyms and fitness centers. You can also fill out a contact form to speak to a loan specialist.