For the past year, the public has been hungry for their favorite restaurants to reopen. Curbside pickup has kept appetites whetted, but there's no substitute for the ambiance and full service of a restaurant. With COVID-related restrictions easing in many states across the U.S., restaurant owners are looking forward to welcoming patrons back into their dining rooms. But a restaurant reopening comes with myriad opportunities and challenges.
"The restaurant field is one where even the most experienced person still learns as they go," says Ian Duke, owner of several restaurants in Southampton, New York, including the Southampton Social Club, Union Burger Bar, and The Coop. "I've been in the business over 35 years and have opened, closed and reimagined a few restaurants. Still, this past year has been a big and difficult lesson."
As you gear up to reopen your dining rooms, here are some of the best strategies to do so safely and successfully.
Follow State and Local Guidelines
How and how much you'll be able to reopen your restaurant will depend on the dining regulations your state and local governments have set for your area. Many cities and towns have rolled out reopening plans but have left restrictions in place, such as curfews and occupancy limits. Pandemic guidelines are fluid, so stay up to date on the restrictions that could affect your restaurant by visiting your city and state government websites.
The Centers for Disease Control and Prevention maintains a robust list of safety guidelines that restaurant owners can use to prepare for and support a healthy reopening process. Among its recommendations:
Establish personal prevention practices with your employees, such as hand-washing and sanitizing, temperature checks, and mask-wearing.
Create thorough cleaning and disinfection routines.
Pay attention to shared items, and consider replacing your usual menus with disposable paper menus.
Ask customers to wait for their table outside or in their cars to minimize occupancy.
Seat patrons at least 6 feet apart by adjusting the layout of your restaurant or closing off some tables.
Create outdoor dining settings when possible.
Offer curbside takeout and delivery.
Encourage contact-free payment options, such as QR codes and smartphone apps.
These efforts will take time and care to put in place, but they will position your restaurant for a successful reopening.
"With each of our properties, we worked within the parameters we were given the best we could and tried to pivot to create safe places that offered what our guests were now looking for," Duke says.
Communicate Your Reopening Plan
Following established guidelines is the first step.
The second step, for Duke, was making sure that everyone knew that his restaurants were following the rules.
"We wanted our guests to feel comfortable," he says. "So when they arrived and saw our entire team in masks, along with our sanitizing stations, clean tables, dividers, social distance markers, QR codes for menus, and a clean and sanitary environment, our guests felt and still feel safe."
In addition to demonstrating safety, communicate the steps you're taking to keep patrons and staff safe. Publicize your reopening plan and safety protocols on your social media pages and website. The CDC has free print and digital resources for bars and restaurants, and you can post them in your lobby and dining room to illustrate your restaurant guidelines.
Transparency is key, too. Duke recommends being open and honest.
"Give room for having open communication regarding any worries or fears," he says.
For example, you might have to assist customers who are hesitant to sit at a certain table, even when it's 6 feet from others. Be understanding, and try your best to accommodate them.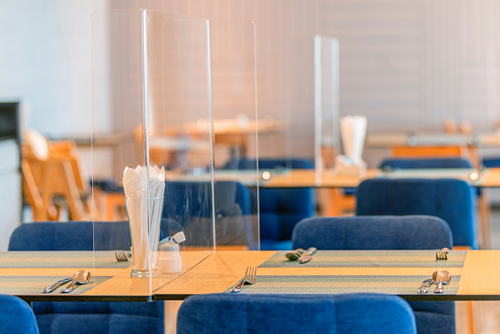 Finance New Equipment
You might need new equipment and supplies to reopen safely. Sanitizing stations, personal protective equipment for employees, plexiglass for around ordering and checkout stations and between tables — these aren't things you're likely you have on hand.
Duke says some items he bought were normal supplies, such as gloves and cleaning supplies, but others were unexpected expenses. For example, he installed waterproof curtains instead of large plastic barriers to promote social distancing at Union Sushi and Steak.
"It was one more cost we certainly don't need, but a necessary one," he says.
These unplanned yet necessary expenses have also come during a time of lost revenue. Restaurant sales dropped 66% at the outset of the lockdowns, according to restaurant management software provider MarginEdge. If you're short on cash, you could take out a small business loan to finance the purchases.
Keep Your Staff Healthy
Restaurant reopening is the goal, but reopening safely is the priority. That involves continuously monitoring your restaurant so your employees don't get sick. The CDC suggests conducting daily temperature and symptom checks (and reminds you to follow your state's privacy laws). The CDC also recommends designating a point person for each shift who's responsible for responding to COVID-19 concerns and ensuring that the staff is adhering to your restaurant guidelines.
Let your employees know who they can call if they're experiencing symptoms, if they were exposed to someone with COVID-19 or if they've tested positive. Offer flexible sick leave policies so employees can stay home if they're feeling sick and not risk exposing their co-workers or restaurant guests. Cross-train staff members, and maintain a roster of fill-ins who can come in on short notice. Prepare to have more absenteeism than normal as you play it safe and smart. Keeping your staff healthy ensures that your customers stay healthy, too.
Stay Optimistic
Duke says his restaurant reopening process wasn't ideal, but it went as well as he could have hoped. And he knows he fared better than others.
"We've been very fortunate in many ways," he says. "The Hamptons reopened earlier than New York City and a great many people fled the city to join us out here on the East End. In addition, we have enormous outdoor spaces out here, so we were able to make up some of the losses."
Being resilient and willing to pivot to meet ever-changing regulations is how you can continue to weather the storm. With the vaccine roll-out well underway, a return to normal operations is in sight for owners who can hang on a little longer.
"I'm a natural optimist," Duke says. "The best advice I can give is to remind yourself you are doing what you love and if you keep at it, the tide will turn and you'll be reminded of the reason why you loved the business to begin with."
If reopening your restaurant will require an influx of funding, check out National Funding's small business loans for restaurants to discover your options. You can also fill out a contact form to speak to a loan specialist.