If you're a veteran who runs a small business, you're used to blazing your own trail. Often, owners start companies after working in a similar business or receiving a formal education. Instead, you may have called on the extraordinary skills you developed during your service — strategic thinking, perseverance and discipline. Though your path to small business ownership was unique, your struggle to find funding is not. Every business needs extra cash flow or financing at some point, and business loans for bad credit for veterans available to ease the burden.
Loans can present new business opportunities for veterans trading in their combat boots to hang their own shingles. More than 2.5 million businesses are majority-owned by veterans, according to a report by the U.S.Small Business Administration (SBA). However, many veterans with a wavering credit history assume they aren't eligible for a small business loan, and that's not always the case. It's possible to find loans for veterans with bad credit, allowing you to put your battle-tested strength and tenacity to work in your own business.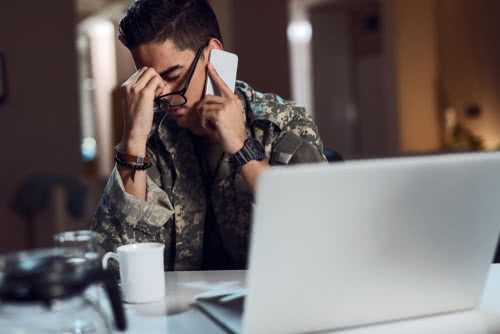 Small Business Loans for Veterans With Bad Credit
If you need extra funding to grow your company, small business loans for veterans can help. Military veterans and their spouses can turn to these loans when they're facing a cash crunch. There are many financing methods out there, but some loans may be a better fit than others depending on your business goals. Here are three common options:
Traditional Small Business Loans: When most people need a loan, they often turn to a traditional lender. Though these loans can provide the funding you need, there are a few drawbacks. When applying with a traditional lender, you'll likely face a lengthy application process. If you're looking for cash quickly, these loans may not be your best bet. These lenders may also require a certain credit score; if you've faced your share of credit struggles in the past, your application may be denied.
On the flip side, if you are approved and aren't in a rush for funding, you could receive a higher loan amount with a longer period of time to pay it off. If you have a hefty investment on the horizon, like buying a new building or renovating your warehouse, it may be worth applying for a long-term loan. Just keep in mind that the longer you're tied to the debt, the more interest you'll rack up over time.
SBA Loans: The SBA also offers financing options for veterans and their spouses. SBA loans for veterans provide partial loan guarantees for small businesses that may not qualify for traditional loans. These loan amounts can reach up to $5 million. Typically, the SBA will charge an additional fee in exchange for the partial guarantee, but the SBA may waive this fee for veterans. Like traditional loans, SBA loans may be a better fit for larger, long-term investments, but you'll still likely face a lengthy application process and will need to meet strict requirements.
Alternative Small Business Loans: Traditional lenders and the SBA are not the only small business lenders out there; alternative lenders actively provide loans for small businesses, including business loans for veterans with bad credit. These alternative lenders usually offer a simple application process and quick approval. This speedy turnaround time can come in handy if your working capital is running low and your rent is due next week, for example. These lenders often provide funding without requiring collateral or a high credit score. If you have a history of credit problems, these alternative lenders can design a business loan solution that meets your need for funding with terms and rates your business can manage.
For example, you probably don't want to be in debt for any longer than necessary. Most alternative lenders specialize in creating short-term loans so the borrower avoids being tied to the debt for years. You're able to get the funding you need to grow your business now and move on after you pay off the short-term loan. Traditional lenders may also charge small business owners a prepayment penalty for paying back their loan amount ahead of schedule. You won't often come across this fee when working with an alternative lender, giving you the freedom to pay back the loan as quickly as you'd like.
How Loans Boost Business Opportunities for Veterans
Small business owners can depend on short-term loans to help them out in a pinch. For instance, you can use these loans to supplement cash flow or get payroll out on time. However, loans for veterans with bad credit can cover more than just emergencies. You might use your business loan to purchase new equipment, boost inventory to offer new products, or hire new staff — maybe even pay it forward by hiring other veterans entering civilian life.
Aside from basic business needs, you can also use a small business loan to improve your own management IQ or expand your opportunities for growth. For example, every business owner can benefit from ongoing professional development. If you transitioned from a military career, you may benefit from additional training in business ownership. By using your business loan funds for such training or development, you're working toward managing and growing your small business more effectively.
Other business opportunities for veterans include launching a marketing campaign or hiring an outside marketing consultant to help you discover and target new markets. You could revamp your website or add online ordering, or purchase or lease additional space for storage or operations. You could also invest in technology that will help you simplify operations or increase productivity.
There are a million different ways to grow a business, and with the right business loan, veteran business owners can access the dollars they need to reach their goals. Even if you have bad credit, there are business loan options for you and your business. You've given your time and talents to serve the United States, and now it's your turn to access the service you need to grow the business of your dreams.