When the economy is strong, it's no fun to ponder when the boom will end. But unfortunately, downturns are a natural part of the economy. Experts at the Economics Policy Institute predict that we could experience another one in the next year or so. Instead of fearing the inevitable, be proactive by crafting your business contingency plan to help your company survive a recession.
What Is a Business Contingency Plan?
When considering how small business owners should prepare for the economic downturn, creating a contingency plan should be at the top of the list. The plan should outline how you'll protect your company from loss or damage in case of an emergency or unexpected event. An impending recession is a great reason to start putting your plan in place. Make sure these six steps are included in yours.
1. Balance Cash Flow
The main reason small businesses close is cash flow problems, according to the mentorship network SCORE. Cash flow is the lifeblood of your business. You need money coming in to cover the money going toward payroll and other common operational costs.
Start building up your cash reserves when the economy is sound. Set up a cash flow planner to track projected revenue and expenses. Make sure you have money coming in at the right time to cover due dates for your bills. If one of your clients is late paying you, you don't want it to create a domino effect where you are late paying your own obligations.
During an economic downturn, your sales may drop. Examine your expenses and determine if there are areas to cut back now that won't impact the quality of your products or services. And pay down balances on your business credit cards to lower your monthly payments.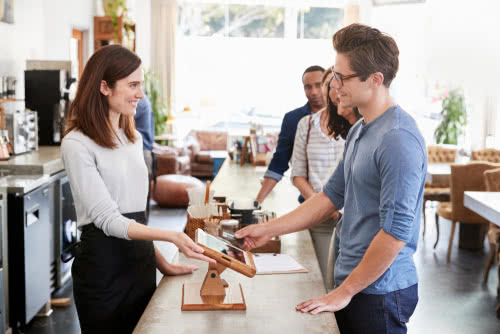 2. Foster Customer Loyalty
Your best customers are your existing customers. While it's natural to want to grow your clientele, fostering loyalty with the customers you worked hard to get can pay off even more. Existing customers are 50% more likely to try new products, and they spend 31% more than new customers, according to Modern Marketing Today.
Create special marketing plans for your long-term customers. Consider rewarding them for their continued business. A coffee shop or food truck, for example, can create a loyalty program, offering discounts or free products after a certain number of purchases. A gym or fitness business could offer a reward to customers who refer a new client. Or a landscaping company can provide a free service to existing customers who renew their contract.
Customers want to feel valued, so make sure you personalize your service and acknowledge your existing clients.
3. Focus on Your Core Offerings
Businesses can grow by expanding their products or services. During a downturn, however, you need to be more cautious. If the new offering doesn't succeed you may have wasted time and money launching it.
With a looming recession, this is the time to focus on your key offerings — those that are most profitable. If you do add a new product or service, make it something that enhances your core offering. For example, an auto repair shop could add detailing to its list of services. Or a restaurant or retailer could offer delivery.
If you want to grow your offerings, consider partnering with another business to reduce the risk. A day care provider could partner with a personal chef to offer to-go meals for busy parents when they pick up their child after work.
4. Establish a Lender Relationship
The best time to be approved for a loan is when you don't need it. Take advantage of strong sales to develop a positive relationship with a lender now. If you already have a lender, check in with them to talk about your financial positioning. If you don't have a lender, find one who caters to your industry and business type.
This is also a good time to check your credit rating. You can improve or maintain it by paying your bills on time and by paying more than the minimum amount due. Having a good credit score will be important if you need to take out a new business loan during the downturn.
5. Review Inventory and Supply Levels
During a downturn, liquid assets will be desirable, and carrying too much inventory and supplies can create an unnecessary burden on your finances. Review your current levels. For example, if you run a retail business and are overstocked on an item that has slow sales, consider discounting and discontinuing it. And review your supply usage. If you own a spa, take regular inventory of your products, like massage oils or moisturizers. Use what you have before ordering replacements, or stop purchasing a product if it remains unused on the shelf.
Also, determine what you can do to reduce your inventory costs. Are there other sources that might be less expensive? If you haven't checked in a while, this is a good time to see if another supplier may have better rates. Also consider the costs associated with warehousing. Perhaps you could use a smaller facility and still provide the same level of service.
6. Keep Marketing
Finally, don't stop your marketing efforts. It can be tempting to cut back on your marketing budget, considering it a discretionary expense when the market starts to slow down. However, the downturn is exactly the time when a small business needs it the most.
Customers are rethinking their own spending, and they are looking for options. When you continue to market, you are more likely to be on their radar. In addition, your competition is probably scaling back on marketing, which means your messages will stand out. Plus, when a business markets during a recession they demonstrate a position of strength, which customers find reassuring.
Ramp up your marketing efforts now and plan to continue during the recession. You can even use a mix of low-cost marketing strategies, such as asking existing clients for a referral or ramping up your social media presence.
Your business can weather a storm if you've strengthened it during the good times. How small business owners should prepare for the economic downturn will depend on a number of factors, but creating a business contingency plan is a surefire way to start. By putting a plan in place, you don't have to fear a downturn — you can face it head-on with confidence and a positive attitude.