Many business owners are concerned about COVID 19 liability. Two-thirds of small business owners with 20-500 employees and more than half of businesses with 5-19 employees say they are worried about the possibility of lawsuits related to the coronavirus pandemic, according to a recent poll from the U.S. Chamber of Commerce.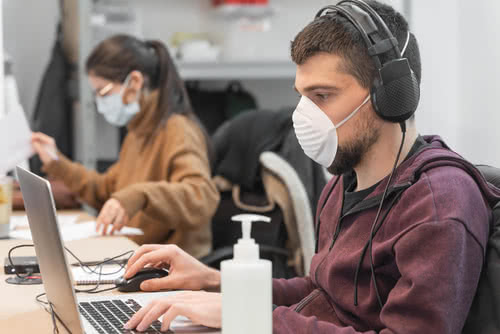 Those fears are not unfounded. The family of a Walmart employee who died from COVID 19 is suing the retail giant, according to HR Dive, and cruise lines and nursing homes are also facing lawsuits due to COVID.
While it would be difficult for an individual to prove they were infected with COVID 19 at your place of business, defending against a potential lawsuit would cost you valuable time and money. Consider taking these three steps to avoid a potential COVID lawsuit.
Check Your Insurance Coverage
Insurance is necessary to run a successful business, and you probably already have business liability insurance coverage. But if you're concerned about COVID 19 liability, it's a good idea to check with your liability insurance provider to find out what's covered and what isn't.
For instance, most general liability policies cover "bodily injury" and "property damage" that occurs at your place of business, but that coverage has limitations. Some business liability insurance coverage policies have a Communicable Disease Exclusion, according to Jim Davis at Dallas-based law firm Ferguson Braswell Fraser Kubasta P.C. If your policy does, it will specifically state that coverage does not apply to "'bodily injury' or 'property damage' arising out of the actual or alleged transmission of a communicable disease."
If your liability insurance policy has this exclusion, then any claim for bodily injury based on the alleged transmission of a communicable disease is not covered. However, the insurance company may be required to pay your legal fees if you defend your business against a COVID 19-related lawsuit.
Because each insurance policy is different, the best thing to do is to contact your insurance broker and find out exactly what is covered in your current policy. If there's a policy available that would cover the possibility of COVID 19 liability, you might consider adding it to your existing policy. While Davis says lawsuits brought against a business because of COVID 19 are unlikely to be successful, a business that is sued for such liability will have to pay for its defense, and a robust insurance policy should cover those expenses.
Fight for Legal Protections
Most people realize that businesses are trying to keep their doors open so they can serve customers and continue to pay employees and owners. As a result, there is broad public support for legal protections for small businesses against COVID 19 related lawsuits, according to a survey published by the U.S. Chamber Institute for Legal Reform. Sixty-one percent of respondents believe that Congress should protect many businesses and companies from lawsuits that are filed as a result of the coronavirus pandemic.
Business groups are pushing for this — a coalition of groups submitted a letter to Congress requesting legal protections for businesses against liability for COVID. Business owners can help protect their own business and others by writing to their representatives in Congress and asking them to support this effort.
Keep Your Staff and Customers Safe
In addition, business owners can take ongoing precautions that will help keep their customers and employees safe and prevent any potential infections at their places of business. This includes following the CDC guidelines for reopening or remaining open as well as any guidelines from your local or state health organizations. Also consider keeping a log of each time your location is cleaned and sanitized. It would be especially difficult for an individual to prove they contracted COVID 19 at a business that is following all health and safety guidelines.
As business owners seek to reopen or remain open during the pandemic, being concerned about liability is understandable. However, taking precautions, updating your insurance and supporting legal protections are a few of the ways you can protect your business. If cashflow is a concern when pursuing these additional measures, you may want to consider a small business loan.