Employee Appreciation Day 2019 falls on March 1, the first Friday in March, and it's time to put on your brainstorming cap. Thinking up some Employee Appreciation Day ideas can show your employees just how much they mean to you. In many businesses, employees run the day-to-day operations, interact with customers and also serve as a source of support for business owners.
Sure, your employees get a regular paycheck, but there are other ways to show how much you appreciate their hard work. Take time to come up with Employee Appreciation Day ideas that will resonate with your staff, and make sure it's a day your employees will remember. (Also, work to continue showing your appreciation throughout the year.) If you plan to make employee appreciation a priority on March 1, consider including it as a line item in your budget.
The right way to celebrate and show appreciation will depend on your particular workplace and employees, but here are a few ideas to get you started.
Turn the Tables
Think about the services your employees provide regularly for you or your customers, and consider providing those same services for employees on March 1. For instance, if you own a restaurant and your employees include cooks and wait staff, set aside time to serve them a meal on that day.
Treat Your Staff
If your employees seem stressed, help them relax by bringing in a massage therapist, manicurist, pedicurist or other self-care professional to pamper them.
Throw a Party
What better way to celebrate a special day than with a party? Consider bringing in a catered lunch, live music or karaoke to give your employees a chance to have fun together.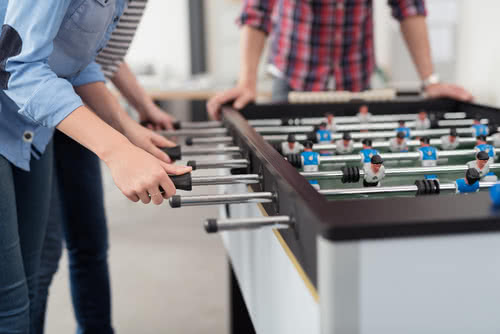 Bring In Games
Some tech companies are known for workplaces that feature pool tables, ping-pong tables, video game consoles and other games. Your workplace likely doesn't need such distractions on a regular basis, but what about bringing in some games to play for a day? Your employees will love the chance to take an entertaining break from their work.
Give Extra Time
Even if they enjoy their jobs, many employees appreciate a day (or half-day) off work. Think about closing early on March 1, or offering each employee a pass for a day off to be used as they choose.
Provide New Gear
If your industry requires special gear or equipment, consider providing new or updated equipment to show your appreciation. For instance, if you work in the construction industry, your employees might enjoy customized hard hats featuring their names or the emblems of their favorite sports teams.
The perfect idea for your staff will depend on your company, your personality and your employees' preferences. By making an effort to show your gratitude on Employee Appreciation Day 2019 and all year long, you'll build loyalty and engagement among your workers, and they'll continue to boost your small business.