If your peak season is on the horizon or you're looking to expand your business, you'll likely need more staff on board. While you're laying the groundwork to hire new people, don't forget to budget for training. It might seem easier and less costly to forego a formal training program and rely on the "watch, listen and learn" method for onboarding new hires. But the more you learn about the benefits of training to employees, the more you can appreciate how essential this step is to the success of your business.
The Benefits of Training to Employees
Even the best job candidates may need to polish certain skills or learn more about your business. For example, maybe you need to train them on your new customer service program or teach them how to operate your equipment. Maybe some of your hires will be filling the positions of recently promoted staff and need to be brought up to speed. Perhaps those advancing employees need training to enhance the professional skills required to excel in their new posts.
Whatever your training needs, the importance of training employees is essential: it not only shows that your company wants everyone to be on the same page, but also demonstrates your commitment to helping them succeed. As a result, your employees are more likely to be happier, more engaged and more productive. Neglect training and you could end up with workers who not only perform poorly but also become too dissatisfied to stay in the job for long.
To make the most of your small business hiring, you need a well-designed plan. Here are some guidelines for creating an effective employee training program.
Align Training With Your Business Goals
According to Forbes, it's important for company leaders and human resource managers to be on the same page when establishing a training program's objectives. Is your focus on ensuring the uninterrupted flow of your business operations? Making sure new workers reflect your company's brand and values? Preparing future leaders for more responsibility? Whatever your goals, you need to define them before you start creating your training program. Then, structure the program to achieve those aims.
Make Training Adaptable and Relatable
Ideally, both the delivery and content of your training will be adaptable to employees' work schedules and learning styles. That might involve making some lessons available in an online format, incorporating video training sessions that workers can access on demand, or ensuring any training presentations are relatable to people from various backgrounds.
Address Specific Skill Gaps
Your business may benefit from a training program that has several different learning tracks, such as oral and written communication skills for entry-level administrative or customer-facing employees, software training for sales staff, or leadership development for midlevel managers. For many small business owners, firming up soft skills — like communication, emotional intelligence, critical thinking and collaboration — is one of the highest training priorities. You can customize your learning content to address your company's specific skill requirements.
Track Participation and Measure Results
You won't know whether the dollars you're spending on training are paying off unless your plan includes some way to measure the benefits of training to employees. Consider using software that collects and analyzes data on who accesses your digital learning content, how well they understand the lessons, and whether their performance improves when their training is complete. You can also develop your own method for monitoring the effectiveness of your training program.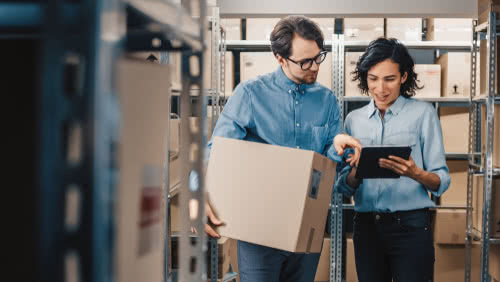 Consider the ROI
Effective employee training costs money, but the rewards make it worth the investment. For one thing, having well-trained workers is cost-efficient. The more workers understand their jobs, the more likely they are to do them right. That tamps down the cost of do-overs, wasted supplies and disappointed customers fleeing for your competition.
Training can also help improve retention, so you spend less on recruitment to replace workers who leave because they see no opportunity to advance. By the same token, offering training makes it easier to attract top-quality workers who view educational and career development opportunities as important workplace benefits.
If you want to implement a training program but don't have enough cash to cover the cost, a short-term business loan could help you invest in your new hires without dipping into your working capital.
Now that you understand the importance of training employees, take steps to create a training program that enables your staff and your business to thrive.