If your business was deemed an essential business during COVID-19, you've probably faced many of the same challenges as other such businesses. While essential businesses such as construction companies may not have had to shut down, they had to wrestle with other difficulties, like figuring out how to keep employees safe, keeping the business going despite customers canceling or delaying projects and managing through disruptions to the supply chain.
As a result, running a construction business COVID-style has required business owners to develop new marketing strategies, rethink health and safety protocols, reconsider the way they plan for jobs and adopt as much flexibility as possible. Construction work may have been able to continue operations as an essential business during COVID-19, but finding ways to continue operating throughout the pandemic hasn't been easy.
However, a number of businesses have risen to the challenge and learned to thrive. Here are some ways organizations in the construction industry have adapted to face the challenges presented by COVID-19.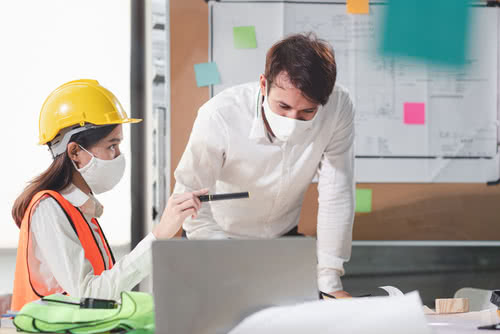 Implementing New Safety Measures
"When COVID-19 first began violently spreading throughout the United States, many businesses became adversely affected," says Cassandra Leite, owner of New England Foundation Crack Repair, a small foundation repair and basement waterproofing company based in Massachusetts. "Some of the challenges that we encountered focused on the health and safety of employees and clients, as well as clients facing financial difficulties due to job loss or reduction. Because of these two challenges, clients were canceling or rescheduling work."
Although many clients were worried, Leite says she and her staff knew that they could safely complete their jobs. To help reassure clients of this fact, they implemented several new strategies to showcase safety and put their customers' doubts to rest. For example, they started providing no-contact estimates, work and payments. All employees also started using masks with respirators and sanitized frequently. "These safety measures helped ease our customers' minds, knowing their well-being was our top priority," Leite says.
New Approaches to Marketing
With so many customers canceling or delaying construction projects due to the pandemic, many contractors, electricians and other construction businesses found that they needed to rethink their marketing efforts. Inexpensive marketing tactics, such as posting regularly on social media and publishing blog posts, were important tools for many construction businesses. As more people began working from home and spending time online during the pandemic, online marketing communications became—and remains — increasingly important.
Bill Samuel, a licensed general contractor in Illinois, is the owner of Blue Ladder Development, which specializes in rehabbing houses and renting or selling them in the Chicago area. For Samuel, who personally manages all of the construction on his company's projects, the biggest challenge brought on by COVID-19 has been developing a new approach to acquiring properties to redevelop. "The majority of the properties we were purchasing were from local county foreclosure auctions, and those auctions stopped once the pandemic started," he says. "So we had to redevelop our entire marketing strategy to increase the acquisitions directly from sellers."
Blue Ladder Development worked to build a stronger web presence to find new customers. The company's website is targeted to people who have a home they want to sell quickly, without making repairs or updates and without paying commissions. By focusing on building that web presence, Samuel says his company has been able to find new customers and new properties to redevelop.
Streamlining Work Processes
With people spending much less money on entertainment and dining out, the demand for home improvement has increased across the United States, driving significant new business for many construction businesses. In June 2020, Houzz, an online home remodeling platform, reported a 58% increase in project leads for home construction professionals over one year prior. Demand for home additions and extensions increased by 52%, and demand for swimming pool design and construction professionals skyrocketed more than 300%.
All that new interest in home repairs and improvements has made it more difficult for many construction contractors to get the subcontractors and supplies they need, when they need it. "On the construction side, the biggest challenge we have had is completing projects within reasonable timelines," Samuel says. "Our construction completion timeline is longer than ever before because our subcontractors are busier than ever, local villages are overwhelmed with permit requests so approval is taking a little longer, certain supplies such as windows and trim have longer lead times, and we have reduced the amount of people working on site at the same time."
To overcome the challenges of managing construction projects in this sometimes overwhelming environment, Samuel's company has started prioritizing the ordering of materials that they know will have longer lead times. This allows the team to avoid delays down the road. They have also separated permit requests so they can get started right away with work that doesn't require a full plan review. In addition, Samuel and his team have relied on their current network of subcontractors to provide referrals when needed so they can continue to find new subcontractors to get the work done on time.
Boosting Cash Flow
Clearly, the pandemic is affecting different parts of the country in various ways, and each homeowner also faces their own unique challenges. While remodeling projects are booming in some areas, other homeowners are hesitant to make needed repairs. For some, the hesitation is due to health concerns, while others are reluctant to spend the money in an uncertain economy.
At New England Foundation Crack Repair, consumers' hesitation to spend large sums of money was keeping many of them from making needed home repairs. "The challenges of finances were abundant," Leite says. "In order to combat this to help the consumer while still allowing them to get the much-needed work done, we began offering a payment plan. We work with a client on their monthly budget after they pay a small down payment. Since this is done in-house, we do not charge any interest and it does not affect their credit at all."
In addition to helping clients more easily manage financial obligations during economic uncertainty, many construction companies are also watching their own finances more closely in the current environment. At Blue Ladder Development, Samuel says he and his team, "have gone through our budget and definitely trimmed any of the fat that we could to start running as lean as possible moving forward."
While running a construction business COVID-style presents new challenges, it has also led to new triumphs for many essential construction businesses. With flexibility and agility, construction companies are meeting the challenges head-on and proving that being an essential business during COVID-19 can make a company stronger, more resilient and more enduring.