Medical practices, pharmacies and other healthcare organizations may have avoided shutdowns by providing an essential business during COVID-19, but this sector still faced huge challenges during the pandemic — even when not directly treating the virus.
For instance, many local pharmacies and medical practices are actively involved in their communities, frequently volunteering, sponsoring events and interacting in person with their neighbors. But those opportunities are no longer available. "Marketing has been pulled to a complete halt," says Dr. Patrick McEneaney, a board-certified podiatrist and owner and CEO of Northern Illinois Foot & Ankle Specialist outside Chicago. "We do marketing … through face-to-face meetings and through various events. Those aspects have all been decimated."
At the same time, like other essential businesses, healthcare businesses have had to develop new protocols for cleaning and social distancing to keep staff and patients safe and healthy. "Our strategy is to assure patients have a safe environment for them to come in," McEneaney says. "We've been working really hard to make sure we're keeping everything clean and give off the impression that things are being cleaned. We've had to distance in the office and make sure everyone feels comfortable."
Aside from these challenges shared by businesses in a wide variety of industries, healthcare businesses also have faced a unique set of issues — and have developed solutions to help them survive and thrive.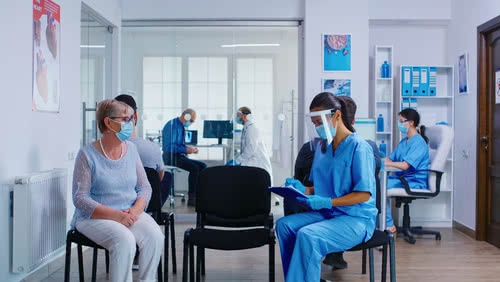 Quickly Changing Patient Loads
When the pandemic began making headlines in the United States, consumers rushed to purchase all available toilet paper and paper towels. Many of them also rushed to pharmacies to get prescription refills. Many states' pharmacy boards declared a state of emergency, which allowed for emergency refills and more relaxed guidelines for doctors prescribing controlled substances. Many pharmacies were also involved in distributing (and attempting to preserve) personal protective equipment (PPE) for healthcare workers and administering COVID-19 tests.
From very early in the pandemic, pharmacies were flooded with customers. Many a pharmacy owner struggled to implement social distancing measures to keep staffers and patients safe, while also working to fulfill all the needs of a sometimes-panicked public. For many pharmacy owners, the answer was to add staff. A number of states simplified the rules for gaining pharmacy licensure so community pharmacies could hire new grads quickly. Some states also extended simple rules for reinstating retired pharmacists so they could come back to work and help pharmacies manage through the crisis.
While pharmacists faced record crowds, doctors' offices experienced the opposite. In an effort to avoid the virus, many Americans canceled medical appointments and avoided seeing providers in person. As layoffs began spreading across the country and many newly unemployed Americans lost their employer-provided health insurance, their income or both, they put off seeking medical care due to costs, reports The New York Times. For many medical offices, this trend resulted in a deep decrease in patient loads and revenue. To cope, many medical practices furloughed or laid off staff, according to The Washington Post.
Moving Care Online
Despite the challenges, many medical practices have stayed busy providing the medical care their communities need by pivoting to digital health services. Also known as telemedicine, digital health includes doctor visits via telephone and video call. During the pandemic, the Centers for Medicare and Medicaid Services (CMS) began paying for telehealth visits for the first time, allowing providers to see patients remotely and still be reimbursed for their care.
For instance, McEneaney's practice began using Zoom to host patient visits instead of bringing them into the office face to face. "Telemedicine had always been around, but it wasn't covered by insurance," he says. "The day it was covered, I was made aware of it and I sat down with my team. We went over infrastructure, we questioned what programs we could use, how we would be able to implement this, what our protocol was going to be and how we would go about scheduling this into visits. Within two days, we were able to provide those services to our patients, as opposed to other facilities that took a month before they were able to provide those services."
McEneaney hopes that televisits will stick around even after things return to normal. "These telemedicine visits have been helpful for people who need simple checkups but can't get rides, or for people who may not be as mobile as others, which we see a lot of in our podiatry practice," he says.
Caring for Patients in Need
While business strategies may be changing constantly, healthcare businesses' primary goal has always remained the same: to provide for the healthcare needs of patients in their communities. And a global pandemic means that those needs are more varied — and potentially more serious — than ever before.
For instance, at the beginning of the pandemic, healthcare providers didn't know what types of medications and treatments would be needed. As new studies were quickly published, pharmacy owners tried to order the medicines that seemed to show promise, sometimes only to see the recommendations change. For instance, many pharmacies stocked extra hydroxychloroquine; at one point, Cox Health, a chain of pharmacies in southwest Missouri, had 20,000 doses of the drug in house. When treatment recommendations changed, pharmacists returned the extra hydroxychloroquine and focused on building stock in remdesivir and dexamethasone.
To protect the safety of customers, many pharmacies began offering curbside or drive-through service, as well as local delivery services. These services are helping provide needed medications to vulnerable members of the community who need to be cocooning at home during COVID-19 outbreaks.
Medical practices also adapted to meet new and changing needs in their communities, such as COVID-19 testing. For example, McEneaney's office put the infrastructure in place to provide COVID-19 testing at a time when its local community was in need of additional testing. By quickly training staff, utilizing PPE and other resources on hand, and designating specific testing areas, his office became able to test hundreds of people a day, McEneaney says.
Whether a pharmacy or a medical practice, managing an essential business during COVID-19 is no easy task. But by focusing on staying up to date on the latest developments and remaining nimble to pivot as needed, healthcare businesses can continue serving their communities throughout this stressful time. McEneaney puts his philosophy on moving forward succinctly: "You have to adapt instead of asking, 'Why me?'"