All across the country, the coronavirus has forced small businesses to scale back operations, if not close their doors altogether. Although the closures are only temporary, it's unknown how long before many states lift the "stay in place" mandate; allowing "non-essential" businesses to open their doors again. This situation has created devastating financial burden and your business may need additional financial help to ride out the storm.
The current circumstances may have you investigating small business loans for the first time to get you through the coronavirus pandemic. A loan could give your business an extra lifeline through this difficult stretch. If you've never borrowed before or want to know what the process is like, here are some things to consider about small business loans during COVID-19.
Reasons You May Need To Take Out a Loan
Under normal conditions, it can be possible to run your business without borrowing at all. But when sales dry up during a crisis like this, you may need some extra financial help. Some ways a loan can support your business during the pandemic include:
Replacing lost cash flow – Many businesses saw their revenues drop without warning. Through cash flow loans, you can still have some money on hand to pay your bills, replace your lost earnings and prepare for when you can start making sales again.
Caring for and storing your inventory/equipment – During the coronavirus pandemic, you'll still need to pay for a safe place to store your inventory and equipment, while keeping up with maintenance and repairs. A loan can help cover these costs.
Paying for rent, equipment and other overhead – Even in this tough climate, your landlord, vendors and utility companies still expect you to pay as normal. A loan can help you keep up with everything so you don't risk losing your building, your equipment or damaging your credit score.
Making payroll – Your employees are also in a tough spot during the coronavirus crisis. With a loan, you could still afford to make payroll. Not only is this a kind thing to do, it also means you won't have to worry about turnover and replacing your staff after the crisis ends.
Revamping sales/marketing – Just because you can't make face-to-face sales doesn't mean you can't reach customers. A loan can help you set up an online marketing campaign and possibly create a new source of revenue.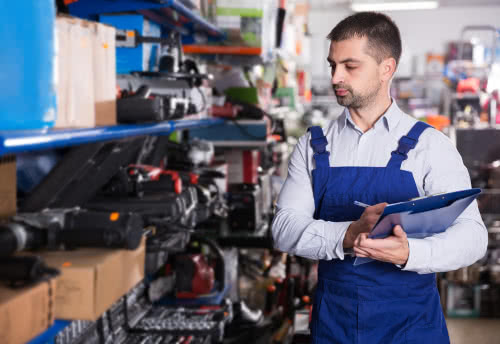 Small Business Loan Options During Coronavirus (COVID-19)
There are a few ways you can apply for small business loans during the COVID-19 crisis. First, the federal government recently passed the CARES Act. This is the largest economic bill in U.S. history that included $350 billion to support small businesses. These loans will be administered through the Small Business Administration (SBA).
Paycheck Protection Program (PPP). On Friday, April 3rd, applications will be accepted for the Paycheck Protection Program (PPP), a potentially forgivable loan, depending on your situation. This loan can be used for payroll, rent, utilities, and interest on business debt. Learn more about the Paycheck Protection Program on the SBA.gov site. However; it's critical for you take action right away. This funding is first come, first served.
SBA Loan Options. The SBA has several types of loans available, including Economic Injury Disaster Loans, and you can learn more the different types of SBA loan options on SBA.gov website.  Your state and local government may also offer loans.
While government loans can be a good option if you qualify, there's a lot of fine print to read to make sure you're eligible. They also may include restrictions, like keeping your employees on payroll, in order to take out the loan.
Alternative Lenders. Another option is to access small business loans from an alternative lender. These lenders specialize in fast financing and you could receive money within days, so they are a good choice for emergency loans.
Banks and Traditional Lenders. Finally, there are traditional lenders, like banks and credit unions. While they offer small business loans, their approval process takes longer. It could take several weeks to qualify and they may be more reluctant to lend during a crisis, as they are worried about losses.
Steps to Prepare
If you think a business loan could be the solution, there are a few steps you can take to get ready for the application.
Check your credit report – Your credit score is a big part of whether you will qualify for a loan and at what interest rate. Check your credit report from the rating agencies (Dun & Bradstreet, Equifax and Experian) to make sure there are no mistakes incorrectly dragging down your score, like a report of a defaulted bill that you actually paid.
Collect your financial documents – When you apply, the lender could ask for a variety of financial documents including past tax returns, your bank statements, your business financial statements, a list of your current business assets and other debts and a plan for how you'd use the money.
Consider possible collateral – To improve your chances of qualifying, your business could put up a valuable asset as collateral, such as a piece of equipment or real estate. The downside of this approach, though, is if you can't pay off the debt, you would lose the asset.
Review the lender's requirements – Each lender can have different requirements for their application. Private lenders should list requirements on their websites, while the government is publishing new information on their programs as it becomes available.
Talk with your tax/financial advisor – If you work with an accountant or other financial professional, consider getting their feedback before applying. This is particularly useful if you are trying to use a government loan, as the details for these programs are new and changing by the day.
The Loan Process
Once you have your documents in order, you can reach out to your target lender to start the application. If you apply through the government, the process for small business loans during coronavirus will depend on the program. For example, your state government might ask you to fill out a form on their Division of Small Business website. Private lenders typically use a short, online application as well or you can reach out by phone to discuss your needs with a small business loan specialist.
For any lender's application, you will need to provide your name, contact information and the amount you'd like to borrow. From there, the lender will let you know what other documents you'd need to provide: a copy of bank statements to show revenue, your business plan, proof of payroll, bills that need to be covered with the coronavirus loan, etc.
Timeline for Loan Approval
The lender will then review your information to make their decision. The timeline depends on the lender. Once again, online alternative lenders tend to be the fastest and could approve and fund your loan in a matter of days. Applying with the government and traditional lenders may take significantly longer.
One possible strategy is to apply with an alternative lender to get cash now. Then, if you qualify for another program, you could use the funds to pay off the first loan, as there is no penalty for paying early.
For more information, you can fill out this application or contact a loan specialist to start discussing loan options. This crisis will be a challenge, but one the country will overcome. By taking advantage of small business loans during coronavirus, you can make sure your company is still in good financial shape once everything gets back to business as usual.