During the COVID-19 pandemic, many business owners had to switch their operations to a remote environment. This pivot worked out so well for some businesses that owners are now wondering if they even need their physical stores or offices.
If you're wondering the same — but you're stuck in a long-term lease or contract — let's review how to break a commercial lease legally.
Commercial Property Lease Agreement Terms and Conditions
A commercial property lease agreement is typically a multiyear contract, running between three and 10 years, according to NYC Business Solutions. When you signed your contract, you legally agreed to make monthly payments for the life of that contract — which is what makes getting out of the deal challenging.
"Unlike residential leasing, there are little to no protections for commercial tenants under the law," explains Kimberly Hanlon, a business attorney with Lucere Legal in Minneapolis. So, many owners choose to vacate the space and stop their monthly payments. But this leads to a default, which isn't good for you or your business.
Defaulting on a lease damages your credit score, hurting your ability to take out small business loans. "Landlords also often include harsh and expensive liquidated damages clauses as part of the default remedies," Hanlon notes, adding that landlords also typically require business owners to personally guarantee payments. That means if your business defaults, they could go after your personal assets for payment.
That said, Hanlon knows a few ways for how to break a commercial lease legally.
Legally Leaving a Commercial Lease
First, Hanlon recommends approaching your landlord with a collaborative attitude. "The building owner/landlord are business owners too. They have a mortgage to pay; they have expenses to cover. Look for a win-win solution and make going to court the least attractive option."
With that in mind, here are three of her recommended solutions.
Check the Fine Print
Depending on the lease terms, certain conditions might get you out of your agreement. For example, a lease for a bar might have a clause stating that the contract depends on a liquor license. If the bar loses its license, the owner may be able to get out of the lease.
Hanlon recommends reviewing your lease with an attorney to check for any potential lease-ending conditions.
Breach Settlement
Another option is to see whether your landlord would let you out of the contract in exchange for a lump-sum payment, known as a breach settlement. "Your landlord gets a chunk of money and can relet your space; you get to walk away from the larger obligation with your credit intact," Hanlon says.
Sublease Your Space
The most involved option is to find a replacement tenant. You sublease your space to them with your landlord's permission, and the new tenant takes over future payments. But if they go out of business or struggle with payments, that's still your problem to solve.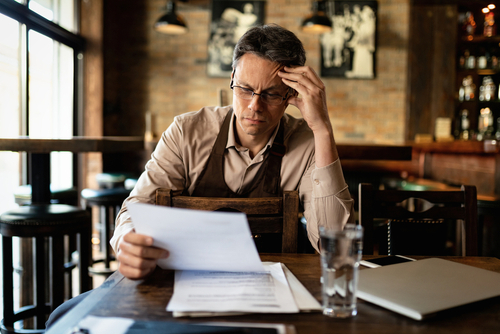 Ensure This Is the Right Decision
If you find that you can get out of your commercial lease, make sure this is the best decision for your business. A fully remote business can offer advantages:
Cost-savings. Not just on lease payments but also on utilities, furniture, commercial insurance and other expenses.
Management. Technology like Zoom makes it easier to manage your remote employees.
Hiring options. A virtual team lets you hire people from other areas, not just those who can commute to your physical workspace.
However, some employees and managers might be more productive working in person. A physical location can also offer your business more credibility versus one that exists only online.
This is a tough choice that Hanlon sees many of her clients mulling over, including her own firm. "Many of our attorneys now work from home, even though we have office space in downtown Minneapolis," she says.
What works best for some of her clients is a hybrid solution, where businesses reduce the size of their commercial space to lower costs, while keeping some physical real estate for their employees and customers.
Whichever way you go, the key is communication: with your landlord about your lease, with your employees about their work environment and with your customers about how they can find your business.
For more information on managing your commercial lease, check out tactics for negotiating your commercial lease and the National Funding blog.