Learning how to display products effectively is key for small businesses flush with inventory. Many small business owners are looking for ways to refresh their interiors or remodel their stores. Your visual display is critical to purchasing decisions, according to iQmetrix, and buyers are less likely to purchase when shelves are scarce or displays look messy.
If you're putting together visual merchandising display guidelines for your business, here are some best practices to keep in mind.
1. Start With Your Floor Layout
Designing your floor layout is a critical merchandising decision. For example, a florist received customer complaints about his small shop feeling crowded, so he focused on creating a more navigable floor layout. By prioritizing a logical flow and efficient storage, he made the shop feel airier and inviting.
A straight floor layout — often used in supermarkets — is easy to navigate and offers clear focal points. Angular layouts have a similar feel, and they help optimize space. A loop layout guides customers through the store in a curated experience. Choose the design that fits best with your products and square footage.
2. Think About Product Placement Tiers
When deciding how to display products in your store, start by moving your most in-demand products and bestsellers to the back so customers will have to walk through the aisles to get there. Line the major pathways with high-margin items or impulse buys that are likely to draw attention. Feature high-demand items in window displays to draw foot traffic into the store.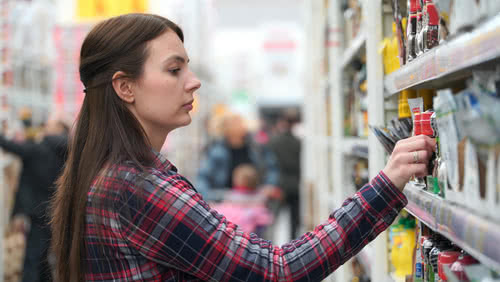 3. Leverage Vertical Real Estate
Your floor-to-ceiling spaces are just as important as your floor layout. Items at eye level, for example, are more likely to be purchased than those overhead or stored low. Find displays that are sturdy and work with your products. Selecting displays that maximize your floor-to-ceiling real estate can help you pack in more inventory, while keeping the presentation attractive and enticing to shoppers.
4. Consider Inventory Groupings
Consider displaying your inventory in groups. For example, instead of grouping clothing by brand, one boutique started grouping by color. They put lighter-colored items in the front of the store and darker colors toward the back to entice customers to walk through the entire store.
Whether you own a pharmacy or a retail business, you can use groupings to create departments or visual experiences that make sense to customers.
5. Develop Display Guidelines
Throughout the week — or across multiple locations — you'll have different employees working on product displays. Creating simple guidelines on color, placement and signage ensures that products always look their best. For example, one jewelry store owner assigned one employee to check all signage, product layout and item stock during their shifts. That consistency ensured everything was always neat, stocked and compliant with best practices.
Displaying products in the most appealing way possible can help you increase sales. However, buying new shelving or signage — or hiring an expert to consult on visual merchandising display guidelines — may not be in the budget. If that's the case, a small business loan can provide the resources you need to give your small business a face-lift, helping you offer the best customer experience possible as you grow.