With the Covid-19 pandemic continuing, these are extremely difficult times and small businesses have been hit especially hard. While many people in the U.S. are forced to stay at home and are now online more during the Coronavirus pandemic, many small businesses are now looking for ways to connect with customers online and improve their digital presence.  To help SMB's with this, Google and Facebook both recently announced support for small businesses through offering ad credits and grants for businesses to use for their digital advertising. We talk through how you can access these ad credits and grants, and look at some of the steps you can take to grow your business online.
1. Look to Access Google and Facebook Ad Credits
On March 27th, Google announced a commitment of $340 million in Google Ads credits as part of $800+ million to support small businesses and crisis response. These will be available to all small business owners with active accounts over the past year. According to Google, credit notifications will appear in the businesses Google Ads accounts and can be used at any point until the end of 2020 across Google's advertising platforms. This will help to alleviate some of the cost of staying connected with customers and even help support business growth as business owners make pivots and find creative ways to still serve customers.
Facebook announced $100 million in cash grants and ad credits as their way to offer support and due to the financial burden so many businesses now face. These Facebook grants and ad credits will be available for up to 30,000 eligible small businesses in over 30 countries where Facebook operates. To sign up for updates or apply, visit Facebook's site for more information.
Now more than ever, it's important to understand how to use digital advertising to maintain and even outshine your competition.
As a refresher, whether you're moving your business online or expanding the reach of an existing e-commerce site, you can make affordable investments in your long-term growth. From targeting the right audience to experimenting with digital ads, these four actions can help you master how to grow your business online.
2. Understand Your Audience
One advantage of moving online is reaching more customers. But while casting a wide net can bring in more prospects, knowing how to grow a business online means focusing your efforts on a specific target audience.
Consider the case of Jennifer, a local florist who wanted to reach people buying flowers in her area. That's a very specific audience, and understanding their needs would help her close more sales. Jennifer knew that she needed more information about her customers, which she could then turn into an audience profile. Defining your target customers will help you better market and sell your services to fit their needs.
There are several ways to get to know your customers more personally. Start by conducting market research, focusing on who your customers are, what they value most, and where they get information about products and services. Your research might involve reading marketing studies about your target demographic. You could also conduct your own study by asking your customers specific questions through online surveys. Another strategy is to use your website analytics program, like Google Analytics, to gather demographic information about the people visiting your website. You can then target prospective customers through ads. Gathering information about your customers may require a small investment, but cash flow solutions can give you the funds you need to grow your business online.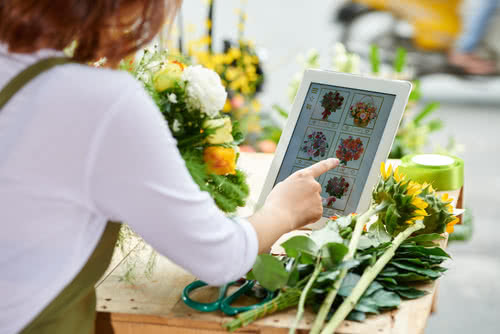 3. Give Your Business a Voice
Customers like doing business with brands they know and trust. Consider adding a voice to your brand by writing blog content and posting often on social media. Knowing how to grow a business online involves showing off your unique personality, expertise and interests to help you stand out from the competition. Use a friendly, conversational tone that will appeal to your audience, and find ways to share your expertise on their biggest questions. For example, Jennifer began blogging about the latest trends in the floral industry, tips for arranging flowers, and floral gift ideas for each holiday. By covering topics that interest your customers, you're more likely to bring them back and show up in related keyword searches.
Knowing how to grow your business online through social media comes down to one key factor: being active. Choose one or two social media platforms that are a good fit for your business; think about each platform's value and which platforms your customers use most. Then, post regularly to engage with your audience and keep your business top of mind. Garner interest by experimenting with photos and videos, asking your audience questions, and offering discounts that reward them for interacting with the account. For example, Jennifer's customers were most active on Facebook, so she rewarded the 100th person to "like" her page with a free bouquet. A personalized content strategy can be an important stepping stone to understanding how to grow a business online.
4. Experiment With Advertising
Not long ago, advertising your business meant sending out flyers or posting an ad in the local newspaper. Now, as digital channels have grown, small business owners have been turning to digital ads to market their online business. Two of the most common options include pay-per-click advertising and social media advertising. Jennifer decided to run a Facebook campaign targeting people that like flowers within 20 miles of her business.
When you begin buying digital ads, start small. Set a manageable budget and experiment with different forms of creative content. Finding the right images, messaging and offers can take time. It's also important to use the information you gathered during your audience profiling process to target your customers. Demographics, location, interests and buying behavior can help you reach the right people. If you're interested in launching an ad campaign and need help paying for ads or creative assets, a small business loan can support you while you learn how to grow a business online. As already mentioned too, you may also be eligible to access Google and Facebook's ad credits.
5. Optimize for Mobile
A mobile-optimized website means that your site looks great, performs well and is easy to use on a mobile device. According to Think With Google, three in four smartphone owners turn to mobile when searching for answers to their immediate needs. Customers use their smartphones to browse potential purchases between meetings and compare prices before they make an in-store purchase, so your mobile site's functionality could make or break a sale. Jennifer invested in optimizing her website for mobile so that users could easily send flowers on the go, whether they forgot a birthday or were simply inspired to send a loved one a bouquet. Making it easier to do business with you on mobile devices can open up an entirely new customer stream.
When you optimize for mobile, it's important to start with the underlying technology. WordPress themes, for example, are often mobile-optimized and available at an affordable price. If your website was custom-built, an experienced web designer can help ensure that you're mobile compliant for a small investment. Not only will your site rank higher in search engines, but you'll deliver a great customer experience that keeps buyers coming back over time.
Learning how to grow your business online is an essential part of building a secure future. Scaling your digital marketing efforts can require an investment, but specialized solutions like small business loans can help. Take the time to build digital connections with your customers. Not only can it help you diversify your income streams now, but it will ensure that your business continues to develop and grow into the future.