Wondering how to market a food truck and make it successful? You're not alone. In January 2021, there were more than 24,000 food trucks in the United States, good for a $1.24 billion market. With all that competition, food trucks need effective marketing to stand out and succeed.
Food trucks are a cross between restaurants and street food vendors. Hot dog vendors in New York City and fresh coconut juice merchants in San Diego have long provided inexpensive eats on the go. Today's food trucks continue that tradition, serving diverse cuisines in a format that's easily accessible to people of every income level and food predilection.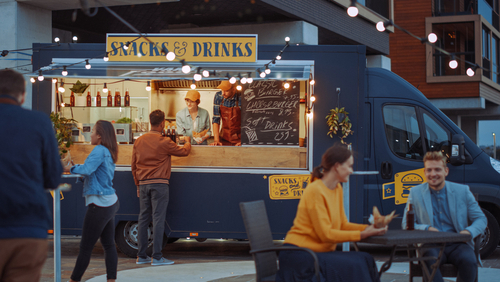 How to Market a Food Truck
In many cities, the food truck scene is an important part of the cultural vibe. For instance, Portland collects mobile eateries in food cart pods, where groups of food carts stay in quasi-permanent locations. This makes it easy for customers to sample foods from several carts at once and keep coming back. If you're writing your food truck business plan, look into settling into one of these pods, if your city has them, or find the popular hang-out spots near you and try to establish a presence there.
Finding the right pop-up spots is important, but there there are plenty of other steps you can take to attract new customers.
Unique branding. Kick things off right by building a unique brand and menu. Food truck culture, for many people, means brightly colored trucks, humorous truck names and silly, pun-based menu items. There's I Dream of Weenie in Nashville, Tennessee, and Planet of the Crepes in Tucson, Arizona, to name two — it's clear what they sell, and their names are memorable. With thousands of food trucks vying for customers' attention, a memorable name, a funky look and a creative menu can set you apart from the pack.
Social media. The food truck business is all mobile, so your fans need to be able to keep up with where you'll be. Entrepreneur recommends the following social media tricks.
Use Twitter, Facebook and Instagram to post photos of your mouth-watering food and behind-the-scenes shots of your truck.
Update often and engage with your followers. Try to answer every question and respond to most comments.
Keep your social media handles visible on your truck and menu to encourage new followers.
Connect with apps like Roaming Hunger and Where's the Foodtruck to help new customers find you.
Local relationships. Networking with local businesses is crucial to building a successful food truck business, says Emma Alda, who runs two Wheelin' Tacos food trucks with her husband in Miami. "We actually don't do any digital marketing for our business," adds Alda. "Most of our marketing is done through our community and word of mouth."
"You need to become acquainted with all local businesses and restaurants in your area, even if they might be competition for your food truck," she says. "The majority of the events we've been able to vendor have been because of relationships we have made."
Healthy, local options. Millennials are the largest generation, and they're driving the trend toward healthier, locally sourced food options, The Washington Post reports. Offering vegetarian and vegan options and including food sourcing information on your menu can accommodate the trend toward local, healthy food. If your conscious customers know that your truck helps local farmers or crafts recipes with sustainability in mind, they'll keep coming back for more.
Full Speed Ahead
Without a strong social media presence and memorable brand, it might be hard to keep truckin' along in the bustling food truck industry. Hopefully, these ideas help you build a customer base and fulfill your food truck business plan so it's nothing but full speed ahead.
Need funds to boost marketing for your food truck? Check out National Funding's funding solutions or fill out the contact form to get in touch with a representative.